2014 WannaGoFast Half Mile Shootout - Chicago
Written by James Tuesday, 17 June 2014 08:14
WannaGOFAST is a company that has been able to bring a new racing opportunity to the public.  In the past, very few had access to races such as the Texas Mile or anything longer than the quarter mile dragstrips that are spread all over the U.S.  With 600 plus horsepower street cars becoming commonplace in the last 5 years, the guys at WannaGOFAST realized that there was a need for a safe environment where car enthusiasts could let these beasts out of their cages!  This Saturday and Sunday, WannaGOFAST invades Bult Field in Monee, IL for the 2nd year in a row.
Last year, the event brought out everything from a 4 door Buick Regal, to a turbocharged Hearse and the AMS built Alpha Omega Nissan GTR making over 2000 horsepower.  The Alpha Omega was the top dog of the shootout crossing the half mile line at over 214mph!!!  Shocker Racing had 6 members racing their cars there last year: Jon's N/A C5 Z06 Corvette, Panda's N/A C5 Z06 Corvette, Vogz' Twin Turbo Nissan 350Z, Perry's Procharged C5 Z06 Corvette, Eric's Paxton Supercharged Viper, and Tom's Procharged C5 Z06 Corvette.  For 2014, only 2 of these 6 are returning but they are coming back with a vengeance!
Jon has taken his Vette from a nicely modded naturally aspirated Z06 to a 660 plus horsepower boosted animal! To read the complete story on his build by Speed Inc. hit the link here:  Jon's A&A Supercharged 2002 Corvette Z06
In 2013, Tom did not have any luck getting a clean pass in at the shootout.  He had just finished up with some major work to his Procharged ERL 427 Z06 and some kinks still needed to be ironed out.  Unfortunately, the Vette shredded a belt half way down the track and coasted its way to a 170 plus mph pass.  Over the winter, Tom worked out some of the issues and then sent the Vette over to Speed Inc. to have them button up a bunch of the loose ends and finally get her running nicely.  When all was said and done, the car put down 967 rear wheel horsepower and 867 rear wheel torque on pump gas and 20psi of boost!  We are hoping to see Tom pull off some nice clean passes this weekend and finally get to see what this Z06 can do.  To read the complete story on Tom's build hit the link here: Tom's F1 Procharged 2002 Corvette Z06

Shocker Racing will also be seeing two of the newer members to the crew run their cars for the first time this weekend.  Adam will be rocking his CTS-V wagon that has just been modded at Speed Inc. with a new 2.4 blower pulley, idler, injectors and a dyno tune.  The V ended up making 564 horsepower to the wheels.  Adam's brother, Jordan, will be racing his 2014 Shelby GT 500 in stock form to see what she does before he begins to modify it.
I will continue to post updates on the action at Bult Field throughout the weekend so be sure to keep checking back on Saturday and Sunday.  If you are attending the shootout and see the Shocker Racing crew out there be sure to stop by and say hi.
All photos shared in this article are courtesy of Dan Joy Photo: Facebook.com/DanJoyPhoto IG: @DanJoyPhoto
Here is the official WannaGOFAST Promo Video for the Chicago Shootout:
June 23, 2014 Update from the past weekend: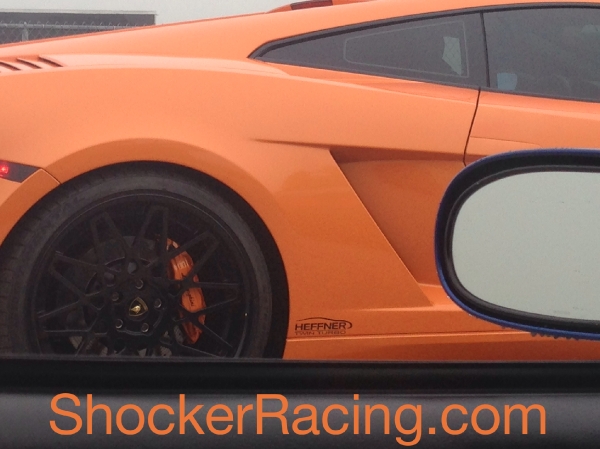 Saturday morning started off a little cool with a dense fog as Jon and I left from Winfield, IL heading towards Monee, IL for the WannaGOFAST Half Mile event.  As we rolled onto I-355 South, we caught up with 2 gorgeous C6 Z06 Corvettes.  We knew that at 5:30am they must be heading to the same event.  This resulted in a fun convoy for the hour drive to the airport. As we pulled up to the gate at Bult Airfield, the first car we see is a bright orange Lamborghini Gallardo with Heffner Twin Turbo written on the side and a few moments later the Vengeance Racing Supercharged C7 Stingray pulled up.  We pulled in and set up shop about 3/4 of the way down the track so that we would get a good view of all the cars as they were getting to top speed.
Jon took his 600 plus horsepower A&A Supercharged C5 Z06 up to the tech inspection area to get inspected while I relaxed and of course took to social media to begin sharing photos from all of the excitement of the morning and it was only 6:15!  After Jon passed inspection and parked his car in the staging lanes, an older gentleman with a C6 ZR1 Corvette came up to him and started asking about his Vette.  Jon informed him that it was 600 plus horsepower and that it was supercharged and the man responded with "I'll smoke you in my stock ZR1, let's line them up so that we can run!"  Jon responded by telling him that he was waiting on some friends and that maybe they would line them up later.  "I talked to you mom last night" the man said, "she told me you could race your car!"  For any of you that know Jon, this is hilarious because this is the exact kind of trash talk Jon would do to someone else!
Racing was delayed by about an hour as the track officials were holding out for the fog to lift.  Around 9am they held the drivers meeting and announced that Matt Farah, from The Smoking Tire, would be the announcer for the entire event. It was great having Matt as the host of the event as he was able to give some entertaining information regarding many of the vehicles that came to the line to run.  Racing began shortly after and Jon got to make his first pass around 10am.  His first run of the day resulted in a mile per hour of 155.2795.  Jon had been hoping to crack the 160 mph mark but this was his first pass and had plenty of time to improve on this. Racing went pretty smooth throughout the morning minus the Dodge Viper that caught fire at the end of the track shutting things down for about 30 mins.  A little while after the fire, Jon got one more run in for the day and ticked off a 156 mph pass before the storm started rolling in.  Mid afternoon some extremely dark clouds were rolling in and there were talks of large hail being a possibility so everyone took shelter and tried to protect their cars.  We were lucky enough to have met a guy that owned one of the hangars there and he let Shocker Racing park inside!  The storm rolling in and it downpoured for about 30 mins with no hail.  After the storm cleared the WannaGOFAST crew started having cars drive up and down the track to help dry it out. I was surprised at how well this technique actually worked.  Within about an hour the track was dried up and they were ready to resume racing for the day but the Shocker Racing crew decided to call it a day and head to our hotel.
Upon arriving at the Monee Red Roof Inn which we had stayed in last year, there was a very long line of people waiting to check in.  We came to find out that their system was down and that we would have to wait a while to be able to check in. I will spare you all the details of the horrible hotel experience but we will just say that they did not have the room we reserved available and the room they gave us was disgusting.  We will never stay at another Red Roof Inn.  Once we were all finally settled, the crew headed towards Buffalo Wild Wings a few exits down the highway.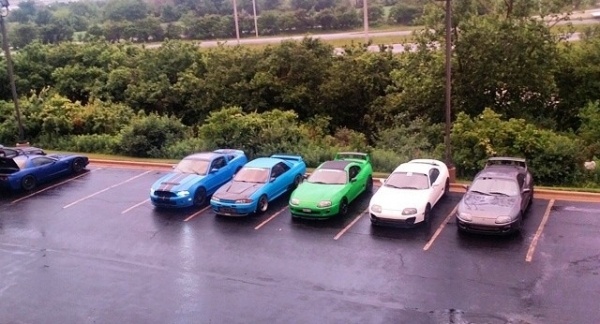 This photo was sent to us by the BoostTheory.com Crew from their hotel window.
On the way to BWW, Jon and Tom got a quick highway pull in.  Tom of course pulled away from Jon, but as we exited the highway Tom's Z06 would not move.  He coasted into a Walgreens parking lot as the engine would rev but the car would not move.  We were able to determine that the clutch went on it and this ended any hope of Tom getting to run his Vette on Sunday.  We left the car at Walgreens and continued on to dinner, only to find out that BWW's was under construction and no open! We ended up grabbing dinner and beers at Tommy Nevins right next door, while round two of the storms rolled in.  After the storms died back down, we rolled back over to Walgreens with a trailer, thanks to Nick aka "SmokinHot" from TheChicagoGarage.com, to tow Tom's Vette out of there.  The night ended with some more beers and wandering around the hotel parking lots looking for some action but the evening storms had pretty much ended any hope of that.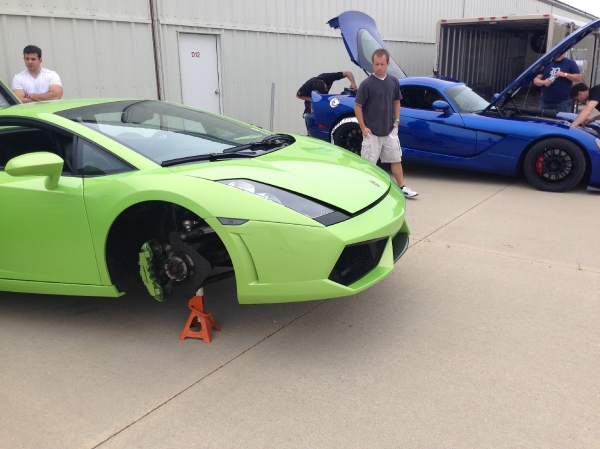 On Sunday morning, I headed to the track early with Jordan(Shelby GT500) and Adam(CTS-V Wagon) to set up shop and get them teched in.  We set up our area about the half way mark on the track so that we could get a better view of the mile per hour for each run and hear Matt Farah's announcements clearer.  The morning temperatures on Sunday were much cooler with lower humidity.  Without the fog, racing was able to begin on time and Adam and Jordan were close to the beginning of staging lanes.
To be continued...