Kaitlyn Macdonald: Car Girl, Biker Girl and now an Official ShockerRacingGirl
Written by James Saturday, 17 January 2015 10:53
Kaitlyn Macdonald (@kait_gsxr295) is your perfect woman.  She's a beautiful blonde who loves cars and rides a Suzuki GSXR-600.  Ms. Macdonald, has multiple Mustangs including the 2011 Ford Mustang GT she did this photoshoot with. She doesn't mind getting her hands dirty working on her cars but also likes to be girly. Kait tells us, "I am huge makeup nerd." but guys, there is just one problem...
She's engaged to her fiancé and photographer, Joe Taylor (@joetaylor_svt). Every time Joe and Kait work together for a photoshoot they make magic.  I can only imagine that they have had the same chemisty in their relationship for past the 7 years.  They are a great pair of car enthusiasts that have been big supporters of ShockerRacing since we got started on Instagram.  I have been excited to work with them for a long time and we finally made it happen!
We sat down to interview Kait, the 23 year old South Carolina resident, and here is what she had for us:
SR: You have been supporting ShockerRacing.com for a while now, what drew you to us from the beginning?
Kait: The huge support from the page itself and the energy that ShockerRacing brings.
SR: What was your first car?
Kait: My first car was a 2000 Mitsubishi Eclipse that didn't last too long and then I was very happy to get my 1995 Mustang GT.
SR: What do you currently drive?
Kait: LOL! I have an assortment of cars I drive along with my Suzuki GSXR-600.  I daily drive a BMW 545i, and I have a Dodge Dakota that my mom passed on to me.  Joe and I share a 2011 Mustang GT Track Pack Car.  The 2011 is lowered on Eibach Sportlines, has TSW Parabolica Wheels, a GT500 Spoiler, a Chin Spoiler, BBK 3" X-Pipe with Magnaflow Resonators, and an Airaid Intake with a BBK Throttle Body. And last but not least I still have my 1995 Mustang GT.  I've had this car since high school and it started life as an automatic.  I quickly wanted to change that so now it is a 5 speed.  Sadly, that car is still stock but I have a heads, cam and intake swap ready to go on it!
SR: What is your dream car?
Kait: Honestly, I would say that I have my dream car because I feel incredibly blessed that I have the cars I have at my young age and I've always wanted a Coyote Mustang.
SR: What got you interested in cars?
Kait: I've always had a strong passion for cars and was always interested in them.  I always got goose bumps riding in my dads cars and took a lot of pride riding in them.  My passion only grew stronger as I grew older and met my fiancé Joseph.
SR: Do you have a favorite automotive event?
Kait: Any event is my favorite to be honest.  I love going out and meeting and talking to people with the same passion as me.
SR: Have you done any modeling before this?
Kait: I have literally next to none.  I've always wanted to become a promotional model for an automotive company and hopefully I will be able to continue doing more soon.
SR: What is your best asset?
Kait: I feel like my best asset is my fun outgoing attitude along with my butt I guess, LOL!!!
SR: What is your biggest pet peeve?
Kait: I hate when people place judgment on others.
SR: Do you have any nicknames?
Kait: My nicknames are Kate, Kait, Blondie, Biker Girl, Mustang Girl, you get the point!
SR: What's your favorite food?
Kait: I love Mexican!
SR: If you could take your dream car and go anywhere in the world, where would you go?
Kait: I wish I could move back to Georgia just because the roads are absolutely amazing.  There are beautiful mountains and Georgia is just stunning!
SR: What is your favorite quote?
Kait: "Be yourself; everyone else is already taken." by Oscar Wilde
To see more of Kaitlyn, make sure you are following her on Instagram - @kait_gsxr295
Photos by Joe Taylor - follow him on Instagram - @JoeTaylor_SVT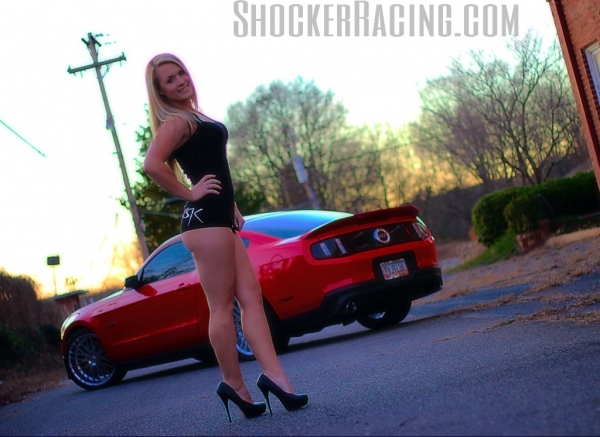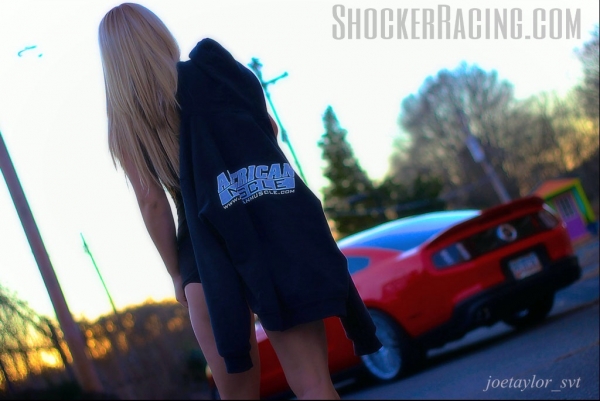 Photo added 1/20/15:
Check out our feature with Chelsea and an RX7 by clicking the photo below: