SR Girls Feature - Karli Perry
Written by James Wednesday, 11 February 2015 21:10
This is a Valentine's Day love story about our latest ShockerRacingGirl Karli Perry and her boyfriend/photographer, Logan... I've been noticing a string of Photographer/Model Couples lately from our ShockerRacingGirls features and this latest pair is no different.  Last month we had our feature on Olivia Hart who had done her photoshoot with her boyfriend.  A couple of weeks later, we released our feature on returning ShockerRacingGirl, Christy Rios, who had done her photoshoot with her fiancé and her new Mercedes.  The last 3 articles were Kaitlyn Macdonald with her fiancé, and Alexis Lamb and Sarah Sewell with their boyfriends! So why should our story being released on Valentine's Day weekend be any different?
During my interview process with Karli and Logan, I found out that not only are they a couple but they recently celebrated their two year anniversary and are recently engaged! They met almost 9 years ago in grade school but then they didn't really talk at all through high school.  Logan tells me that one night, on a weekend home from college, he was at a hometown festival when he noticed her.  He says it was like a story book, "we made eye contact for like 5 seconds and it was that, oh my God, she's perfect moment!" Two years later, they are celebrating a third Valentine's Day together while planning their wedding!
I started wondering why I was beginning to see this photographer/model couple phenomenon happen so regularly and then it clicked... It is fairly obvious, for any of us car guys we have two things we love!  Our rides and our ride or die chicks.  Myself personally, if I had any clue how to work a camera I would probably spend all of my time shooting photos of my wife, Kim and our cars!  To be honest, the whole idea of the ShockerRacingGirls began years ago when Kim and I were just dating.  I had ordered some ShockerRacing t-shirts for the club members and of course she wanted one! I ordered up some pink t-shirts for the women of our members and from there the idea of ShockerRacingGirls was born... the rest is history.
Here is our interview with the 20 year old, Karli, from Commerce, GA:
SR: What kind of car do you currently drive?
Karli: I have a 2001 Pontiac Firebird V6 that is currently stock.
SR: What was your first car that you owned?
Karli: I have a 1988 Dodge Dakota Sport
SR: What is your dream car?
Karli: I would love to have a 2007 Mustang CS/GT, and a 2008 Ford F250 four door 4x4!
SR: How did you get involved in the car world?
Karli: I have always liked Mustangs, big Ford trucks and racing but it all began almost two years ago when I went to my first car show with Logan at Mustangs Unlimited.  He talked me into going and I didn't think I would like it at all.  When it was time to leave the show, the first thing I asked was "so when is the next car show?"  Since then I've been in love with it.  I live literally 60 seconds from Atlanta Dragway in Commerce, so I've spent a lot of time there since I was little and I've always loved racing.
SR: What is your favorite event of the year?
Karli: Mustang Week is my favorite even though I have only been once.  I am planning on going as many times as I can get Logan to go, and I also love when the NHRA Southern Nationals come to the track! Hearing and feeling the raw power of the cars is just amazing!
SR: What is your biggest pet peeve?
Karli: My biggest pet peeve would have to be being made fun of for my size...I'm five foot tall and small and still don't weigh 100 pounds even though I am constantly eating!
SR: Do you have any nicknames?
Karli: Littlebit
SR: What is your favorite food?
Karli: Spaghetti!!! I love Spaghetti. I am always annoying Logan when he asks me what I want to eat because the answer is always Spaghetti! I even ate it for a week straight and never get tired of it.
SR: If you could take your dream car anywhere in the world where would you go?
Karli: I would definitely head to Paris, France in a white 2007 Mustang CS/GT. That would be amazing to have one of the most beautiful cars in the world in one of the most beautiful places in the world.
SR: Tell us two fun facts about yourself!
Karli: I have always wanted to professionally drag race, even as a little kid.  I would also love to become a published, professional automotive model like Tyler Paige and Shelby Wolf. They are both big inspirations for me!
Some of you may want to know a little more about Logan's 2006 Ford Mustang GT Premium.  As you can see, this daily driven Mustang it is painted in Legend Lime Green.  Logan got it when he was 18 and has racked up 190,000 miles on it since! He hasn't done a ton of work to it but it has ported heads and intake, a Pype's Pype Bomb axle back muffler setup, a BBK Cold Air Intake and an MPT Custom 93 Octane Tune.  Logan also has done some appearance mods including; color matched plenum cover, throttle body extension, fuse box cover, and striping inside of the doors. Logan then added an interior lighting kit he got from LEDallthethings.com. He has added a Roush Hood Scoop, black hood stripe, deck lid blackout panel, smoked out lights, polished upper and lower SVE grilles, chrome headlights and Halo fog lights.  Logan tells SR that he hopes to keep this Mustang and pass it along to their children!
NEW PHOTOS ADDED June 25, 2015: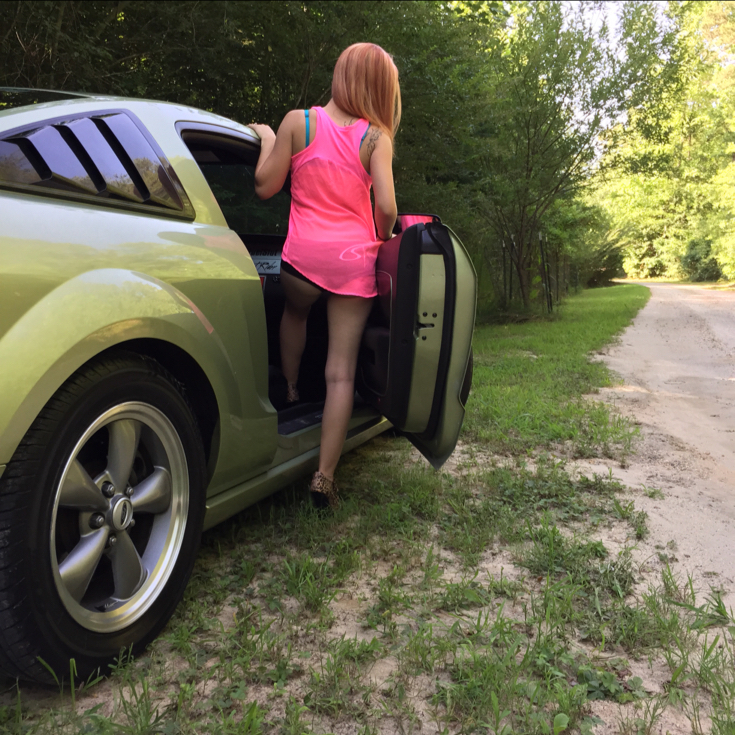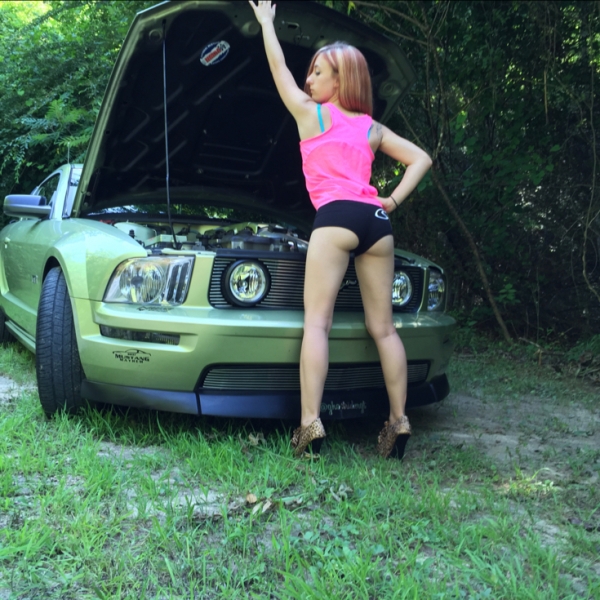 Be sure to follow them both on Instagram:
Karli - @pixieprincess1113
Logan - @ghostridergt
And together they run @nationwidestangs
I want to wish everyone a very Happy Valentine's Day including all of our lovely ShockerRacingGirls.  I also want to give a special Valentine's Day thank you to my wife, Kim, for being so supportive and helping me to continue growing ShockerRacing and the ShockerRacingGirls into what I have dreamed it could become.  I love you baby! I'm going to end this Valentine's Day article with one of her shots from our Chromalusion Photography shoot with our Corvette: