Zelanna Sessions with her Audi A4
Written by James Saturday, 28 February 2015 17:20
20 year old San Diego native, Zelanna, loves her Audi.  Her 1999 Audi A4 B5 Turbo is nicely modded with a custom exhaust, a high flow cat and an APR stage 2 chip tune for some extra power.  She added Tein coilovers to give it a better look and for nicer handling.  She also added a replica RS4 grill and custom headlights. Zelanna has a healthy obsession with her Audi and tells us "whenever I was stressed out, I found that driving would calm me down."  If you're going to be spending some time cruising for relaxation, you might as well do it in a car you love and Zelanna found that love in the form of an Audi.  Ms. Sessions found herself involved in the import car scene after her relaxation cruises landed her at some local car meets.  She tells us that she fit right in with the car enthusiasts at the meets and the rest is history.
Zelanna is currently working in sales while attending college.  Zelanna first caught the attention of ShockerRacing when she submitted her Super Girl photo for our Halloween Costume contest. It was easy to see that Ms. Sessions was huge into fitness, but what we found surprising was that the 5'5" blonde is also on her college wrestling team!
ShockerRacing.com sat down to interview Zelanna:
SR: What was your first car?
Zelanna: It was a 2002 Volvo S40 that I was not a fan of.
SR: What do you currently drive?
Zelanna: My current car is a 1999 Audi A4 B5 Turbo.  I has an aftermarket clutch, sport suspension, aftermarket wheels, custom exhaust, stage 2 tuning, high flow cat, boost gauge, and custom rope and LED headlights along with window tints.
SR: What is your dream car?
Zelanna: I have a few.  I want and Audi RS4, Audi R8 Spyder or an Aston Martin DB9.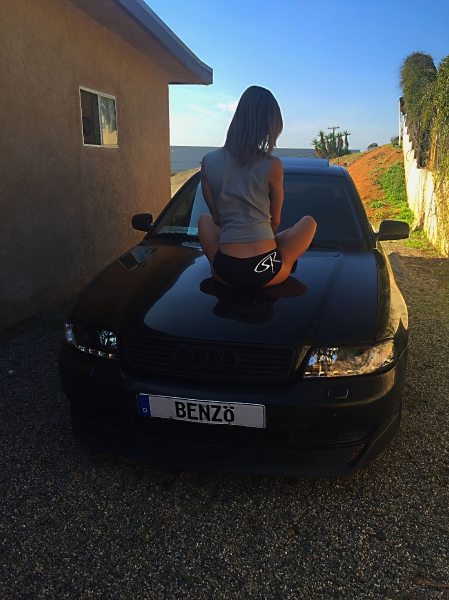 SR: How did you get involved in the car scene?
Zelanna: Whenever I was stressed out, I found out that driving would calm me down.  I ended up at a few different car meets and fit right in with the car enthusiasts there.
SR: What is your favorite automotive event of the year?
Zelanna: I really enjoy H20i and SoCal Euro.
SR: Do you have any modeling experience?
Zelanna: I modeled for Tilly's Swim Wear for one summer and have also done some lingerie shoots as well.
SR: What is your biggest pet peeve?
Zelanna: I hate when people don't follow through with plans and people who don't clean up after themselves.
SR: Do you have any nicknames?
Zelanna: Zee, ZZtop or ZGirl
SR: What is your favorite food?
Zelanna: All of it! Especially Raviolis... YUM!
SR: If you could travel anywhere in the world with your dream car, where would you go?
Zelanna: I would go to Maui, Hawaii or Fez, Morraco!
Be sure to follow Zelanna on Instagram: @Zuhlaynuh
Thanks to Joe Taylor for some photo editing: @joetaylor_svt