Jessica with Photos by Lane Lewis and his 2013 Ford Mustang GT
Written by James Tuesday, 03 March 2015 21:46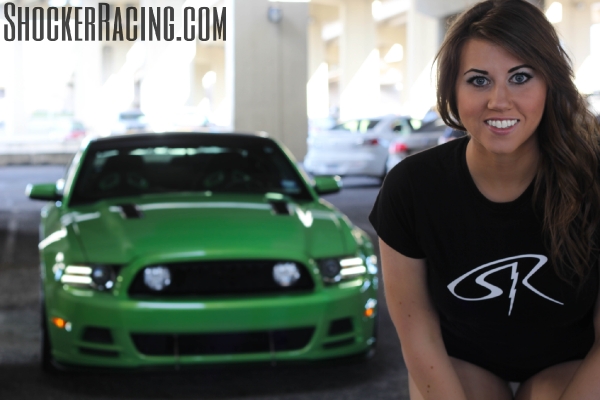 It's currently winter in Canada where our latest ShockerRacingGirl, Jessica, lives.  Needless to say, Jessica(@hrtbrakr) was extremely excited to head to Texas for some warm February weather.  It was an added bonus that, while in Texas, she was able to meet up with photographer Lane Lewis(@5.low) and his gorgeous "Gotta Have It Green" 2013 Ford Mustang GT to make some magic! Click the link to get to know more about Jessica and for more hot pics of her and the Stang...
The 27 year old, Jessica, is a Sales consultant for Ford back in Canada.  So it was fitting that she would try her hand at modeling with a Ford Mustang GT.  Jessica, at 5 foot 9 inches, tells us that she has no prior modeling experience but that it is something she would love to get more involved in.  After seeing these photos, I would say that the Canadian car guys should get in line to start booking her for more shoots this spring!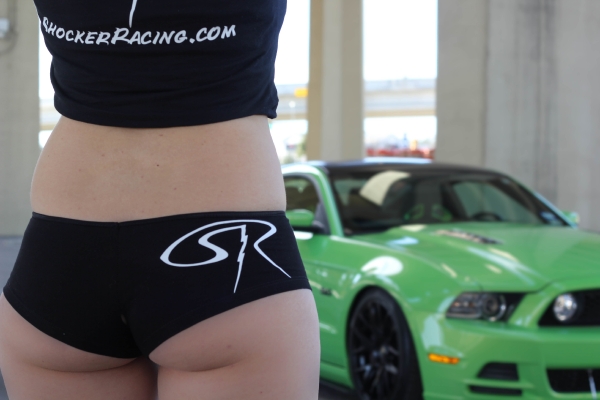 ShockerRacing sat down to get to know Jessica better, here's our interview:
SR: What do you currently drive?
Jessica: It's winter here in Canada so my winter car is a Hyundai Genesis Coupe 3.8. I recently sold my last Mustang, a 2010 4.6 GT. I purchased the car stock but by the time I sold it the mods included: Roush m90 supercharger with upgraded pulleys, CAI, 42lb injectors, GT500 dual fuel pumps, custom tune, h-pipe with hi-flow cats, Mac axle-back exhaust, Saleen grille, H&R springs and Vossen CV7's.
SR: What is your dream car?
Jessica: I actually ordered my dream car, a 2015 Mustang GT premium with the performance package in Deep Impact Blue and fully loaded with Recaro Seats. I could not be more excited for it to be delivered! But I do love trucks, too.  So my dream would be to have a Ford Raptor as well for days that aren't so nice,
SR: How did you get involved in the car scene?
Jessica: Initially through my older sister.  She was involved in the mini-truck community and built her own bagged Ranger.  I just branched out from there. I had always loved and wanted a Mustang, and got involved in a local club who found me on Instagram!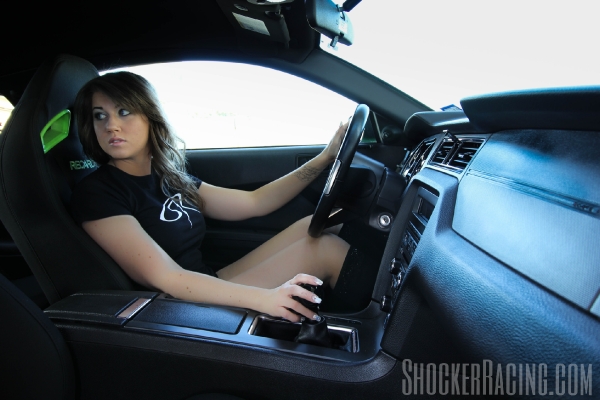 SR: What is your favorite automotive event of the year?
Jessica: So far my favorite event that I have attended was the American Muscle show in 2014. It was a great cruise down with my club and a great show.  I hope to attend again this year! I would also love to go to Mustang Week, SEMA, and the Texas 2K events in the future!
SR: What would you say your best asset is?
Jessica: As far as personality goes I'm a very friendly person and love meeting new people. I always say there's something to learn from every new person you meet. As far as physical attributes, I think my height and my eyes would be my best assets.
SR: What is your biggest pet peeve?
Jessica: My biggest pet peeve would be the lack of respect in the modified car community. I will be the first person to say not everyone is meant to be best friends.  However, I think the V6 vs V8 , auto vs manual , Ford vs Chevy arguments need to quit. I think we need to realize at the end of the day we all share a common hobby and appreciation and get enough flack from people who don't understand, including law enforcement and family and friends.  By no means am I preaching kumbaya, there will always be some jokes and poking fun, but we do need to respect each other, quit trolling and making it personal.
SR: What is your favorite food?
Jessica: Texas BBQ and Sweet Tea!
SR: If you could travel and have your dream car anywhere in the world, where would you go?
Jessica: Those are two separate trips for me.  It's a huge dream of mine to visit Bora Bora and stay in the over-water bungalows.  As far as a driving vacation, who would say no to the Nurburgring? I think that is every performance drivers dream.
SR: Tell us a couple of fun facts about you that people might not know.
Jessica: My other passion besides cars is horses.  I've owned 2 horses in my life, a thoroughbred and a quarter horse.  I have ridden almost my whole life and it's a secret dream of mine to be a pro barrel racer.  Also, my goal is to live in the U.S. by the end of the year.  Especially, somewhere away from the snow and cold and that the nice cars aren't put away half of the year.
SR: What is one of your favorite quotes?
Jessica: I love this one by Earl Nightingale, "Never give up on a dream because of the time it will take to accomplish it. The time will pass anyways."
Now of course, we all want to know more about this "Gotta Have It Green" Mustang GT.  Lane tells us his Stang is riding on Matte Black 19 inch SVE Performance Drift Wheels that are wrapped in Nitto Invo tires.  He added a Stillen Street Scene Gen 1 Chin Splitter to grab some attention on the front of the car along with TruFiber Carbon Fiber Hood Vents.  Lane's Mustang also features Roush Side Splitters, a Ford Racing Boss 302 Rear Diffuser along with an MMD Ducktail Spoiler.  Inside, he added Custom Paint matched Recaro bucket racing seats.  For more performance, Lane added a J&M Adjustable Panhard Bar, BC Racing BR Type Coilovers, 3.73 Ford Racing Gears, Brembo Brakes and a Roush Performance Axle-back Exhaust.  If you are in Texas, keep your eyes peeling for this beast roaming the streets near you!
Be sure to follow Jessica and Lane on social media:
Jessica on Instagram - @hrtbrakr
Lane on Instagram - @5.low and on Facebook - www.facebook.com/lanelewisphotography
View the full photo gallery here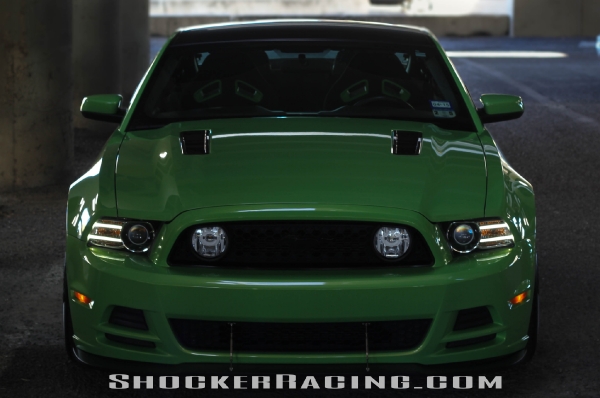 Check out Skylar Baggett's ShockerRacingGirls Feature by clicking the photo below: