Brittany Asch with photos by Munashe Nhubu
Written by James Sunday, 22 March 2015 15:32
24 year old, Brittany Asch, comes from a Mustang family.  Her 2014 Grabber Blue Mustang is the 7th one in her family.  Her dad has owned a 1966 Mustang Fastback, a 1997 Mustang and an '01 Mustang and her mom had a 1996 Mustang.  Ms. Asch also tells us that her uncle had a 1968 California Special Mustang and her grandparents own a 2007 Mustang GT500.  Brittany's dream since she was little was always to own a Mustang but now that she owns one, she tells us her dream is to get behind the wheel of a Nissan GTR at least once.  For this shoot, Brittany met us with photographer Munashe Nhubu and Zach Waddell with his 2012 Ford Mustang GT Premium.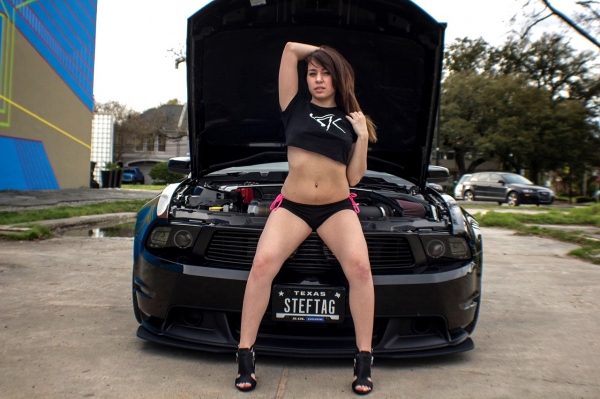 Brittany is a resident of Houston Texas that measures just 4 foot 10 inches tall.  She is in Automotive Insurance Sales and currently drives a 3.7L V6 Grabber Blue Ford Mustang that she says is currently under construction.  Besides cars, Ms. Asch also loves dinosaurs!  She tells us "I'm a big museum nerd. For my last birthday, my parents took me out of state just to visit a museum.  It's because of the dinosaurs mostly."
We sat down to interview Brittany: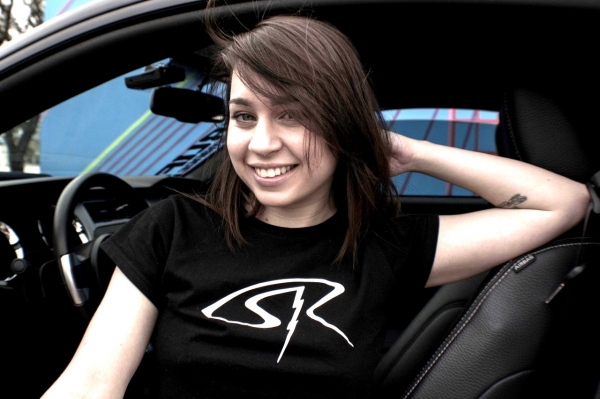 SR: What was your first car?
Brittany: It was a 2007 Grey Toyota Corolla.  He was a good car.  I sold him with a big spot on the back door from where I got egged one time!
SR: How did you get involved in the car scene?
Brittany: My grandpa, who passed away last month, is responsible for my obsession.  His hobby was restoring classics, and he was extremely good at it.  Growing up we literally traveled the country just for car shows.  It was just natural for me to love it.  Believe it or not, I am the only grandchild out of 8 that ended up being involved with cars.
SR: What is your favorite automotive event of the year?
Brittany: TX2K is always fun, but I am a bit prejudiced since it is in Houston.  I'll always be a bigger fan of small gatherings of car enthusiasts, though.  I am also keeping my fingers crossed that I will be able to attend Mustang Week this summer.
SR: Do you have any modeling experience?
Brittany: Not much.  I have only had one prior car shoot and a lot of selfie practice!
SR: What is your best asset?
Brittany: I am very easy to get along with. My personality is very outgoing and silly.  Physically, my size definitely and my eyes.  Although, I have heard many comments on other things but I won't mention those!
SR: What is your biggest pet peeve?
Brittany: Houston drivers! Seriously, if you cannot drive aggressively you do not belong here.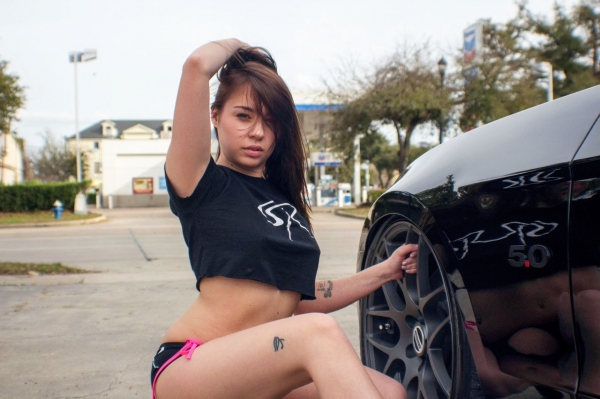 SR: Do you have any nicknames?
Brittany: I've had many over the years which I won't mention but the one that's lasted the longest is Tany.  My dad and stepmom have called me that ever since I can remember.
SR: What is your favorite food?
Brittany: I don't have one so I'll give you my top 3.  French fries, taco truck tacos, and Mangonada.
SR: If you could travel and have you dream car anywhere in the world, where would you go?
Brittany: I would definitely cruise across Europe.
SR: What is one of your favorite quotes?
Brittany: "It does not do to dwell on dreams and forget to live." by J.K. Rowling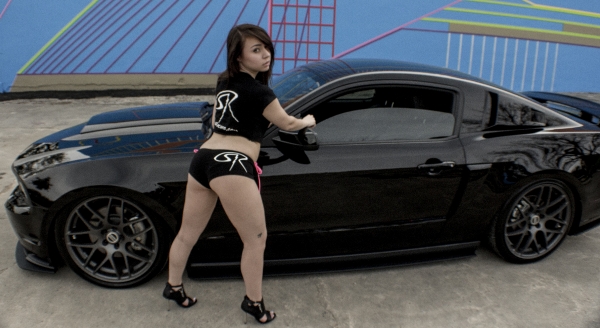 Zach has completed quite a few mods to his 5.0 Mustang.  On the exterior he has added a Boss 302 Front Fascia, Roush Side and Rear Splitters, and GT500 splash guards.  He converted the rear end to a 2013 model with the newer tail lights and bumper cover.  All of the lighting has been blacked out, including Raxiom smoked headlights and fogs.  Zach also chose to add a hidden fog light billet grille and Eleanor quarter window louvers with matte black emblems.  On the inside, Zach went with a full JL Audio system.
His suspension includes; Airlift performance digital kit bags, BMR lower control arms, BMR adjustable upper control arms, BMR adjustable panhard bar, Eibach front and rear sway bars.
For wheels and tires, the Mustang is sitting on American Muscle(AMR) charcoal 20" staggered wheels and Nitto Invo tires.
To increase the engine performance, Zach went with; an Airaid Cold Air Intake, a BAMA tune, JLT passenger side oil separator, Borla S-Type exhaust with cat delete pipes.
To find out more about Brittany, the photographer or the car be sure to follow them on their social media pages:
Brittany Asch: IG - @brittylou90 Twitter - @brittanyasch
Photographer Munashe Nhubu: IG - @boosti
Zach and his Mustang: IG - @steftag302