Lisa Simpson aka MrsRovosWheels with her 4Runner
Written by James Thursday, 26 March 2015 09:23
Lisa Simpson is a 27 year old Realtor out of Atlanta, Georgia.  The 2014 Toyota 4Runner she is leaning on belongs to her and may be the first SUV that we have ever featured on ShockerRacing.  Lisa, aka @MrsRovosWheels, tells us "I fell in love with a wheel and tire salesman." Her husband happens to be the owner of Rovos Wheels, so of course her ride would be sitting on some gorgeous 24" custom Rovos Kimberley wheels.  She had them custom painted gloss black with a neon pink accent.  Along with the wheels, Lisa chose to add a matte satin black wrap job on her 4Runner to really make it stand out in a crowd. Then they added some gloss black accents including the emblems and a Westin brush guard.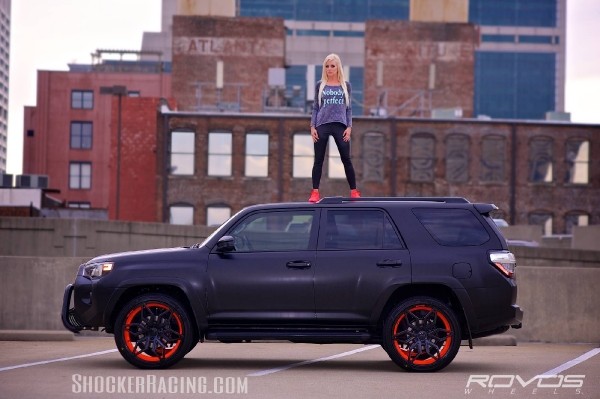 This 5'2" blonde isn't just the beautiful face of Rovos Wheels and a Realtor.  Lisa is also the mother of two boys that are 1 and 2 years old that were born less than 12 months apart.  On top of that, Mrs Simpson loves making really fun and colorful gemstone beaded tassel jewelry.  Be sure to check out her jewelry page on Instagram called Heart Tribe Jewelry (@hearttribe).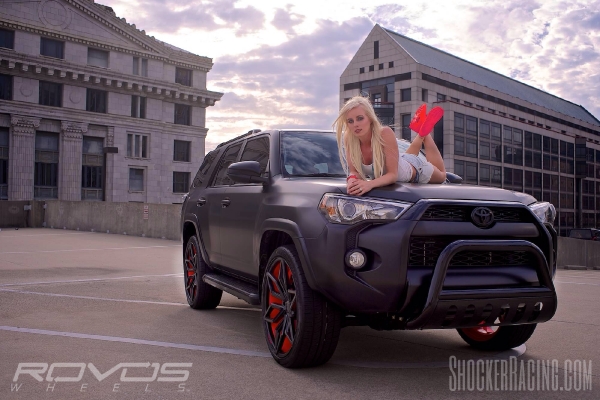 Mrs Rovos Wheels went on to tell us she earned her Bachelors Degree in Business in just 3 years and graduated with a 4.0 GPA!  She is also apparently a huge animal lover because she says if she had more time and property she would love to start a non-profit adoption center for dogs and cats.
Here is the rest of our interview with Lisa:
SR: What was your first car?
Lisa: My first car was a white Honda S2000 that was a 6 speed with red leather.
SR: What is your dream car?
Lisa: I want a Red Lamborghini Huracan!
SR: If you could take your Huracan anywhere in the world, where would you go?
Lisa: I honestly love Key West in Florida so I would take it there!
SR: How did you get involved in the car scene?
Lisa: I fell in love with a wheel and tire salesman so I got to see and drive beautiful custom cars everyday.
SR: What is your favorite automotive event of the year?
Lisa: Definitely SEMA in Las Vegas!
SR: Do you have any prior modeling experience?
Lisa: Mostly hair magazines, and I auditioned for Playboy Magazine! I was asked to send in more photos but then I chickened out! I was Butler Tire's Ring Girl in 2010 and I have done some modeling for a local boutique here in Atlanta and obviously modeling for our company Rovos Wheels.
SR: What is your best asset?
Lisa: My heart.  I am so kind to everyone I meet.  I love shocking people with how sweet I am because when you model, even amateur, people sometimes assume you are going to be a bitch or stuck up.  So when you end up being the complete opposite it's such a breath of fresh air.  Being sweet makes me feel like I can accomplish anything.
SR: What is your biggest pet peeve?
Lisa: When people stop at yellow lights! I mean, come on, yellow means to hurry up and get through the light and red means stop! I also can't stand when people are disrespectful in traffic and purposely don't let other cars over.
SR: Do you have any nicknames?
Lisa: Blondie and Booboo-kitty... LOL!
SR: What is your favorite food?
Lisa: Atlanta based restaurant Houston's Spinach Dip with Salsa and I love Sushi.
One of Lisa's favorite quotes is, "Smile at everyone you see because you don't know the burden they may be carrying."  She is not sure who said this but she loves it because it is so true.  A smile, especially from a stranger can be so powerful and have such positive impact on someone's life.  It's so easy to do, takes a split second and the result could be life changing for the person who sees you smiling at them.
After talking with Lisa, we are starting to wonder if there is anything she isn't involved in and how she manages to have 28 hours in her days!  To catch up with her and find out more about all of her endeavors, be sure to follow her on all of her social media pages.
Instagram: @MrsRovosWheels & @HeartTribe & @SoldByLisaSimpson
Rovos Wheels on IG: @RovosWheels
Photos by Jesse Lavender from Lavender Digital
DON'T MISS - BIANCA OWENS WITH JD JOYRIDE TV - Click Below: