Taylor Ethridge with her 2014 Mustang 5.0
Written by James Saturday, 11 April 2015 11:09
When ShockerRacing.com asked Taylor Ethridge if she has ever raced her 2014 Ford Mustang 5.0 or taken it to the track, her response was "does the interstate count?"  She added "the poor Camaro had no chance!"  We'll keep this on the low, as we wouldn't want to upset NHRA.  She went on to mention that she has always wanted to run her Stang at the track and hopes to do so sometime soon. We love the creativity that Taylor brings to the table with her photos.  Some of you may remember Taylor's winning submission from our 2014 Halloween Contest, where she decorated her car to match her Queen of Hearts costume.  For this ShockerRacingGirls photoshoot, Ms. Ethridge came up with the idea to bring out her dance shoes to show off some of her moves with her Mustang.  The pairing of her two passions proved to be a great idea...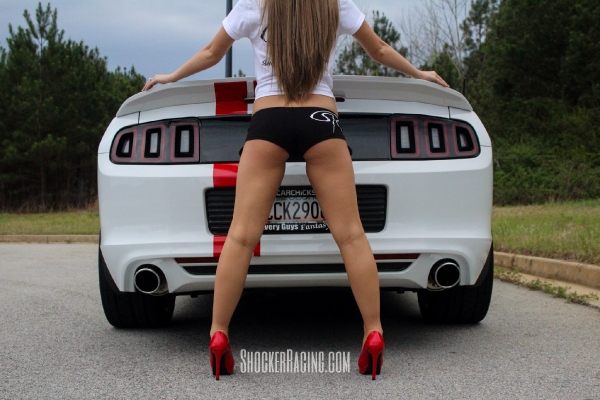 The 19 year old Atlanta, GA native drives a white 2014 5.0 Mustang that is lowered and rides on 20" Chrome Foose Outcast Wheels and makes noise from the Roush Axle-Back Exhaust.  Taylor added red caliper covers to match the red interior and then a few months later she added the red off-center racing stripes to break up all of the white. Her Stang also came equipped with the panoramic glass roof and an automatic with the select shift mode.
Here is our full interview with Ms. Ethridge:
SR: What was your first car?
Taylor: It was a red 2007 Ford Mustang GT
SR: What is your dream car?
Taylor: My dream car would be a Shelby GT 500, but for the most part, I'm driving my dream car.
SR: If you could take your dream car anywhere in the world, where would you go?
Taylor: I would probably cruise it to Key West, FL because it is such an amazing place.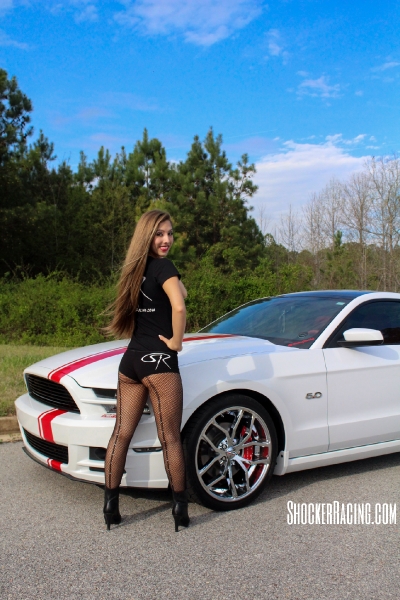 SR: How did you get involved in the car scene?
Taylor: My dad got me interested in Mustangs at a very young age.  Around the age of 12 I decided the Mustang was the car I wanted to drive.Christmas Eve 2012 my Mom and Dad surprised me with my 2007 GT.  I drove it for about a year and a half, I loved that car I always said I would never get rid of it.  I started getting involved in Mustang car groups on Instagram and through this I started talking to Justin Hartley.  Justin invited me to my very first car show, Mustangs at the Mountain, in May 2014.  This show sent my love for Mustangs over the top.  I fell in love with the newer models and 3 days later my Mom and Dad surprised me with my 2014 5.0 as an early graduation present.
SR: If ShockerRacing.com was going to buy you any mod for your Mustang regardless of price, what would you choose?
Taylor: Mmmm a supercharger!
SR: What is your favorite automotive event of the year?
Taylor: Mustang Week at Myrtle Beach, SC!
SR: Which of the Fast and Furious movies is your favorite?
Taylor: That's a hard question because I love all of the movies.  I would have to say Fast and Furious 6 and of course Furious 7!
SR: Are you a Vin Diesel or Paul Walker kind of girl?
Taylor: Paul Walker of course!
SR: What modeling experience do you have?
Taylor: I have very little, but it has always been a dream of mine to do print work.   In 2012, I won a contest for a photo shoot with Karen Roberts Photography, and for about 2 years Karen used me to do fun and creative photo shoots.  I was able to use the photos to get my start in the TV/Movie Background Extra work that I also love to do.
SR: What is your best asset?
Taylor: I would say my smile and my kind heart…
SR: What is your biggest pet peeve?
Taylor: My biggest pet peeve is having a dirty car.
SR: Do you have any nicknames?
Taylor: TayTay from childhood and Boots for my love of cowboy boots.
SR: Tell us two fun facts about yourself that people don't already know.
Taylor: I was a dancer for 14 years.  I started dancing when I was 4 years old and stopped when I was 18.  I did competition dance for 9 of the 14 years.  Also,  I have been a Background Extra for TV and Movies including: The Vampire Diaries, Ride Along 2 and Bolden, and hope to do many more.
Follow Taylor on Instagram: @MustangBeauty_5.0
Photos by Justin Hartley - Follow him on Instagram: @JustinS197