Amanda Dragonstone with her 2014 Subaru WRX Hatch
Written by James Monday, 20 April 2015 16:05
Here at ShockerRacing we haven't had the opportunity to feature many imports until Amanda Dragonstone contacted us about shooting for ShockerRacingGirls.  We were excited to see her shoot with her 2014 Subaru WRX Hatch.  Amanda was working on scheduling a photoshoot, but a couple of weeks ago while out hiking she came across this beautiful location and just happened to have her SR Bootyshorts and a pair of high heels in her Subie.  Her boyfriend also happens to be a photographer, so they took advantage of the opportunity and snapped off this impromptu photoshoot.  Ladies, let this be a lesson... Always keep your ShockerRacing bootyshorts and a pair of high heels in your car!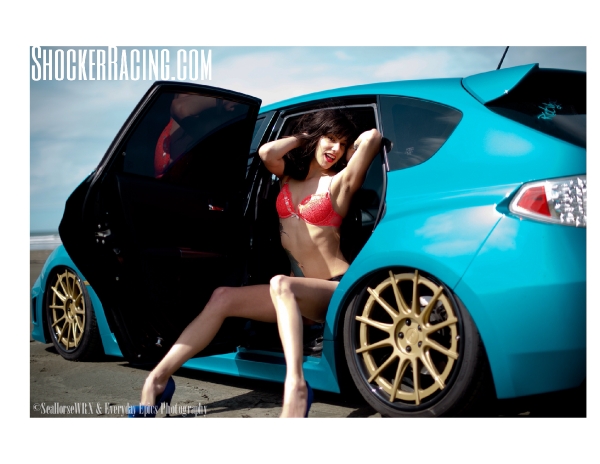 Amanda is a 24 year old Washington State resident and has worked in an interesting variety of different fields.  Ms. Dragonstone tells us that she used to work in Forensics but is currently a Butcher.  She went on to tell us that she is on a long career path to become a cook somewhere and then become a Chef!  Amanda also mentioned that she used to ride and train horses competitively until she was 19 years old and she now plans to compile photos this summer to submit to hopefully become one of the Suicide Girls.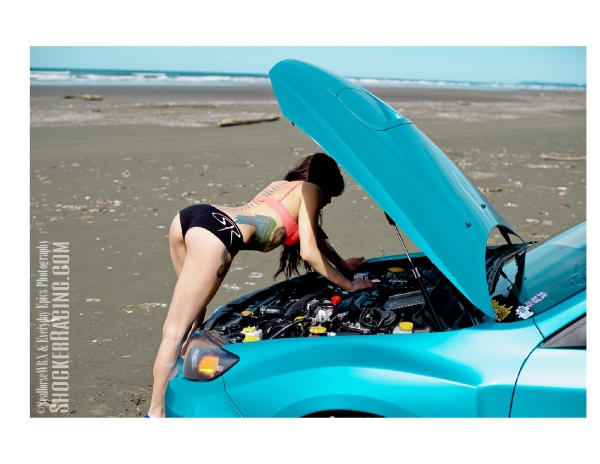 Amanda is a big fan of the hatchback WRX's and when she found out that Subaru was going to be killing the hatch she scrambled to find this 2014 before they weren't available.  This car started its life as a black stickshift WRX but was quickly changed to a black, gold and purple combo for a short time before finally being wrapped in this Atomic Teal color.  This color is apparently just one of three Subaru's that is sporting this color.  To continue setting up the appearance of her hatch, Amanda added an Air Lift Performance Suspension, 3 Piece Custom Forged Niche Agile h360 wheels and Nitto Motivo Tires.  Her Subie has an Invidia q300 exhaust, Perrin cold air intake, and a Cobb Accessport.  The headlights were made custom from stock with halo's, LED's and a blacked out housing.  She also went with a custom sound system including; JL Subwoofers, JL Amps, a custom submerged sub box, Focal speakers and a Pioneer DVD head unit.
Here is the rest of our interview with Amanda:
SR: What was your first car?
Amanda: I had an 03 WRX sedan in WRB Blue with an STI swap and straight pipes.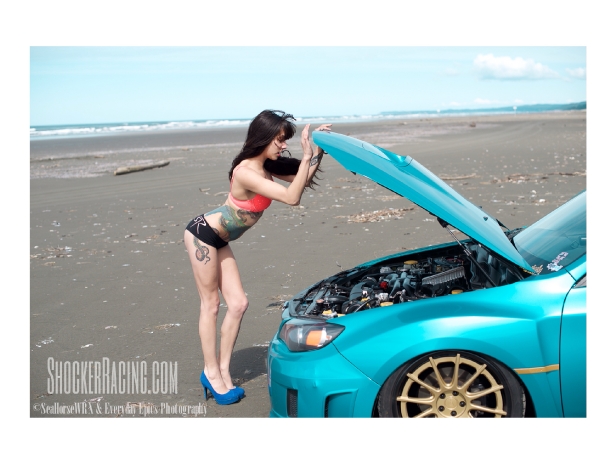 SR: What is your dream car?
Amanda: The 2012-2014 WRX hatches! I'm living my dream.  I am a sucker for the booty on them! Although, I am hoping to purchase a Tesla S coupe sometime next year.
SR: How did you get involved in the car scene?
Amanda: I wanted to get involved for years, but have never really had any friends who shared my obsession with cars.  So after I got my hatch I decided I was going to a show with it.  I began researching all of the local car meets and car shows and eventually wound up being a vendor car for the custom shop that did my sound system.  I met some cool people and found out about Big North West and decided to attend that.  The bug continued to catch from there!  This year I plan to go to Subie Fest and SEMA.
SR: What is your favorite automotive event of the year?
Amanda: So far Big North West has been my favorite, I love any and all Subaru's.  It was really amazing to see so many incredible Subaru's all in one place.  I am also really excited for SEMA, I know I am going to see some incredible pieces of art there.
SR: What modeling experience do you have?
Amanda: Not a lot so far, my camera experience mostly lies behind it.  I have a background in 4x5 and digital photography, I modeled for fellow students in class and have always wanted to try it out, so here I am!
SR: What would you say is your best asset?
Amanda: My intellect.
SR: What is your biggest pet peeve?
Amanda: OMG, people not using turn signals! Grrr, seriously people need to use them! It's how you communicate on the damn road.  Oh and leaving them blinking, too.  I can't stand it.
SR: What nicknames do you have?
Amanda: Gracie, because I have none... I'm sort of a klutz. Crazy Bird Lady, a title I proudly wear.
SR: What is your favorite food?
Amanda: I can't even come up with one thing, but right now I am really enjoying Lobster Cracker Jacks.  Pretty incredible!
SR: If you could take your dream car and travel anywhere in the world, where would you go?
Amanda: Bucharest, Romania! I love Vampire and Werewolf lore but not Twilight type stuff!

SR: Which of the Fast and Furious films is you favorite?
Amanda: I really liked the first one.  I still go back and watch it when I need something to make me happy. But honestly, I am more of a Gone In 60 Seconds fan.  I guess maybe that shows my age, or my preference for older films.  I still remember being a kid and convincing my mom to rent it.  I watched it 3 times in a row that night! I have also seen Furious 7 twice already.  I think it was well done but I am still not happy about what they did to the hatch!
SR: Are you a Paul Walker or a Vin Diesel type of girl?
Amanda: I don't know if I could choose. I like Paul's car choices but Vin's muscles.
SR: If ShockerRacing was going to buy you any mod for your car regardless of price what would you choose?
Amanda: I think I would choose my tune, I am planning to go for power this year.
SR: Drag racing or Road Racing?
Amanda: Road or Rally Racing, mud is fun!
Be sure to follow Amanda on her Instagram account: @TheSeahorseWRX
Also check out her photographer at www.EverydayEpicsPhoto.com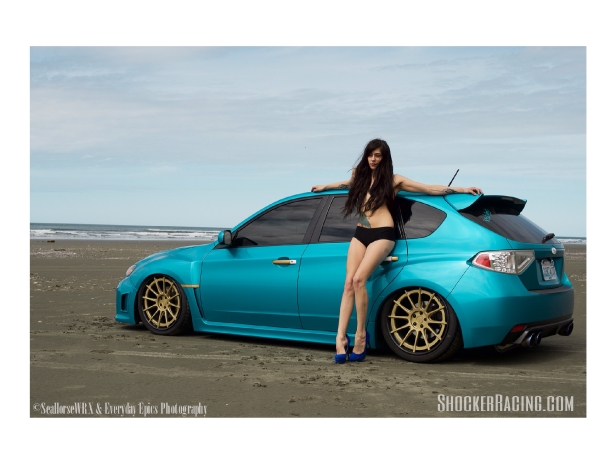 DON'T MISS - Bear Dellinger for ShockerRacing Girls - Click Below: