Allison Hoffmann with her BMW 3 Series
Written by James Sunday, 31 May 2015 17:34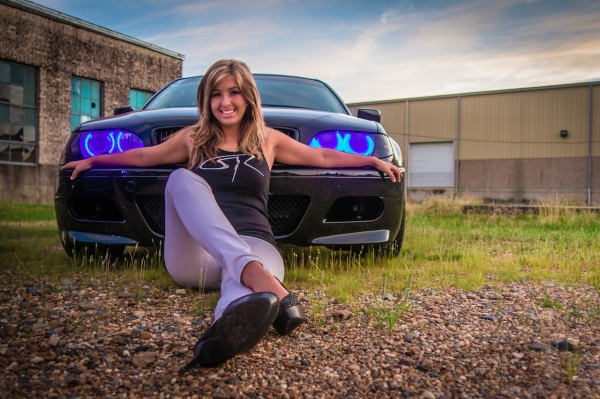 The majority of our ShockerRacingGirls articles have featured Mustangs, Camaros and Corvettes.  We've been lucky enough lately to have a little more diversity in our features and this week we finally get to feature our first Shocker Racing Girl with a BMW.  Allison Hoffmann owns a 2003 BMW 325i that she purchased in May of 2014. Allison added a set of 18" Niche Circuit wheels wrapped in Toyo Tires to make the Bimmer pop.  The 325i was also lowered on a set of Eibach Springs to give it a nice stance.  Ms. Hoffmann also added a BMW M3 front bumper, color changing halo headlights, tinted tail lights and a black grill.  We asked Allison, "If Shocker Racing was going to pay for any one mod to your BMW, what mod would you choose?" She replied, "I would pick a set of bags or coilovers."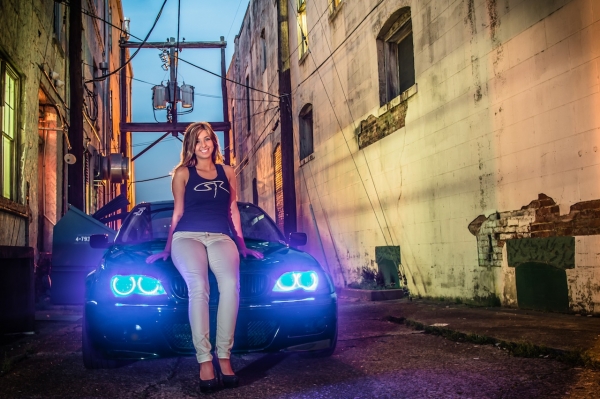 The 18 year old Arkansas resident, is currently a freshman at Southern Arkansas University.  Allison tells us that she has no previous modeling experience but you wouldn't know any better from this photoshoot by Chance Allmon of Camden, Arkansas.  According to Ms. Hoffmann, her ex-boyfriend was really into cars and the car scene and inspired her to want to build her own custom show car.  Yes guys, I did say her ex-boyfriend which means she is currently on the market!  When she's not in class, you'll find her checking out car shows like Hot Import Nights or Slamily Reunion which is held in Fort Smith, Arkansas in August.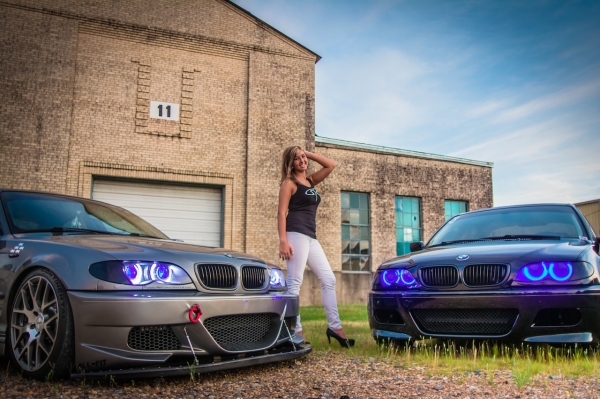 Here's the rest of the interview with Allison Hoffmann:
SR: What was your first car you owned?
Allison: My first car was a completely stock 2002 Honda Civic.
SR: What is your dream car?
Allison: I would love to get my hands on a bagged BMW X3.
SR: If you could take your dream car anywhere in the world, where would you go?
Allison: I would definitely take the X3 to Germany!
SR: Do you have any nicknames?
Allison: They call me Evil Knievel.
SR: What would your ex say is your best asset?
Allison: He would say my personality is great!
SR: What is your favorite food?
Allison: BBQ Ribs are my favorite.
SR: Which of the Fast and Furious movies is your favorite?
Allison: I love them all.  The way Furious 7 ended was pretty good, but I liked Fast and Furious 6 just as much.
SR: Are you a Vin Diesel or Paul Walker kind of girl?
Allison: Paul Walker all the way! So much so that one of my favorite quotes is from Paul Walker - "I start to make up right now, for every wrong turn I've made."
SR: Drag Racing or Road Racing?
Allison: Road Racing.
SR: Dogs or Cats?
Allison: Dogs.
Be sure to follow both Allison and her photographer Chance Allmon on Instagram:
Allison Hoffmann - @allison_hoffmann
Chance Allmon - @bychancephotog