Katie Mizera with her 2006 Mustang GT
Written by James Monday, 20 July 2015 21:12
Katie Mizera(@katerbug_11) is a 19 year old, gear banging, drag racing, Mustang modding, Hooter's Girl that enjoys modeling with cars, trucks and bikes.  What more could we ask for???  We've been hoping to feature Katie and her 2006 Ford Mustang GT for a while now and we finally got our chance at the beginning of July when she met up with Cody White(R3AL Media) and Blake McCombs for some 'Merica themed photos.
Hit the link for the full photoshoot and to read more about this midwestern car girl.
The 5'8" Stang girl from Springfield, IL tells us she purchased her Performance White 4.6L Mustang about a year ago.  She was driving past a candy shop and saw her parked out front for sale.  She was ready to step up from her 1996 V6 Ford Mustang and get something with more power.  Even though Ms. Mizera did not know how to drive a stick shift, she had already fallen in love with this car and by the end of that week it was in her possession.  She taught herself how to drive it within a week and has been slamming gears ever since.
When Katie brought her home it was already wearing Royal Blue stripes and the "BAMA Performance" banner.  For performance it had Flowmaster exhaust, Pypes off-road x-pipe, an Airaid Cold Air Intake, a Hurst Short Throw Shifter and was tuned by Bama Performance.  Shortly after buying  this Mustang, Katie joined the White Mustang Registry and is number 1175.  She added 18" AMR charcoal rims and wrapped them in Nitto N555's and removed the blue stripes.  She added Raxiom smoked headlights and halo fog lights. Then she added under glow changeable interior lights,Plasti-dipped the Mustang emblem white and lowered it 1.5 inches with SR springs to complete the appearance.  in the future, Katie hopes to add either a turbo kit or some cams and headers.

Here is the rest of our interview with Katie:
SR: What was your first car?
Katie: A red 1996 V6 Ford Mustang
SR: What is your dream car?
Katie: There are way too many but if I had to pick one it would be a Signal Green BMW M3 with a full Dinan package on it.  It's a realistic dream car that I have always found super badass.  That would be my daily but my race car would be a Mustang GT with a Twin Turbo'd Coyote Swap.
SR: If you could travel anywhere in the world and have your dream car with you, where would you go?
Katie: I would go to either Italy or Greece more towards the water.  I have heard both places have many beautiful spots to cruise around the water that also takes you on some fun winding roads.  I love stuff like that!
SR: How did you get involved in the car scene?
Katie: I've always had an interest in cars.  I remember playing with my brothers cars with him and watching the Fast and Furious movies growing up.  What car person can say those movies didn't somehow play a part in how their passion began?  They played a big part in jump starting my passion for cars. I love everything about the movies from the racing to the modding.  I am also one of just a few girls in my area to hang out with a car group.  We have this lot that we kind of made our own and most of us are pretty good friends because we all share the same passion. We all go to Gateway to drag race and enjoy going to car shows together. It's like a big family, we may not all get along all of the time but at the end of the day you come together just like in F&F.  Like Vin Diesel said in F&F, "she ain't afraid to get a little engine grease under her fingernails." That is definitely me, my car is my prized possesion and I am always down for whatever when it comes to cars.  I live for that rush you get being behind the wheel of a fast car.
SR: What is your favorite automotive event of the year?
Katie: Midnight Madness which takes place on select Friday nights at Gateway Motorsports Park in St. Louis.  They have open drag racing and drifting all night until midnight.  It's my favorite because I am one to have a good amount of speeding tickets and this is an event where anyone can come to line up with someone else neck and neck and absolutely hammer down the track, and it's all legal! I love it!
SR: If ShockerRacing was going to pay for any mod to your car no matter the cost, what mod would you choose?
Katie: A supercharger!
SR: Do you have any modeling experience?
Katie: I have a bit, I am on Model Mayhem and have shot with a few local photographers.  I prefer modeling with cars, trucks and bikes because it comes more natural to me.  I have also done swim, glamour, beauty, and clothing modeling.
SR: Are you single?
Katie: Nope, I am happily taken by my boyfriend, Luke, who also loves cars.  He drives a Mitsubishi Evo VIII that has a high compression 2L that was built by Boostin Performance in Schaumburg, IL.  It's pushing close to 500 horsepower to the wheels on 30lbs of boost.  It's the fastest 4 banger in our area!  I love being in a relationship where we share the same interest in cars.  He just appreciates imports and I love my domestics.
SR: What would your ex say is your best asset?
Katie: My witty personality, I have tendancy to be sassy.
SR: What is your biggest pet peeve?
Katie: Guys that are sexist towards me because I am a girl with a fast car.  Most guys see me with my car and assume my car is a V6 that runs 15's.  Just because I am a girl they assume it is an automatic and they don't expect me to know what I am talking about when it comes to cars.  I hate that more than anything!
SR:Do you have any nicknames?
Katie: My friends call me Kate, Kat and Kit Kat.  My dad calls me Katerbug, which explains my license plate and Instagram name.
SR: What is your favorite food?
Katie: I love a lot of different foods.  Mainly good old American grilling and anything Mexican or Italian and smoothies!
SR: Which of the Fast and Furious movies is your favorite?
Katie: Fast Five is my fave!
SR: Are you a Paul Walker or a Vin Diesel kind of girl?
Katie: Vin Diesel based on how I am, but who doesn't love Paul Walker?
SR: If you could choose one favorite quote, what would it be?
Katie: "I am who I am, your approval isn't needed."
Social Media:
Katie Mizera - IG: @katerbug_11 FB: Katie Mizera
Photographers: Cody White - IG: @cwhitei5 FB: R3AL Media and Blake McCombs - IG: @btm357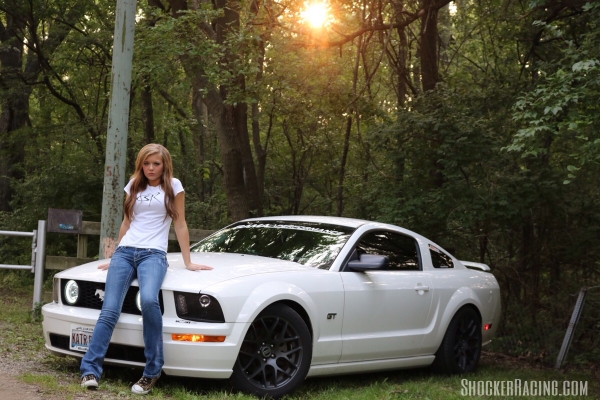 More photos of Katie and an old Farm Truck: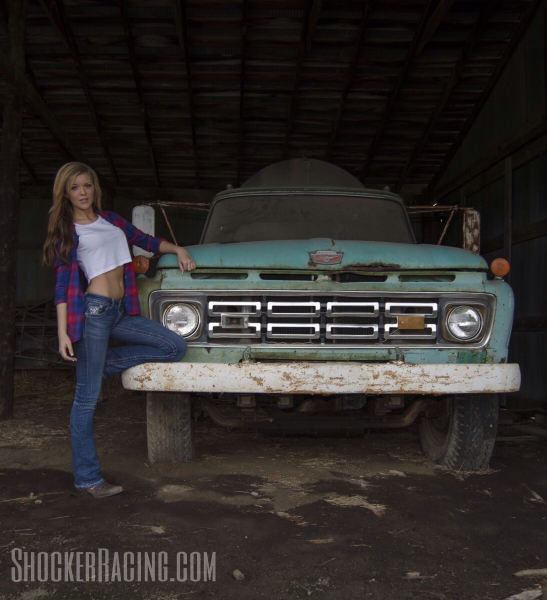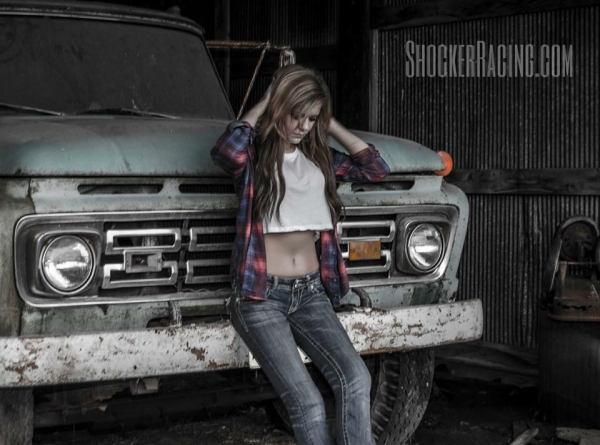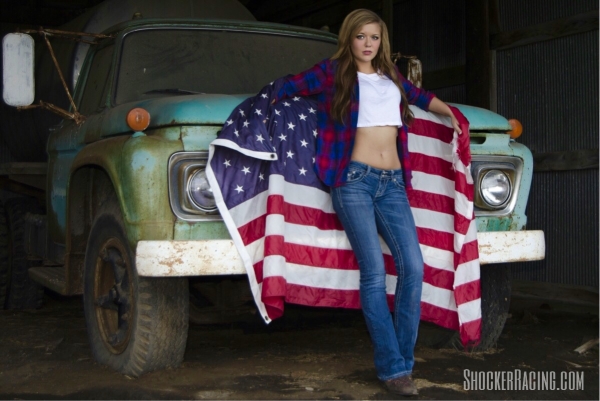 Click the photo below to see Megan Lyda's Feature with her Roush Mustang: