Jamie Salley with her Mini Cooper S
Written by James Monday, 17 August 2015 16:56
Our latest ShockerRacing girl is from, you guessed it, Texas.  Although many of the SR Girls lately have hailed from Texas, Jamie Salley is unique.  What sets Jamie apart from the other Texas girls is the lack of a pony in the grill of her ride.  Ms. Salley drives a Matte Chili Red painted 2007 Mini Cooper S and this is the first time SR has ever featured a Mini.  This Mini was her very first car and she picked it out when she was just 15.  Jamie tells us that she insisted that her first car be a manual and since then she has completely transformed it from stock to this bagged beauty.
Jamie's Mini Cooper started out life as a completely stock 6 speed manual with a 1.6 liter I-4 engine.  In the last 4 years, this 19 year old has caught the mod bug and gone to town on this Mini. In order to set her car apart from the crowd, Ms. Salley added an Air Lift Performance Air Bag kit along with a set of Rotiform BLQ.  She also went with a John Cooper Works Aero Kit, and used a Satin Clear coat on the paint to give it the Matte finish and then added the Vinyl Union Jack Roof.  Apparently, Jamie likes Carbon Fiber since she swapped the Hood Scoop, Turn Signals, Door Handles, Mirrors, and Gas lid for CF versions.  Inside, she went with Bride Harness', a custom roll cage, a customer shift knob and a customized rear seat delete with a wood floor! To add some performance, Jamie went with an Alta Intake, custom exhaust, and a Nitrous kit.
Here is the rest of our interview with Jamie Salley:
SR: What is your dream car?
Jamie: I dream of owning an Audi R8!
SR: If you could take the Audi R8 and travel anywhere in the world, where would you go?
Jamie: I would go to either Dubai or Tokyo.
SR: How did you get involved in the car scene?
Jamie: Cars have always been a factor in my life.  However, my boyfriend is extremely passionate about cars and got me into the whole car scene.  I got my first car and we went further with it then I ever imagined.
SR: What is your favorite automotive event of the year?
Jamie: I can't say that I have a favorite.  I love just about all of them!
SR: Do you have any previous modeling experience?
Jamie: Nothing professional.  My boyfriend is really good a taking pictures and one day we just decided to do a shoot with all of our cars and it just took off from there.
SR: What would an Ex tell us is your best asset?
Jamie: I always accomplish the goals I set.
SR: What is your biggest pet peeve?
Jamie: When it comes to cars, I would have to say that I hate when people think they know everything about cars.
SR: Do you have any nicknames?
Jamie: Depending on the person, some call me Jay or Jay-bird.
SR: What is your favorite food?
Jamie: Pretty much anything oriental.
SR: Which of the Fast and Furious Movies is your favorite?
Jamie: Fast and Furious Tokyo Drift is my fave.
SR: Are you a Paul Walker or a Vin Diesel kind of girl?
Jamie: Vin Diesel!
SR: If ShockerRacing was going to pay for any one mod to your car no matter what the cost, what mod would you choose?
Jamie: Well I have just about everything, but probably new seats.
SR: What is your favorite quote?
Jamie: "Everything happens for a reason"
Be sure to follow Jamie on Instagram at @Salley96 and her photographer Martin Photography at @jacobmartinphotography
View the complete gallery here
View the complete gallery here
View the complete gallery here
View the complete gallery here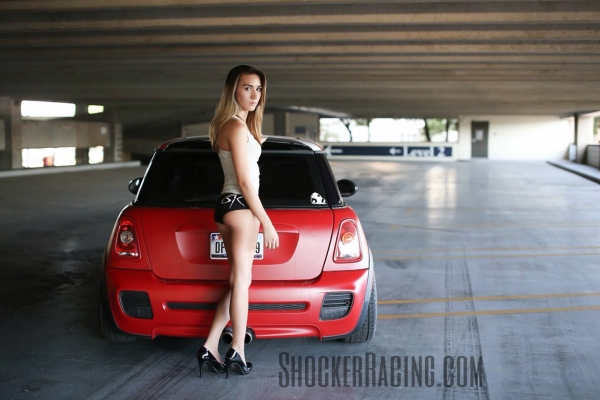 Click hear to see Andrea Kuoni's ShockerRacingGirls Feature: