Brittany Crisp with Chromalusion Photography at Mustang Week 2015
Written by James Tuesday, 25 August 2015 09:20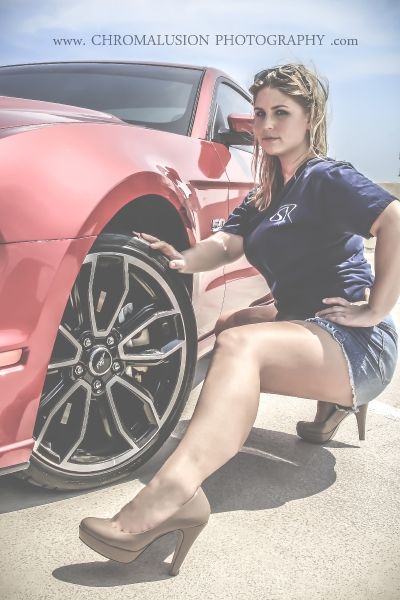 Our long time friend, Stephani at Chromalusion Photography, was lucky enough to make it out to Mustang Week 2015.  If you have never attended Mustang Week it is one of the largest gatherings of Stangs in the United States and takes place yearly at Myrtle Beach.  This, of course, meant that ShockerRacing was lucky enough to get some more amazing pics with a beautiful model.  Stephani convinced her good friend, Brittany Crisp, to step in front of the camera for the first time and we are glad she did! Brittany tells us that she had zero modeling experience before this shoot and that at first she was terrified. Stephani helped her feel more comfortable and in the end Brittany had a blast.  The Mustang that Stephani and Brittany were lucky enough to work with is a 2013 Mustang owned by Jonathan Adkins.
Hit the link for the full photoshoot and interview:
The 27 year old, Brittany, tells ShockerRacing that she currently drives a 2005 Nissan Altima but she dreams of one day owning a 1967 Mustang GT500.  Ms. Crisp said "my dad had always been a huge lover of Mustangs and muscle cars in general, so I grew up loving them.  Most recently, my best friend, Stephani, re-ignited the love I had for these cars as a kid.  Stephani took me to my first official Mustang Week this year and I fell even more in love with all of it!"
Here is the rest of the interview with the 5'5" Franklin, NC resident:
SR: What was your first car?
Brittany: It was a 1999 Pontiac Grand Am.
SR: What is your favorite automotive event of the year?
Brittany: Mustang Week by far!
SR: If you could take your dream 1967 Mustang anywhere in the world, where would you go?
Brittany: Germany! I would love to drive the Mustang on the German Autobahn.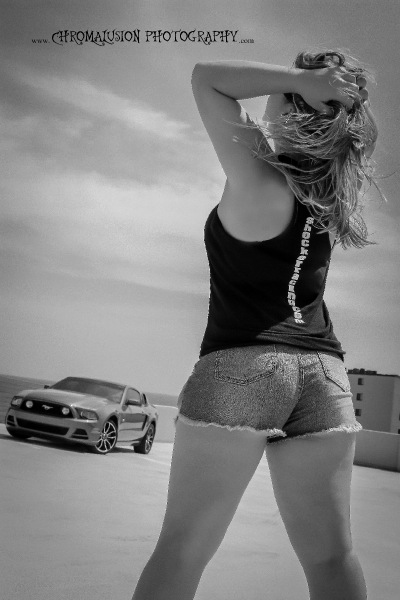 SR: Which of the Fast and Furious movies is your fave?
Brittany: The first one! They are all awesome in their own way but I am a lover of originals.
SR: Are you a Paul Walker or a Vin Diesel kind of girl?
Brittany: Between the two actors, I would say Paul Walker but between Brian and Dom? Dom all the way! A relationship like Letty and Dom would be perfect.
SR: Drag Racing or Road Racing?
Brittany: Drag racing!
SR: Are you single?
Brittany: YES!
SR: What would your ex say is your best asset?
Brittany: That I always put others happiness and needs before my own.
SR: What is your favorite food?
Brittany: Anything Italian.  I am a really good cook and I absolutely love to do it when I have the time.
SR: Tell us something about you that a lot of people don't know.
Brittany: My eyes change colors from green to golden yellow. Depending on my mood, clothing color, how sleepy or hungry I am they can be totally different than they were earlier in the day.
SR: Leave us with your favorite quote.
Brittany: "When you're struggling with something, look at all the people around you and realize that every single person you see is struggling with something, and to them, it's just as hard as what you're going through." - Nicholas Sparks, Dear John
Check out Brittany on social media - IG: @MissBritty3 Twitter: @MissBritty3
Follow Chromalusion Photography on social media - IG: @ChromalusionPhotography FB: ChromalusionPix