Omega Motorsport Midwest Half Mile 2015
Written by James Tuesday, 22 September 2015 09:23
In the middle of September 2015, Omega Motorsport brought their first half mile racing event to the midwest.  This event was held at the Rantoul Airport just north of University of Illinois in Champaign, IL.  Omega rented out the airport for the weekend in order to use one of the runways for side by side half mile racing.  Many people have raced their cars in side by side quarter mile races but the newly popular half mile events allow the 500 plus horsepower streetcars to open up and see what they can really do in the top end.  Jon, one of the ShockerRacing Members, brought his 650 wheel horsepower C5 Z06 Corvette out to see what she could do and thanks to Mike at The Chicago Garage we were able to bring out the stock C7 Z06 Corvette to test her out.
We arrived on Sunday morning to the airport in Rantoul to find that there were not many other cars there to race.  This was a great thing for the drivers that were running on Sunday, as most drivers had chosen to race on Saturday and got their runs out of the way.  The whole event was very relaxed and did not force the drivers to get into staging lanes and wait hours for their turn to race their car.  You could relax and watch some runs and then walk up to a challenger of your choosing and invite them to line up and take a crack at your car.  The drivers would simply pull up towards the starting line and within a minute or so could be blasting down the track.  For our first runs of the day, we had to line up Jon's Z06 (Full details on the C5 Z06 build here) with the C7 Z06.  The C7Z is an 8 speed automatic packing 650 crank horsepower from the factory and the C5 Z06 is an A&A Supercharged motor built by Speed Inc. and packing 650 horsepower to the rear wheels.  Jon was hoping to crack the 160mph mark and we were expecting to see similar mile per hours out of the Stingray.  Here is video from the run including footage from the C7Z's Performance Data Recorder and Go Pro footage:
Jon's C5 Z06 walked away from the C7Z and wound up running a 168 mph for his first pass and the C7 pulled off a 155mph.  The weather was nice and cool in the morning and there was a nice 5mph tailwind the entire day.  The C5Z bested his 168 a little while later while running against an ACR Viper with a 170mph slip!  C7Z was pretty consistent around 155mph as we played around with manually shifting and running in full auto.  Neither seemed to increase the mile per hour but the full auto mode was more consistent.  The down side to the full auto mode was that during the 500 foot rolling start the car would upshift to 4th or 5th gear then it would have to downshift when punched at the starting cones causing a slight delay.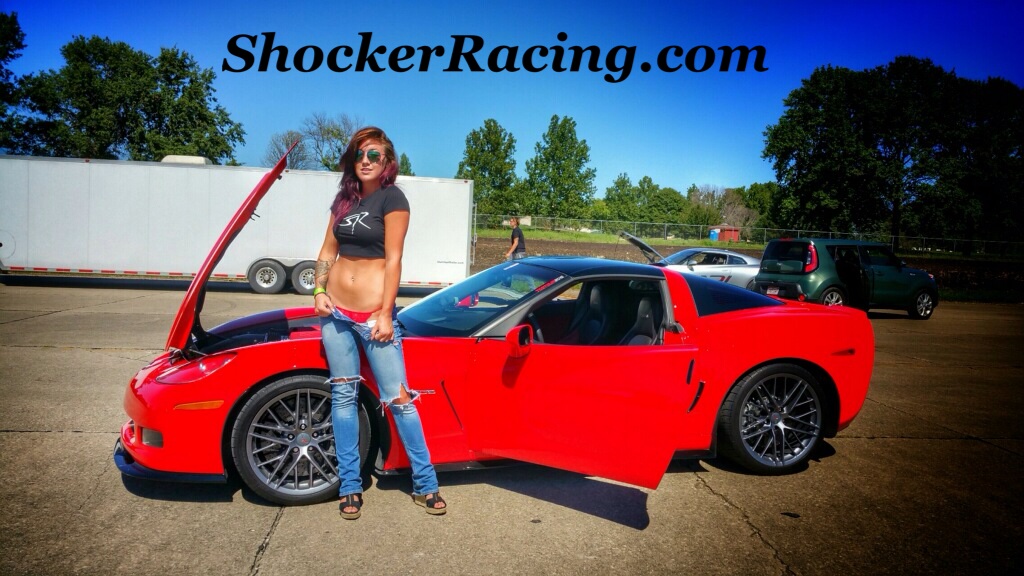 Photo  of Chloe Harris by Mike from The Chicago Garage
We were also lucky enough to have one of our local ShockerRacingGirls, Chloe Harris, stop out to check out the event and of course that meant we had to snap some photos with a couple of the Vettes while she was repping her ShockerRacing Crop Top. The bone stock red C6 Z06 belongs to Eagle from The Chicago Garage and was running consistent low-mid 150's.
View the entire photo gallery here
Here is another Performance Data Recorder video of the C7Z racing a modded C6 Z06:
Overall it was a great event, Omega Motorsport did a nice job putting it together with just a few minor details needing to be ironed out.  They have already announced that they will be back and you better believe that ShockerRacing will be back in attendance and hopefully with more cars running.  Keep checking back as I will be adding more videos here as I get them edited.
C7Z06 vs C6 ZR1:
Be sure to follow us on Social Media: IG - @ShockerRacing Twitter - @ShockerRacing1 FB - Facebook.com/ShockerRacing
Also check out: TheChicagoGarage.com
Click the photo to read about the ShockerRacing Porsche Cayman 6000 Mile Road Trip: