Alex Owen with a 2011 Ford Mustang GT
Written by James Saturday, 26 September 2015 13:23
Meet Alex Owen, a Penn State University student hailing from "the real Jersey shore" aka Monmouth Beach, NJ.  This 5'10" tall 21 year old is also a super friendly Mustang lover so if you happen to spot Alex out at Mustang Week, American Muscle or any other car show be sure to say hi... She'll be the brunette towering over you at over 6 foot tall in a pair of heels.  When she isn't playing with cars or attending classes, Alex spends her summers stirring up attention in lumber yards when she shows up in work boots and booty shorts as a construction foreman for her family business.  She is working on her Bachelor's degree in fine arts and plans to continue to manage the construction company.
For her ShockerRacingGirls feature, Alex grabbed her SR bootyshorts and met up with Alan Esposito and his 2011 Ford Mustang GT.
Alex is the kind of girl that when we asked her to tell us two things about her that people might not already know, responds with "I don't know, I can't think of anything" and then proceeds to tell us 6 fun facts!  "I'm an extroverted introvert. I'm the first person screaming and dancing on a table getting all my friends going but at the end of the day I love being alone especially when creating art," Alex claims.  "I'm the most girly tom boy you'll ever meet. If you didn't know me, I'd tell you not to let the dresses and the nails fool you because I'm digging holes at work with the backhoe getting my work boots dirty."  She goes on to tell us that she is also an adrenaline junkie, "I like the feeling of being afraid with my heart racing and getting butterflies in the pit of my stomach." She is currently looking for someone to join her to go skydiving, guys take notes if you are thinking of your first date options!  Guys, be sure to add this to your notes as well, she went on to tell us she is double jointed in her shoulders and is "probably" the most likely person to be able to escape a pair of handcuffs but I get the impression that she has done it before.
Here is the rest of our interview with Alex:
SR: What was your first car?
Alex: It was a 2011 Chrysler 200 Hardtop convertible.
SR: What do you currently drive?
Alex: I have a black 2013 5.0 Mustang.
SR: If ShockerRacing was going to pay for any one mod to your Stang, what would you choose?
Alex: A supercharger, so I can make all the boys angry that I am faster than them...duhhh!
SR: What is your dream car and if you could take your dream car anywhere in the world, where would you go?
Alex: I would take a 1965 GT500 and head to the Autobahn so I can go as fast as I want and don't have to worry about those damn piggies! Besides that, I have always loved and appreciated island life so at some point I want to move some place tropical.
SR: How did you get involved in the car scene?
Alex: I always went to car shows with my family.  I grew up with classics that we restored together, but it wasn't until I was older and made some friends in the local car community that I started going to car meets and events.  My family would flip old classics and sell them after we had some fun with them.  I have a lot of memories with a 1966 T-Bird that my family had a lot of fun with.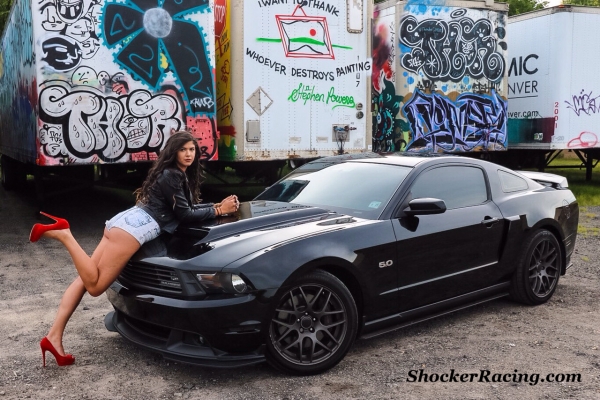 SR: What is your favorite automotive event of the year?
Alex: I made it to Mustang Week for just the weekend this year and it was amazing.  I can't wait to go next year for the whole week.  American Muscle is always fun especially cruising up there with all of my friends.  I am also going to h2oi this year with some friends and I have never been there so I am pretty excited about that!
SR: We already know you are single, what would your ex say is your best asset?
Alex: My humor and my ability to make friends with anyone, but I don't know, he's a jerk!
SR: What is your biggest pet peeve?
Alex: I hate when people when drive slow in the left lane! I have the worst road rage, it's bad, I use my horn a lot and and know to lean over and blow the horn on my friends cars when I am riding shotgun!
SR: What is your favorite food?
Alex: YES! Food, I like all of it... I love Pork Rolls, a weird Jersey food that no one else knows about and otherwise known as Taylor Ham.  I suggest everyone try a pork roll egg and cheese sandwich at least once in their life! Other than that, peanut butter and jelly is my ultimate go to snack!
SR: Which of the Fast and Furious movies is your favorite?
Alex: It is so hard to choose, I would have to say the first one because it set us up for six more movies and after crying my eyes out during the 7th I felt like I knew the characters.  Also, the first movie is where my elementary school self met my boyfriend Paul Walker and fell in love with his blue eyes.
SR: So I take it you are more of a Paul Walker kind of girl?
Alex: Paul Walker has my heart but Vin Diesel is my side bae.
SR: Drag racing or road racing?
Alex: Street racing... everyone loves a good 40mph roll!
SR: Leave us with your favorite quote.
Alex: "Art should comfort the disturbed and disturb the comfortable" - Cesar Cruz
We wouldn't forget to give you the goods on Alan's 2011 Ford Mustang GT.
For appearance Alan has added: Cervini Ram Air Hood, GT/CS Front Valance, Boss 302 Front Splitter, Saleen Front Grill with Police Interceptor Emblem, Recessed GT Foglights behind the grill, Recessed red and blue police lights behind the grill, MMD Side Scoops, Roush Side Window Louvers, Roush Side Splitters, Custom "5.0" Faux Deck Lid Emblem, 2013 Tail Lights, RTR Rear Diffuser, and American Muscle AMR Wheels with Black center caps.
For performance he added: Barton Short Throw Shifter, Driveshaft Shop 1 piece Aluminum Driveshaft, American Racing Long Tube Headers, Magnaflow Catback, Boss Intake and strut brace, Steeda Cold Air Intake, Bama Tuner, Ford Racing 3.73 gears, Exedy Mach 500 Stage 3 Clutch, and an Auburn Pro Series Differential.
Be sure to check out Alex and Alan on social media:
Alex - IG: @alexxowenn Twitter: @AoLwEeXn
Alan - IG: @aexpo11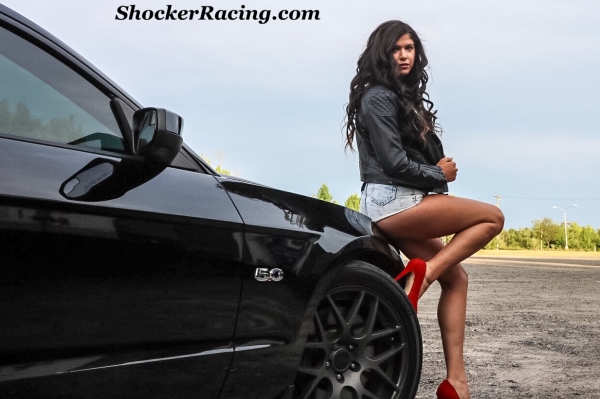 Click here for the full photo gallery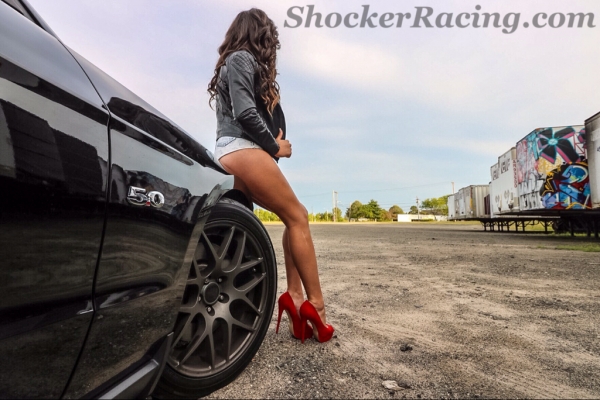 Click here for the full photo gallery
Click here for the full photo gallery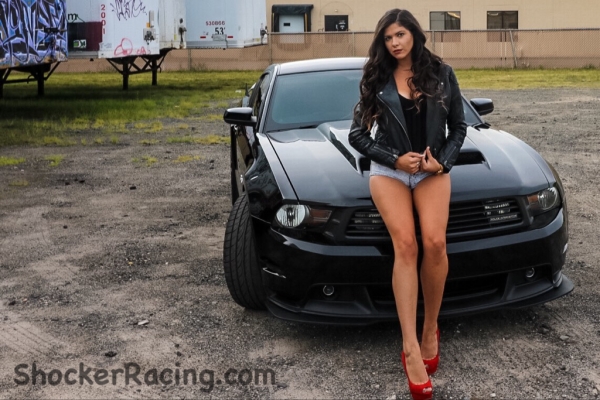 Click here for the full photo gallery

Click the photo below to see Kassie Harner's Feature: