Krysten Brents with her G8 GT and Mustang 5.0
Written by James Monday, 07 December 2015 16:20
Not many people can claim that their family owned a drag strip when they were growing up.  For Krysten Brents, this is a reality.  Krysten's grandmother used to take her brother and her to the family's drag strip in Arkansas to visit her cousins.  Growing up around the track fueled her passion for cars and her eventual need for speed.  Mrs. Brents tell ShockerRacing, "I was always around the drag strip and came to like the thought of driving fast and or racing someone to see who was faster."
Krysten isn't the type of girl that when asked what her dream car is, will answer with some million dollar exotic.  You won't find a Bugatti or a Mclaren in her dream garage.  Instead, she tells us "I'd rather have a collection of American Muscle cars.  I don't have just one dream car in general, and that is why I've started a small collection of nicely modded toys to keep adding to." Krysten's collection includes a 2008 Pontiac G8 GT, a 2014 Ford Mustang 5.0, and a 2008 Jeep SRT8.
The 2008 Jeep SRT8 has been outfitted with a CAI, exhaust, and a Trinity Tuner to add a little more power.  Along with the extra power she wanted to make it a her own by adding lowering springs, window tint, and a carbon fiber hood.
Krysten tells us the 2014 Mustang 5.0 is mostly stock other than a few appearance mods and a Borla Exhaust.  She added a set of window louvers, and headlight splitters along with a chin splitter giving it a subtle appearance upgrade.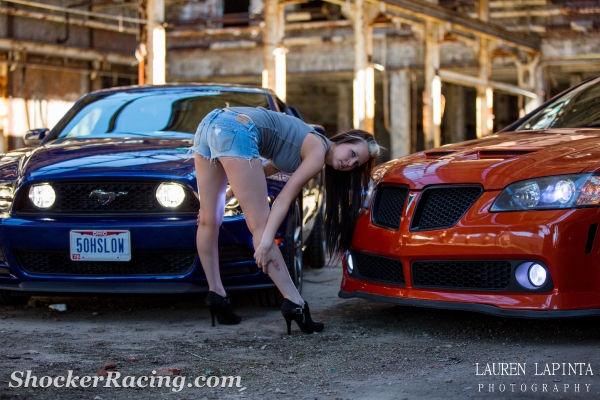 The G8 GT is the car she really went wild with.  This is her race car, built by Rick Crawford and putting down 470 horsepower to the pavement!  The bulk of the build centered around the removal of the displacement on demand with a cam kit and RCR Ported Heads.  Letting the air out of the motor is a set of headers with a full 3" Magnaflow Exhaust system.  She's running a PTC 3200 Stall and 3.45 gears along with an MSD 2-Step to handle the launches.  Of course she has all of the supporting mods to go with this killer combo and finished it up with an RCR Custom Tune.  For appearance, it's rolling on a set of black powder coated Camaro SS 20" wheels.  Then she followed the wheels up with a rear diffuser and front chin splitter and some mods to the headlights, taillights, and fog lights.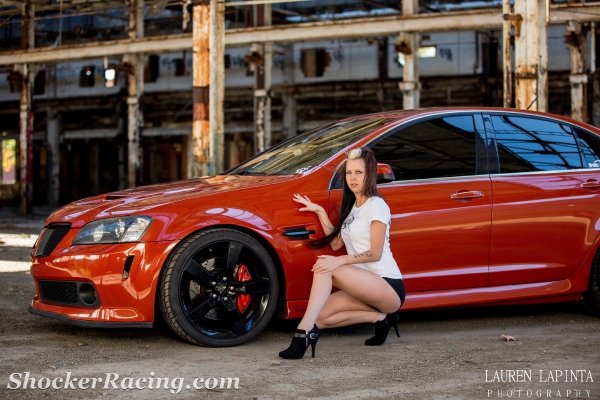 Here is the rest of the ShockerRacing.com Interview:
SR: What do you do for a living?
Krysten: I used to work for ECS Tuning but I am currently a stay at home mom with plans to open my own Hydro Dipping business.
SR: What was your first car?
Krysten: My first car was a 1998 Toyota Camry but my first "real" car was a 2004 Pontiac GTO.
SR: If ShockerRacing was going to pay for any one mod to one of your cars, what would it be?
Krysten: I would do a Supercharger fed by Twin Turbos on the G8 GT.
SR: What is your favorite automotive event of the year?
SR: I like to attend all of the car shows to see all of the different cars and builds that each car has.  I also like to attend all of the events hosted at drag strips.  Even if I am not racing, I love to sit and watch all of the others.  I love the smell of burnt rubber and race fuel.
SR: Do you have any prior modeling experience?
Krysten: I don't have much modeling experience and I am just getting started.  I did a shoot with my husbands truck, that's the only one that I have done so far but I look forward to making this a more regular thing.
SR: What would an ex say is your best asset?
Krysten: My love for cars and racing!
SR: What is your biggest pet peeve?
Krysten: My biggest pet peeve is when people bite their nails or chew ice right beside me. I hate the sound of both!
SR: If you could take your car collection and travel anywhere in the world, where would you go?
Krysten: I think I would take my cars and go to the Bahamas. I'd love to build a huge house with a drag strip in the front yard.
SR: Which of the Fast and Furious movies is your favorite?
Krysten: Fast and Furious is my all time favorite movie collection and my favorite one of the movies is Tokyo Drift.
SR: Are you a Paul Walker or Vin Diesel kind of girl?
Krysten: Paul Walker was by far my favorite actor of all time.
SR: Leave us with your favorite quote.
Krysten: "If one day the speed kills me, don't cry. Because I was smiling."
Be sure to give Krysten a follow on her social media pages: Facebook - Krysten Brents, Personal IG - @krysten_ryan.brents Modeling IG - @ryankrystenbrents
All photos by Lauren LaPinta Photography: Facebook - Facebook.com/laurenlapintaphotography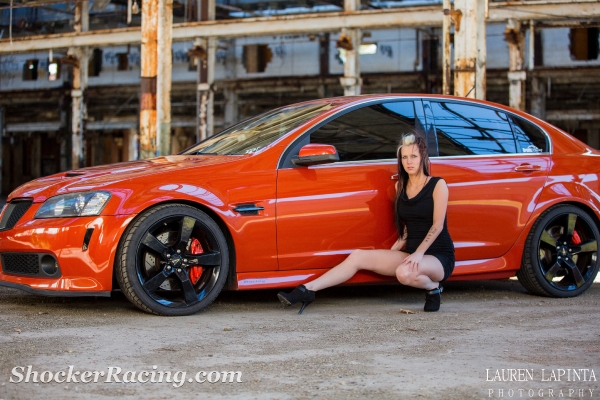 Check out Bex Russ' Feature with a Lotus Exige: