Morgan Kitzmiller with a Subaru WRX STI and a 2014 Ford Mustang GT
Written by James Tuesday, 22 December 2015 19:28
Morgan Kitzmiller never intended to be posing in boyshorts with sports cars.  A short while ago, Morgan did an informal photoshoot with her boyfriend's Nissan Altima.  When she did the shoot the pics were intended to be just for her boyfriend, Nicholas Jama.  Ms. Kitzmiller tells us, "I fell in love with the rush and the confidence the photoshoot gave me, and I started following a bunch of car modeling pages on Instagram."  Her favorite page was, of course, @ShockerRacing and she quickly ordered up some of the ShockerRacingGirls gear.  We set up a photoshoot with Morgan and our friends over at TunerSpotting.com(TS) and a couple of months later Morgan is our latest ShockerRacing Girl! While she was shooting with TS, Nicholas Jama tagged along and also shot some photos.  Both photographers provided us with some amazing shots that you will see throughout the feature.
21 year old, Morgan, tells us "I'm a PA from PA.  I go to school in Massachusetts in the Physician Assistant(PA) program, but I am from Pennsylvania(PA)."  She uses that as a slogan to help her stick in peoples' minds but what has made Morgan stick in our minds is that her enthusiasm is infectious.  Morgan was very excited for the opportunity to shoot for ShockerRacing with the guys at TunerSpotting.  This has been a great experience for Morgan not only because it was her first opportunity for a real photoshoot but she has also made some great new friends.  Morgan is already looking forward to going to some of the upcoming Tunerspotting events and shooting more photos with her new friends.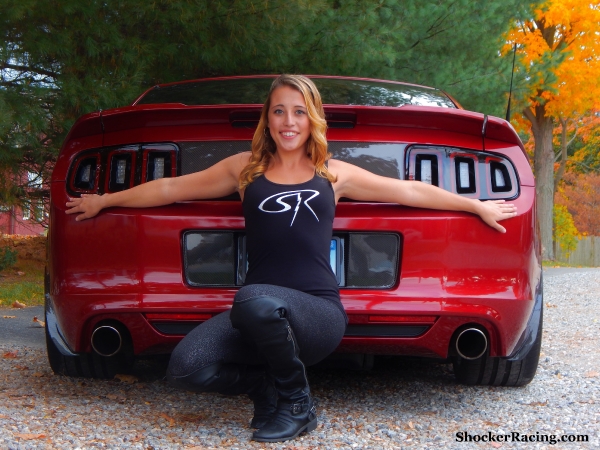 She grew up spending weekends at Maple Grove Raceway watching her mother and step-father drag race their Fox Body Mustangs.  Morgan and her family never missed the car shows in Ocean City, Maryland and she remembers being so petite she would have to peep through the bars of the hotel balcony as the amazing cars cruised down the boardwalk.  When she began driving at 16, her parents forced her to learn to drive a manual against her will!  The first and only car she has owned is a 1989 Volkswagen Cabriolet with a whopping 1.8l engine.  "The power of the VW is not impressive, but I break a lot of necks when I cruise in it with the top down," claims Morgan. It's a classic car and has taught her a lot of respect because with the age, the car requires a lot of maintenance.  Morgan tells SR, "my step-dad was always the one to fix my Cabby when it broke, until one day when I was playing around next to my best friend in her new Grabber Blue V6 Mustang and got the stick stuck in neutral.  From that second on, I was always hanging over my step-dad's shoulder."  She knows that she isn't the most knowledgeable car enthusiast but she is eager to learn and continues to learn more about cars and the automotive scene all of the time.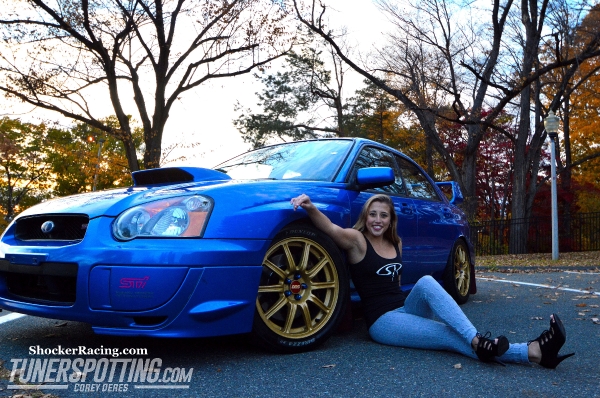 Here is the rest of ShockerRacing's interview with Morgan:
SR: What do you currently drive?
Morgan: I have had my 1989 Volkswagen Cabriolet since I started driving when I was 16.  I'm in love with it and I get so happy when I get to go home from college and driver her.  I miss her top speed of 93 mph when I am away at school.  I have considered buying a nice SN95 Mustang for a reasonable price, but I would hate to make my poor girl jealous!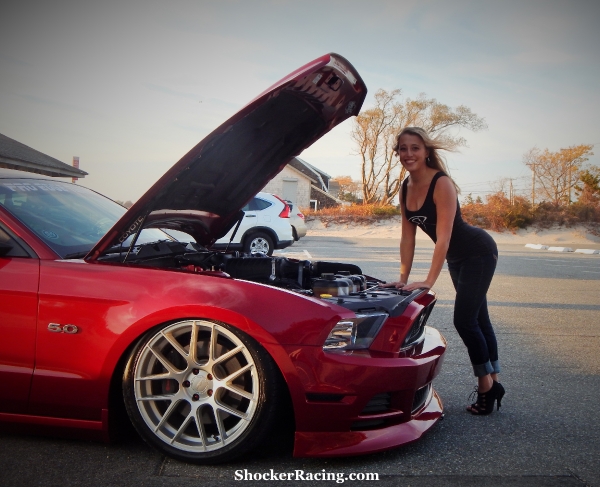 SR: What is your dream car?
Morgan: Assuming I already have my 2004 Terminator Cobra racecar, my dream car would be a custom painted, bagged 2014 Shelby GT500 with rear window louvers, Cervini Window Scoops, MMD Fender Vents and carbon fiber hood, lip, and ducktail.
SR: If you could travel anywhere in the world with your dream car, where would you go?
Morgan: I would go to Australia because the Northern Territory Highways used to have no speed limits.  Now an 81 mph limit is in effect, but not very well enforced.  Plus, how cool would it be to race along side a wild animal!?!
SR: If ShockerRacing was going to pay for any mod to your car no matter what the cost, what mod would you choose?
Morgan: I would need a car to mod for that to happen! How about a Coyote engine swap into my little Cabriolet?
SR: What is your favorite automotive event of the year?
Morgan: American Muscle Mustang show at Maple Grove Raceway.  It was probably the best day of this entire year... even though it was the hottest day of the summer.
SR: Which of the Fast and Furious movies is your favorite?
Morgan: The Fast and the Furious: Tokyo Drift, because it had me on the edge of my seat and drifting exhilarates me! Hopefully, I can have the opportunity to do it myself. Plus, what girls doesn't find the country boy, Lucas Black, learning the ropes of drifting to be dreamy?
SR: Are you a Paul Walker or a Vin Diesel kind of girl?
Morgan: Paul Walker for sure... tall, ripped, blonde car guy!
SR: Are you single?
Morgan: No, I am happily taken by a car enthusiast... even though he loves foreign cars and I love American Muscle!
SR: What would an ex say is your best asset?
Morgan: ASSETS! Haha, uhm... I would hope they would say my smarts!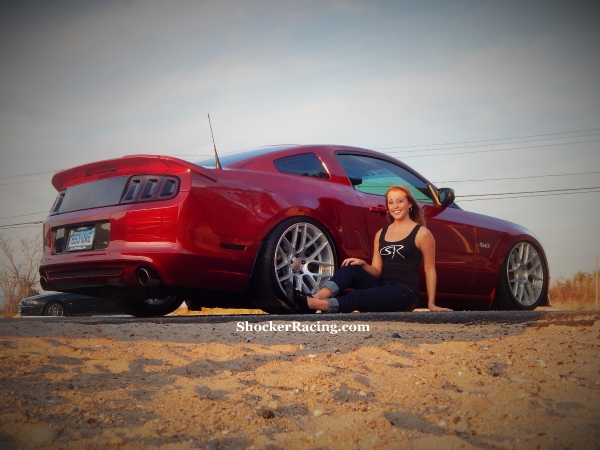 SR: What is your biggest pet peeve?
Morgan: When people leave car shows in their amazing cars and don't at least speed off, or do a burnout! I mean, come on... you brought you car to show it off so lets see it!
SR: Tell us something that a lot of people don't already know about you.
Morgan: I am a retired springboard and platform diver.  Not scuba diving, like flips and twists from heights.  I dove for Springfield College my first two years, and before that on my high school team.
SR: Leave us with your favorite quote.
Morgan: "And though she be but little, she is fierce." Shakespeare from A Midsummer Night's Dream because I am so petite.  I am often underestimated, but I am fierce.
Be sure to check Morgan Kitzmiller out on Instagram - @mustang_morgan #mustangmorganadventures
Follow TunerSpotting photographer Corey Deres on Instagram - @ScenePointsPhotography
Follow Nicholas Jama on Instagram - @OhFkItsNicholas
The 2004 Subaru Impreza WRX STi is owned by Justin Fox and you can see more about the car here: www.tunerspotting.com/profile/1
The 2014 Ruby Red Bagged Mustang GT 5.0 (RMR #2354) is owned by Mark Palumbo Jr. - @markjr32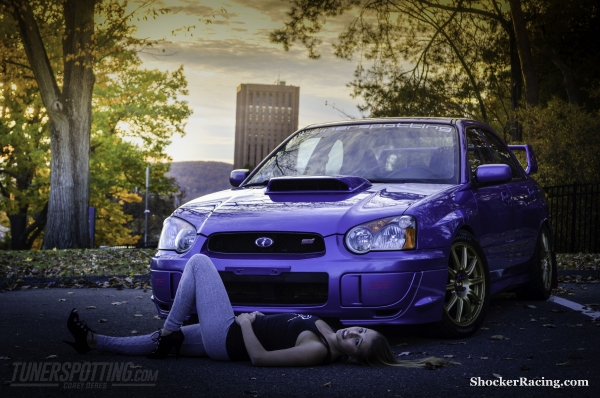 Check out our feature on Natasha Tyrrell with her Jeep SRT8: