Bex Russ in the shop with a Rat Rod and Off-Road Jeep
Written by James Friday, 05 February 2016 09:44
As far as the ShockerRacing Girls go, Bex Russ is a bit of an anomaly. 27 year old, Bex, tells ShockerRacing that her dream car is an Aston Martin... Not a Mustang... Huge shocker, right? Besides her love for English made Aston Martin's, what makes Bex unique is that she owns her own company. BAE, short for Bad Ass Entertainment, is her company that uses promotional models and social media to help other businesses grow and become more well known. It's easy to see that Ms. Russ is an incredibly motivated woman that is bound to succeed, and help the businesses she partners with succeed as well. In a recent conversation about an upcoming event Bex is planning this is what future ShockerRacingGirl, Andy Kuoni, had to say "From speaking with Bex so far, she's so incredible. She's gonna go far. Girls got drive, motivation and passion. I see no limits to her success."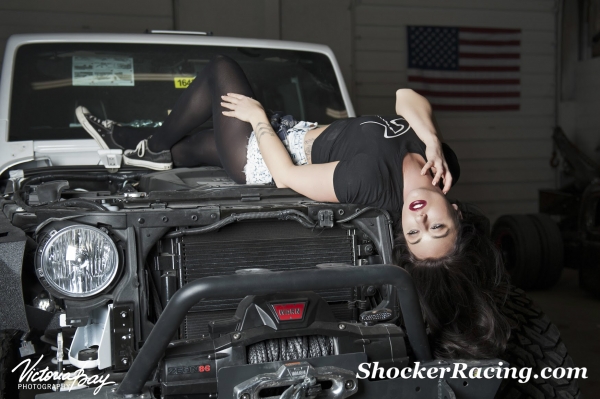 From the first time we came in contact with Bex on Instagram, she has been dropping some amazing photos our way. It was easy to see that she was on the same page with ShockerRacing and that it was just a matter of time before we worked together. Ms. Russ has supported ShockerRacing at previous events that she has worked at, repping her Crop Top and displaying flyers and business cards for us. Bex scheduled a photoshoot with Victoria Bay Photography in January specifically for ShockerRacing and we were super stoked. They headed over to the shop at Extreme Custom Collision so that Bex could climb all over an amazing Rat Rod and an Off Road Jeep.
Bex recently moved from New Jersey to the DMV area. She says, "I really love the area. You get all four seasons, so I can ride my CBR a little longer." The CBR she is referring to is a Honda CBR250. "I know, I know, it's small. But hey, I'm a girl that can ride." exclaimed Bex. We'll let is slide Bex, because, you know... size doesn't matter.
Here is the rest of ShockerRacing's interview with Bex Russ:
SR: What was your first car?
Bex: I leased a white Ford Escape, nothing special.
SR: What do you currently drive?
Bex: I lease my cars so they change every few years. Currently, I am driving a white Ford Focus. I also have a Honda CBR250.
SR: If ShockerRacing was going to pay for any one mod to your car, regardless of cost, what would you choose?
Bex: You can just buy me a white Jeep. I'll take care of the rest.
SR: What is your dream car?
Bex: An Aston Martin. I'm a classy broad. I used to tell my dad that Frank Sinatra or James Bond was my husband, that was their car.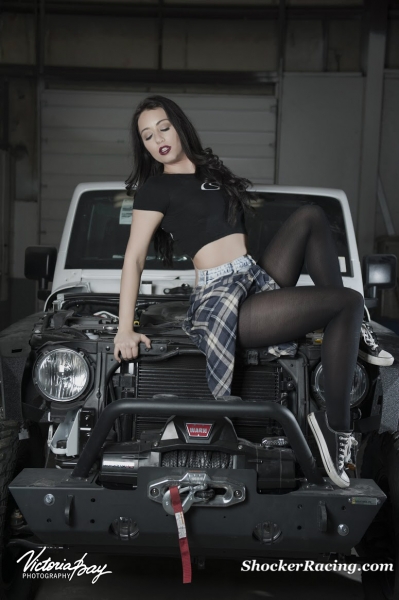 SR: If you could take your Aston Martin and travel anywhere in the world, where would you go?
Bex: Duh, Trollstigen, Norway aka Troll Ladder! Climbing it 9% incline and navigating its 11 hairpin turns in an Aston Martin, you'll earn yourself an eyeful.
SR: How did you get involved in the car scene?
Bex: I had an ex boyfriend that I constantly competed with for attention with between his car and myself. Eventually, I learned my lesson. We are good friends now and I often pose with his car.
SR: What is your favorite automotive event of the year?
Bex: Everyone loves Mustang Week. This year I get to participate at SEMA with one of my BAEntertainment Clients. I am really looking forward to that!
SR: What modeling experience do you have?
Bex: I started pushing my modeling career this past summer. I need connections to boost my business. As well as a distraction from the loss of my fiancé in April.
SR: What would an ex say is your best asset?
Bex: Other than the obvious, my bottom, possibly that I speak my mind. I've been through a lot in my life, and I know a little more than the average woman in her 20's. I'm not afraid to correct someone or remind them who they are dealing with.
SR: Are you currently single?
Bex: Yes, and you have got to be someone truly amazing to change that!
SR: What is your biggest pet peeve?
Bex: Hypocrites!
SR: What is your favorite food?
Bex: Not kidding, salad! I literally crave delicious fresh lettuce and veggies with a little oil and vinegar.
SR: Which of the Fast and Furious films is your favorite and are you a Paul Walker or Vin Diesel kind of girl?
Bex: These are trick questions... not fair!
SR: Tell us a couple things about yourself that many people don't already know.
Bex: My favorite thing to do is blow people's minds. People read a book by its cover too often, I like to be the reminder that life isn't always as it seems. Also, I blame music for giving me my drive, determination, and phenomenal work ethic. My hobby list is a mile long. From every winter sport to summer activity or crazy stunts to relaxing in the shade. I will say that one of the most interesting things about me is that I play the tuba! That's right, I am a true band geek. I even marched in some serious professional drum corps. The Cadets and the Phantom Regiment. With these activities, I have been able to travel the world and become the knowledgeable person I am today.
SR: Leave us with your favorite quote.
Bex: "Be not afraid of greatness, some are born great, some achieve greatness, and others have greatness thrust upon them." William Shakespeare
Be sure to follow Bex on Instagram and Twitter at @BJAM1934 and on Facebook.com/BexRussModel
Follow her business here on: Facebook.com
Check out Victoria Bay Photography: Facebook.com/VictoriaBayPhotography on IG: @VictoriaBayPhotography
Big thanks to Extreme Custom Collision for providing the cars: Facebook.com/ExtremeCustomCollision & IG: @ExtremeCustomCollision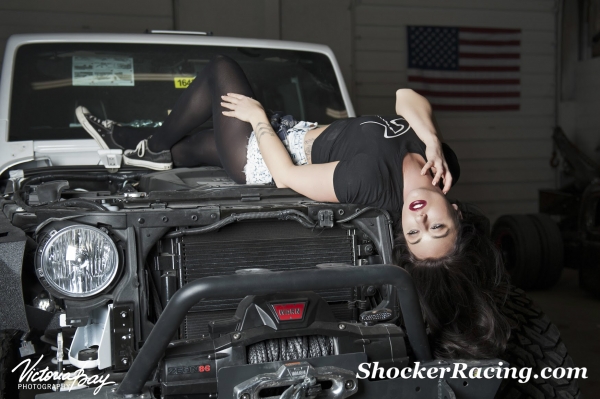 Click the photo below to see Alex Owen's Feature with a Mustang 5.0: