Megan Lyda vs the ACW Procharged C7 Z06
Written by James Tuesday, 09 February 2016 13:23
As an official model for Atlanta Custom Wraps, Megan Lyda has been given the daunting task of posing with the ACW C7 Z06 Corvette for a photoshoot by D. Felix Photography.  In the background, you have one of the most striking C7 Corvette's in the country.  Wrapped in Atlanta Custom Wraps blue with just the right amount of black accents.  The Vette features an RK Sport Rear Diffuser, GS Creations clear marker lights and Vettestetics halo head lights.  This Z06 sports "OVRK1LL" on the Georgia license plate, not just because of its wild appearance but because of the 1100+ horsepower without the Nitrous Express direct port kit!  In front of the Vette, you have Megan Lyda.  Meg is a gorgeous 5'4" tall blonde from North Carolina that can bang gears in her 2005 Roush Stage 2 Mustang.  This battle is too close for us to call, so we will let you decide...
The ACW Z06 started off with an LMR Stage 2 Build including a custom cam, LMR balancer pulley, American Racing long tube headers, LMR breather, MSD Wires, full Corsa exhaust, Flex Fuel system and a fuel pump upgrade.  It quickly became clear that the factory blower was maxed out at 754 rear wheel horsepower.  While 754 horsepower to the wheels is definitely impressive, it wasn't going to cut it for Project OverKill.  ACW then partnered with Nitrous Express to help this project live up to its name.  With the help of a NX Throttle Body plate kit with dual bottles they were able to be the first C7 Z06 Corvette to crack the 1000 rwhp mark!
Being the first to 1000 horsepower still wasn't enough for ACW and OVRK1LL, they decided to take the car to SEMA 2015 and wanted to take the build even further.  They brought in their friend Tim Lynch of Lynch Mob Racing partnered with Procharger and Nitrous Express to get them to the next level.  A Procharger F-1R blower was installed along with a custom direct port Meth Injection system along with a Direct Port Nitrous Fogger from NX.  ACW tells us they are keeping the exact power numbers on the DL for now, but the Z is making over 1100 horsepower with 24lbs of boost and without the spray.  The NX Fogger setup is plumbed for 400hp on top of that!  They finished everything off with an RPS Twin Disk Carbon Clutch and a set of 18" Mickey Thompson tires on Custom Forgeline Wheels.  ACW has a track rented out at the end of the month for some private testing so keep an eye out for the results and final numbers coming soon!
Now back to more about 22 year old Megan Lyda.  Megan, or "Megs_Roush" as she's know on Instagram, tells us that ever since she was a little girl she has wanted a Mustang.  "They were what grabbed my attention, and I knew I wanted one," says Megan, "I'm not sure how that happened considering my entire family are Chevy fanatics."  She owned three different cars before she could finally afford to buy her Roush, but she worked her way up to finally owning a Stang.  Her Roush was previously owned by her boyfriend who sold it to her when her picked up a supercharged 2013 5.0 Mustang.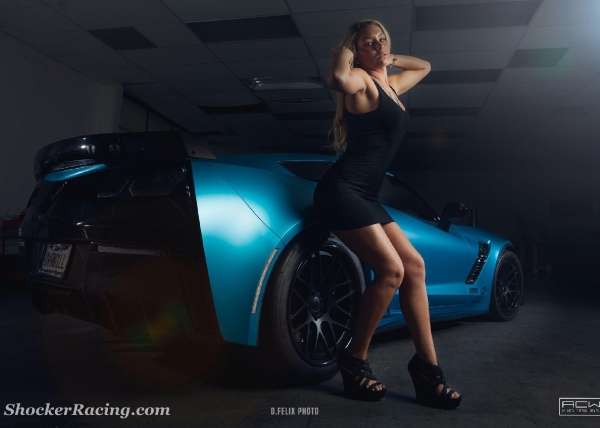 Here is the rest of our interview with Megan Lyda:
SR: What was your first car?
Megan: It was a 1997 Toyota Camry.
SR: What do you currently drive?
Megan: I have a 2005 Roush, Stage 2 Mustang.  It has Steeda Wheels, Trufiber Cowl Hood, Hurst Short Throw Shifter, Pypes Off-Road X-Pipe, Eibach Lowering Springs.  The lights are all from Raxiom and I am getting it wrapped this month by Atlanta Custom Wraps.
SR: If ShockerRacing was going to pay for any one mod to your car no matter what the cost, what mod would you choose?
Megan: A supercharger of course! The more horsepower the better!
SR: What is your dream car?
Megan: I am in love with the C7 Z06's, especially after getting to spend some time with OVRK1LL!
SR: If you could take your dream car and go anywhere in the world, where would you go?
Megan: I would head straight to the Autobahn in Germany.
SR: How did you get involved in the car scene?
Megan: Besides growing up with a family of Chevy fans and always having a love for Mustangs growing up, my boyfriend and I started going to local car meets, cars and coffee and Mustang Week.  Going to different car meets was something we could do together that we both really enjoy.
SR: What modeling experience do you have?
Megan: I just recently became an Atlanta Custom Wraps official model.  Before that, it was just fun shoots with Olivia Hart at Mustang Week.  Other than that I did a photoshoot with Chromalusion Photography this past September and one at the WannaGoFast Half Mile.
SR: What would an ex say is your best asset?
Megan: Honestly, I am not sure... I guess that's why they are my ex!
SR: What is your biggest pet peeve?
Megan: SLOW DRIVERS!!!
SR: What is your favorite food?
Megan: I love breakfast foods.
SR: Which of the Fast and Furious Movies is your favorite?
Megan: Furious 7, one of the main reasons is because I was in downtown Atlanta and got to watch one of the scenes being filmed.
SR: Are you a Paul Walker or a Vin Diesel type of girl?
Megan: That's a tough one but I would have to go with Paul.
Be sure to follow Megan Lyda on Instagram: @Megs_Roush
Follow Atlanta Custom Wraps - FB: Facebook.com/ACWCustomWraps IG: @AtlantaCustomWraps
Follow D. Felix Photography on IG: @DFelixPhoto
While they were shooting, D. Felix Photography also had the opportunity to shoot the beautiful Mrs. ACW - Danielle Norton: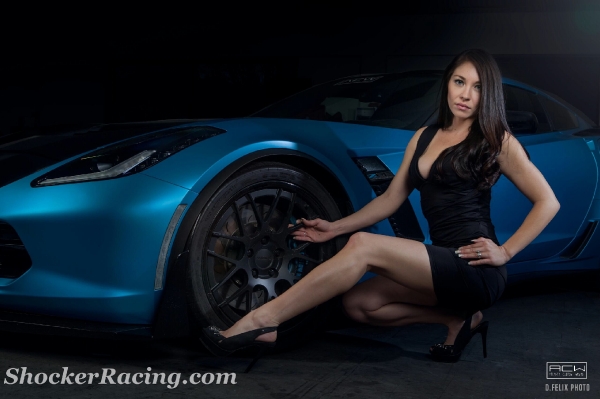 View the full photo gallery here
View the full photo gallery here
View the full photo gallery here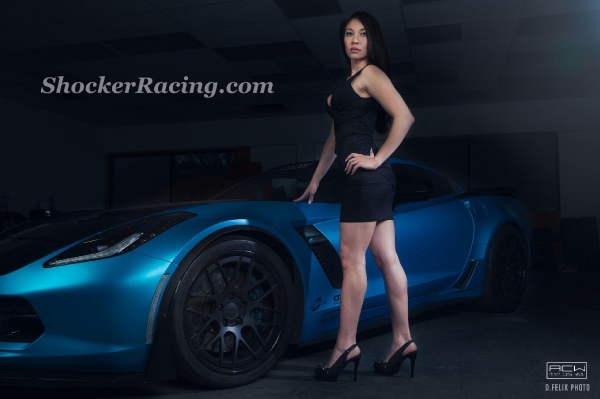 View the full photo gallery here
One more shot of Megan Lyda:
Check out our feature with Bex Russ and this sick Rat Rod by clicking the pic below: