Megan Lyda returns with her custom wrapped Mustang
Written by James Monday, 25 April 2016 19:42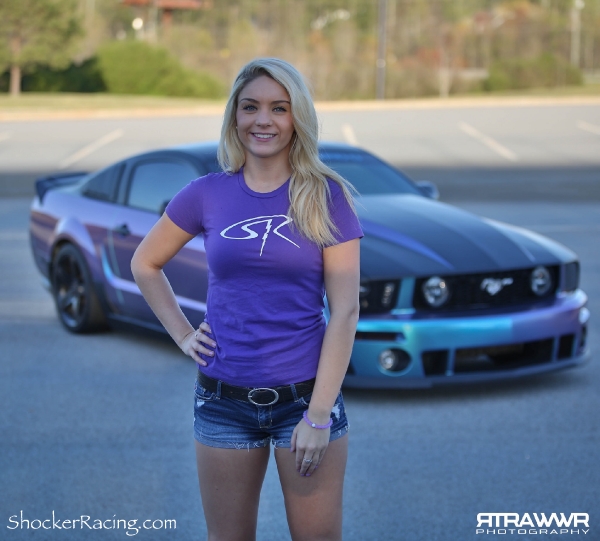 Back in February, Megan Lyda joined the team over at Atlanta Custom Wraps(ACW) and somehow managed to steal the attention away from their 1000+ C7 Z06 Corvette!  In her previous feature, Megan informed us that her dream car is a C7 Z06 but after letting ACW have their way with her 2005 Roush Mustang we had to get her posing in front of her own car.  Ms. Lyda had left her Stang with the team at Atlanta Custom Wraps for a custom wrap and told them to surprise her.  She had no idea what they had planned but when she returned to pick it up she was absolutely amazed!  Meg's jaw dropped to the floor when she first saw this amazing color shifting wrap.
The combination of the color shifting vinyl along with the matte black accents is striking.  As she drives the Roush along the colors shift from blue to green and then to purple.  The purple just happened to match her purple ShockerRacing T-Shirt so this was a photoshoot that was meant to be!
Megan met up with Ian Nault from RTRAWWR Photography in Georgia and snapped off some great shots.  Her Roush is a 2005 Mustang with the Roush Stage 2 Package.  She has also added an Airaid Cold Air Intake, Eibach Sportline lowering springs, Steeda 18" Wheels, a 3" Trufiber Cowl Hood, and and off-road x-pipe made by Pypes.
Be sure to follow Megan Lyda on Instagram - @Megs_Roush
Follow RTRAWWR Photography on Instagram - @RTRAWWR
Megan made time to take a photo with a random fan during the photoshoot:
Here is a video showing off the color changes in Megans Roush Mustang:
Check out Megan's feature with the ACW C7 Z06 Here: