Skylar Baggett - Octane Empire - Viper GTS
Written by James Saturday, 07 May 2016 09:04
There is definitely something going on this year.  It seems that almost every time I sit down to put together the next ShockerRacingGirls feature, it just happens to be the latest girls birthday! This time was no different... I began working on Skyler Baggett's feature on Saturday morning.  For those that are unaware of my process for creating these features there is a lot that goes in to each article.  Once I have received the photos from the photographer I then add our ShockerRacing.com watermark, size them properly for the website, then upload them to the site.  After the photos are all set I do my best to learn as much information as possible about Skylar, the photographer Octane Empire, and then gather all of the details about the car we are featuring.  This morning as I sat down to begin writing, I realized that yesterday was Skylar's 23rd birthday! Hopefully releasing her feature today will be the perfect way to end her birthday weekend!
ShockerRacing and Dennis from Octane Empire have been in talks to work together for a photoshoot for a while now.  When Dennis starting pulling the pieces together he knew that Skylar Baggett would be a perfect fit for the shoot and just what we would be looking for as a ShockerRacingGirl.  Sky was the very first model Dennis had ever worked with and he has continued to work with her for a few shoots over the last 4 years.
Skylar grew up in Odessa, TX but has spent the last 13 years living in Austin, TX.  The 5'6" tall bartender has been modeling since she was 18 years old and got into cars through her modeling and attending various car shows.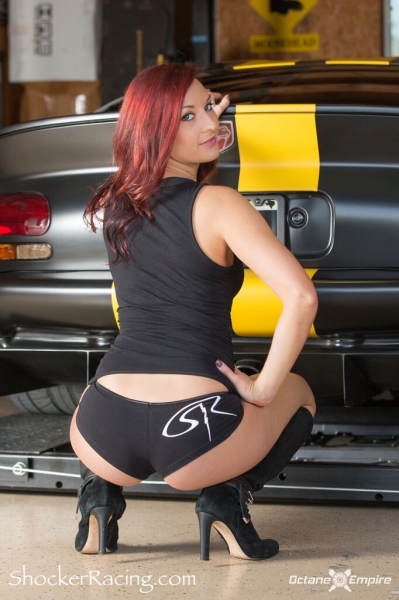 The Dodge Viper you see Skylar climbing all over is a 99 GTS owned by Jason White.  It features a set of M&M Longtube Headers, cat deletes, and a 3" Borla Exhaust.  It has BK Racing Coilovers with a 2.5" drop and sits on HRE 20" Wheels.  It also has an SCT Tune and the car has 80,000 miles on it so you know that Jason has been enjoying this car instead of just letting it be a garage queen!
Here is the rest of our interview with Skylar:
SR: What is your dream car?
Skylar: My dream car is a 1969 Jaguar XK E Type
SR: If you could take your dream car and go anywhere in the world, where would you go?
Skylar: I would go to Switzerland for the skiing, mountain roads, quaint villages, and of course the chocolate!
SR: You mentioned that you got into cars from various car shows you have attended, which event is your favorite?
Skylar: Ferrari Fest in Houston is a great event and definitely my fave.
SR: Which of the Fast and Furious films is your favorite?
Skylar: The first one was the best because it will always remain a classic.
SR: Are you a Vin Diesel or Paul Walker kind of girl?
Skylar: Paul Walker, because his eyes are like being in paradise looking into an ocean!
SR: What would an Ex say is your best asset?
Skylar: My ex's would let my "ass"ets speak for themselves.
SR: Do you have any pet peeves?
Skylar: I hate having to repeat myself!
SR: Do you have any nicknames?
Skylar: My friends call me Sky or Red.
SR: Tell us two fun facts about you that a lot of people don't already know.
Skylar: I have 7 brothers and sisters and I always black out on roller coasters.
SR: Leave us with your favorite quote.
Skylar: "Live life without a skip in your step and own the ground you walk on."
You can find Skylar on social media at: Facebook.com/Skylar.baggett.13
Follow the photographer Octane Empire - FB: Facebook.com/octaneempire IG: @OctaneEmpire Vimeo: https://vimeo.com/user45615979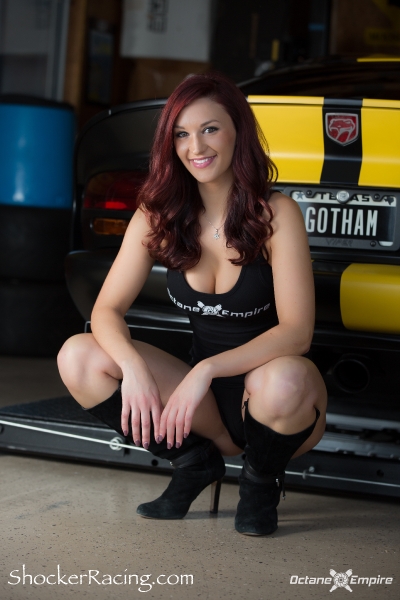 Check out Megan Lyda's feature with her Color Shifting Mustang by clicking the photo: