Kasey Hawkins Takes a Day Off From Being a Tomboy
Written by James Sunday, 17 July 2016 20:13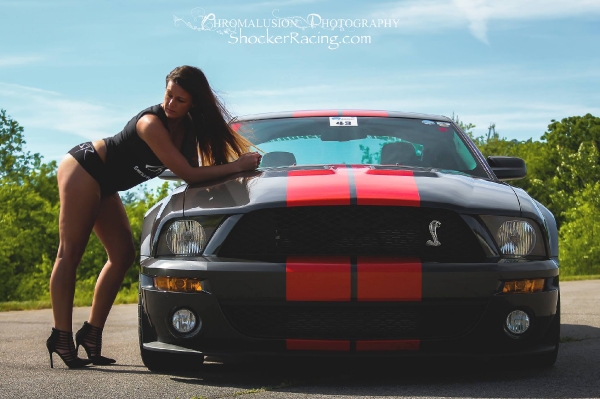 "I still struggle with make-up and high heels" Kasey Hawkins tells ShockerRacing.  Growing up, Kasey was a big tomboy.  Her grandfather used to race before Nascar was around. A lot of his need for speed trickled down to her dad and then was passed on to her.  In 2009, she enlisted in the National Guard as a 91b wheel vehicle mechanic.  A short time ago, Kasey joined Chromalusion Photography at a WannaGoFast Half Mile Racing event and traded in her wrenches for a pair of Shocker Racing Bootyshorts.  Kasey was paired up with William Garrett Davis' Shelby and she looks right at home in those heels!
This was Kasey's first time doing an automotive shoot of this type.  "Before this shoot, I had two previous photoshoots for the National Guard.  I was featured in the Dale Jr. advertisements in 2014 in uniform.  I am also on current National Guard advertisements being used today."
For this shoot Kasey was paired up with Will Davis' 2007 Shelby that makes 673 rear wheel horsepower and 643 rear wheel torque.  The car features a VMP Gen 1 TVS that is Steigmeier ported with Venom cooler and Snake Bite Kit along with a host of supporting mods and was tuned by Dan DeSio at Pro Dyno.  The Shelby hit 148 mph at the WannaGoFast Half Mile event.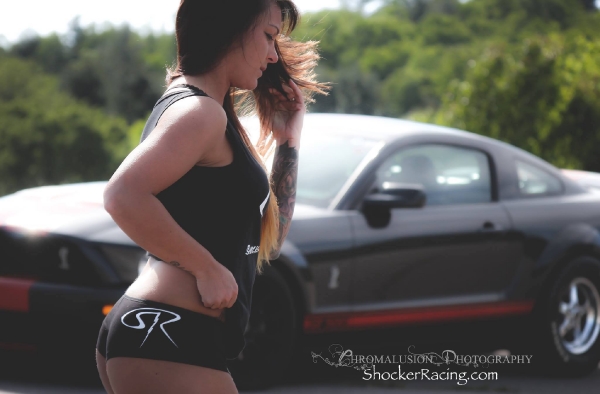 Enjoy the rest of our interview with Kasey:
SR: What was your first car?
Kasey: It was a black 2001 Toyota Celica GTS 6 speed.
SR: What do you currently drive?
Kasey: I have a 6 speed, white 2016 Subaru WRX Limited.  The only mod I have is a nameless exhaust.  For Mother's Day, I recently got a 1996 Impreza 2 door with a 5 speed.  I am going to build it with my husband.  However, it was a Mother's Day present so regardless of his assistance it's still mine!
SR: If ShockerRacing was going to buy you any one mod for one of your rides, what would you choose?
Kasey: I would definitely choose an STI engine and Trans for the '96 Impreza.  Since we live in the mountains I love cruising the curves.  But if we are going impractical, then Cobb has a stage 2 package deal for my 2016 that would be amazing! Or maybe a set of 18x9.5 wheels... I know those can get up there in price.  So this question is tough because there is so much to be done... I guess I would have to think this through, but would probably stick with the STI engine and trans.
SR: What is your dream car?
Kasey: I wouldn't really say I have a "dream car" because I like so much.  Domestic I would have to go with a classic like a 1968 Camaro SS.  But for the curves and the thrill, I am excited to see what my Impreza has in stock with the build.  In all honesty, seeing something that you've put your hard work and time into is a dream build to me.  So maybe a year from now, when she's running like I want then I could answer this better.  But I get more satisfaction out of something I have put my thoughts and work in to than something bought.
SR: If you could travel and have your dream car anywhere in the world, where would you go?
Kasey: The Nurburgring in Germany, just for the thrill.
SR: How did you get involved in the car scene?
Kasey: Besides growing up with my grandfather racing and passing the love down to my dad and then myself, my husband is also big into cars.  It's nice having someone in the home that shares the same passion and is supportive with what I want and making it together.
SR: What is your favorite automotive event of the year?
Kasey: I have only been to WannaGoFast this year.  I haven't really be able to attend many events due to work and having a family.  But I had a great time at the event.  If you consider a road trip with friends an event, then that would hands down be the best.  Each year a group of us will stay at a houseboat on Lake Fontana and go ride the Tail of the Dragon together.  You can't go wrong with great friends and a good drive.
SR: Which of the Fast and Furious films is your favorite?
Kasey: I'll have to go with the first one.  It's where it all began and the action scenes were definitely more believable.
SR: Are you a Paul Walker or a Vin Diesel kinf of girl?
Kasey: Paul Walker, he's always been my favorite.  Sadly, I would only be into Vin Diesel for the Charger.
SR: What's your favorite food?
Kasey: My favorite food hands down is boneless chicken wings.  Especially the spicy BBQ Sauce.
SR: What is your favorite pizza topping?
Kasey: I'll go a little something on the gross side for some people and say mushrooms.
SR: Leave us with your favorite quote.
Kasey: "If everything seems under control, you're just not going fast enough." -Mario Andretti
Follow Kasey on Instagram - @ladydriven_WRX
Follow Chromalusion Photography - IG: @ChromalusionPhotography FB: @ChromalusionPix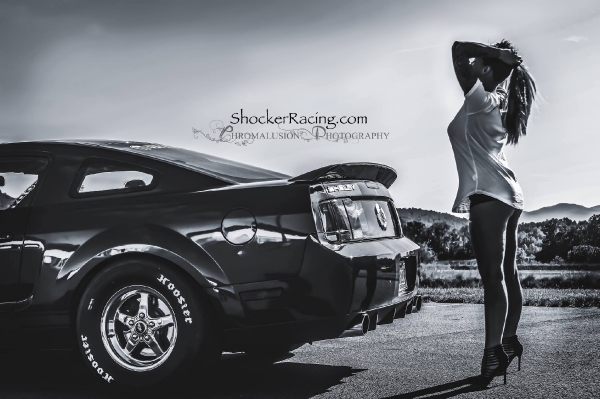 Check out our feature with photos by Tyler Sorget with his Mustang by clicking below: