Watch for Motorcyclists
Written by Bex Russ Thursday, 04 August 2016 00:00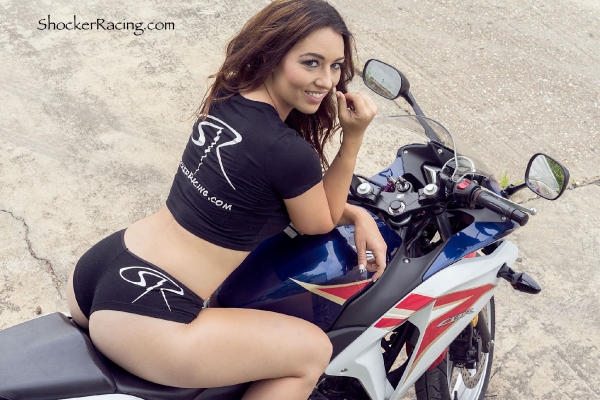 Grateful for the good weather Bex Russ is back at it again! Excited to show off her bike in this cheeky Shocker Racing booty shorts feature. Bex met up with well known photographer, from the DMV area, Matt Blasi. The two had to split this shoot into two different series because of uncooperative weather and timing issues. "Both of us have incredibly busy schedules. I'm really thankful Matt took the time to work with me and make these images look beautiful.  This is my baby and I wanted to show it off." said Bex. We are happy she did!
Bex is proud of her "small" bike. Like she mentioned in her first feature with us…http://www.shockerracing.com/index.php/featured-rides/featured-articles/173-bex-russ-in-the-shop-with-a-rat-rod-and-off-road-jeep "yeah yeah I know its small, but I'm a girl who can ride."  As you can see in the pictures she is right at home.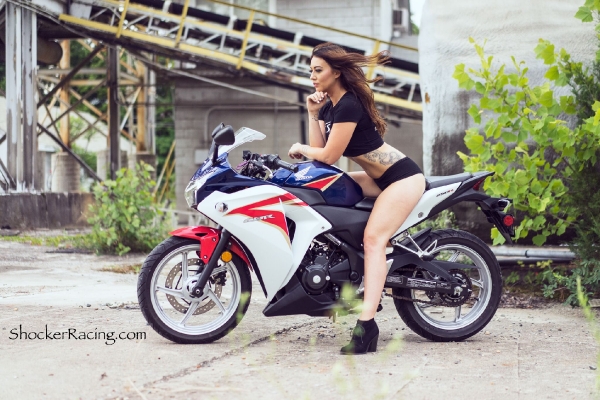 Ms. Russ claims safety first. "I can hardly touch the ground as it is. I don't want a faster bike. Sure I can get a bigger bike and lower it, but it's all about safety. You need strength and weight to hold and control these beasts. If you aren't comfortable how will you adjust to situations and avoid accidents?" Good point Bex! Safety First!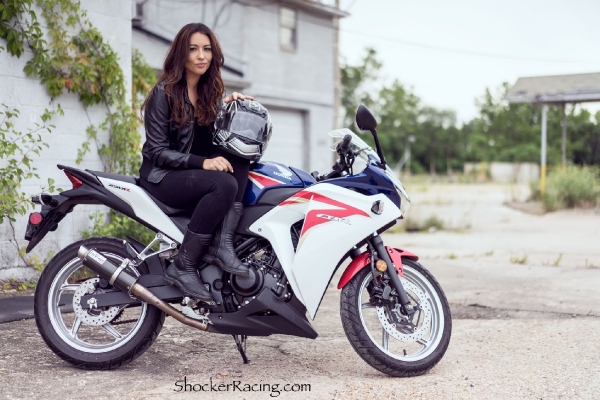 Bex originally got her bike when she aged out of drum corps. A pro marching band program called The Cadets. https://yea.org/programs/cadets/cadets "My plate says CDT 34 meaning "The Cadets est. 1934". I didn't ride when I marched because I didn't want to risk anything while being committed to drum corps." said Bex
This Americana bike stands for the traditions the drum corps she marched was established on. The maroon and gold uniform is based off the 1930's Marines Paris Island uniform. The corps got special permission to mimic its style that is still used today. "My bike was dedicated to my first love. Now its dedicated to the love of my life. My fiancé who I lost last April" said Bex.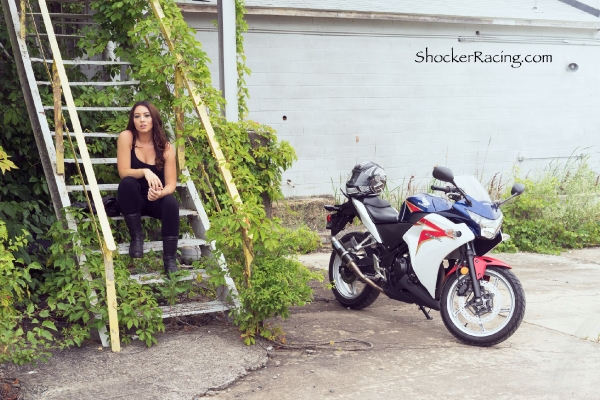 Bex rides in honor of her late finance, Thor Finks https://www.facebook.com/thor.finks?fref=ts, who passed in a hit and run motorcycle accident last year. She has a green and black license plate memorial frame to remind herself and others about the dangers of riding. She tells us she wants to dedicate this feature in his honor and remind everyone about the importance of watching for motorcycles. "Anyone who knows me is aware the challenge it took me to be in the mental state I'm in now. I will do everything in my power to spread the awareness to others."
Check out Bex Russ on Social Media- FB: Facebook.com/BexRussModel IG: @BJAM1934 Twitter: @BJAM1934 Snapchat: @GetYourBex
To see more of Matt Blasi's work - IG: @Tampatography or www.OneModelPlace.com/photographers/blasi-photography
Check out our feature with Kasey Hawkins and a Shelby Mustang by clicking below: