Mustang Morgan Takes on a Screaming Yellow Mach 1
Written by James Thursday, 25 August 2016 10:25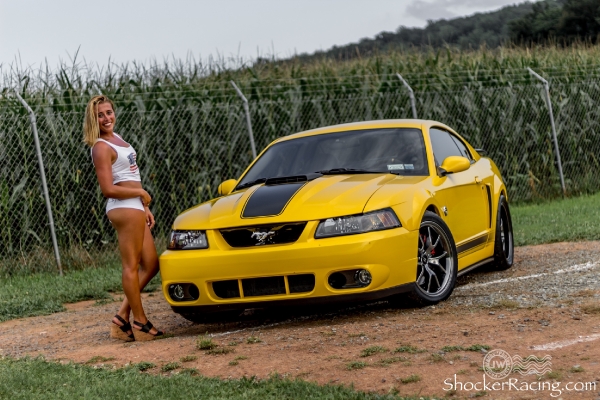 As you already know, the ShockerRacingGirls invaded the 2016 American Muscle Mustang Show (#AM2016).  While they were there, Morgan Kitzmiller(aka @Mustang_Morgan) met up with Jon Wacienga and is Screaming Yellow 2004 Mach 1 Mustang.  Of course Morgan couldn't resist the bright Yellow Stang and before we knew it a full photoshoot was underway!  Despite the extreme heat, Ms. Kitzmiller kept her cool and managed to stay looking radiant with her bronzed skin.
As AM2016 was winding down and some cars began to clear out, Morgan and Jon found a nice cornfield backdrop off to the side of Maple Grove Raceway.  Jon parked his rare Stang and gave Morgan permission to have her way with it! The Screaming Yellow Mach 1 is 1 of only 768 produced with this color option.  Starting with a unique platform, Jon has tastefully modded his Mustang to make it his own.  At first glance, you notice that he has replaced the front and rear bumpers with Cobra bumpers along with replacing the mirrors and side skirts with Cobra pieces.  He also added some subtle carbon fiber accents on the fog light bezels, side skirt splitters, side scoop inserts and a grill delete.  The interior has been upgraded with some custom Alcantara & Suede accents along with some Billet dress up.
To enhance the overall feel of the Mach, Jon has chosen a nice list of mods to increase horsepower, braking, sound and handling.  He chose a K&N FIPK Intake to help feed more air into the motor. Jon went with Bassani Mid Length Headers and a Bassani Off Road X-Pipe followed by an SLP Loudmouth Catback to give the Stang a very aggressive sound and let it get the exhaust flowing more efficiently.  He chose to go with 4.30 gears and a Ford Racing Aluminum Driveshaft for better launches and an MGW Gold Short Throw Shifter to eliminate the sloppy gear changes.  H&R Lowering Springs gave it a better stance along with increasing the handling and a set of SSBC Slotted Rotors and Brake Pads bring this Mach to a stop.
Be sure to go give Morgan a follow on Instagram at @Mustang_Morgan to keep up with all of her latest photoshoots and help her get #BeachPeach trending! Also, search "Morgan" here on ShockerRacing.com to see all of her previous features here!
You can find out more about Jon's Mach 1 and keep up with the car on his Instagram at @thej_dubs.
Follow ShockerRacing on Social Media:
Instagram: @ShockerRacing
Twitter: @ShockerRacing1
Facebook: Facebook.com/ShockerRacing
YouTube: YouTube.com/ShockerRacing
Snapchat: @ShockerRacing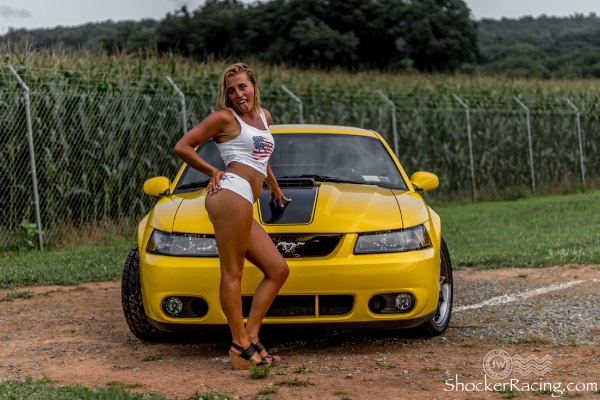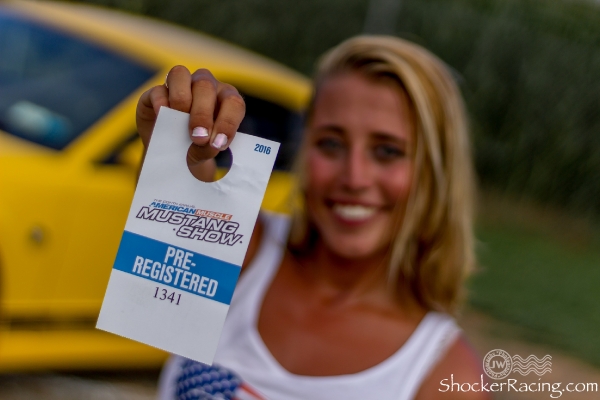 Take a look at our full American Muscle 2016 Coverage by clicking the photo below: