Miss Natasha is #1... Our Most Popular Feature of All Time
Written by James Monday, 29 August 2016 19:07
Maybe it's her spicy attitude, maybe it's her Jeep SRT8, or maybe it's the fact that she wrenches on her own ride... Whatever the reason, Natasha Tyrrell's ShockerRacingGirls feature quickly worked it's way towards the top of the most popular features we have ever released!  Just a couple of month's ago we released our "Eight Most Popular ShockerRacingGirls of All Time" feature and she was sitting at the #2 spot.  Shortly after that, Natasha's feature moved its way to the top!
You may remember @MisssNatasha for her quote "I'm not a model... Just a girl with a dope ass truck!"  To celebrate the articles popularity, we are excited to say that she met back up with photographer Alyssa McGrath for another shoot.  "I was literally working in the shop all day long... I wiped myself off with shop rags and we shot in the parking lot across the street from the shop," exclaimed Natasha, "Sometimes shooting on the fly works!"  We always appreciate the creativity that Natasha and Alyssa bring into their photoshoots!
Natasha has been busy working on her Jeep since our last feature.  She upgraded the fuel system including replacing the fuel rails.  Ms. Tyrrell had planned to go with a Crower cam but decided to go with a custom cam instead.  She also decided to add exhaust cutouts to complement her Borla Exhaust and Kooks Long Tube Headers.  That allows her to fully open up the exhaust and really let the SUV breath.  She initially planned to install a Procharger on the SRT8 but she has recently decided that she wants to build a 426 motor and a then build a custom twin turbo kit at their shop, Hellbent Racecars.
Follow Natasha on Instagram @MisssNatasha to keep up with her build
Follow Photographer Alyssa McGrath on Instagram @AlyyssaMcgrath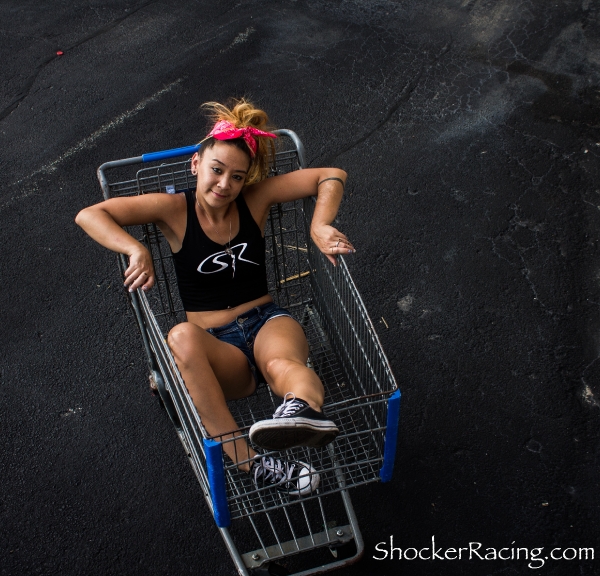 View the full photo gallery here
View the full photo gallery here
View the full photo gallery here
In case you missed Natasha's original feature click the photo below: