Bianca Thomas is the Terminator
Written by Bex Russ Monday, 19 December 2016 10:42
Ok, maybe Bianca is not the Terminator... but this Mustang lover joins our Shocker Racing crew in a photo shoot with a Terminator Cobra. She got to model with long time friend, photographer, and car owner Nick Faircloth's Terminator. His Mustang is a lowered 2003 Cobra named Stella. It features a 2.3L Whipple supercharger, FTBR KIT, and True Forged Mach5 wheels. Bianca shows us she really enjoys posing with these beasts in this shoot. "When I get in front of the camera and have my music playing. It is like it's just me and the car there. I go into full model mode." says Bianca. Ms. Thomas was born and raised in Trinity North Carolina and they decided to shoot locally for this feature.
Bianca tells us about her passion for Mustangs, "I have always had a thing for cars. Especially Mustangs! The sound of a Mustang is music to my ears. Nothing is better than cruising with the windows down and music low. I love hearing the exhaust while shifting through the gears!" Bianca owns a 2004 Dark Shadow Grey(DSG) Mach 1 Stang that she nicknamed Jade. She tells us it's stock under the hood for now. However, if ShockerRacing was going to buy her any item for her car, she would ask for an Intercooled Vortech v3 Supercharger.  Ms. Thomas also tells us her dream car is a DSG Shelby GT500.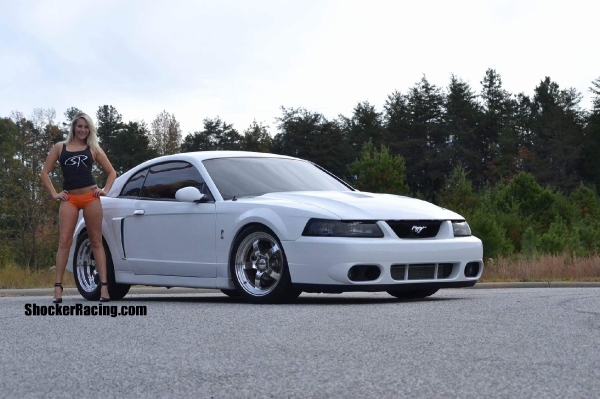 This blue eyed blonde bombshell tells us her favorite event is Mustang Week. "With all the Mustangs and Mustang lovers it was like being in heaven. I just love meeting new people who share the same love and passion as I do when it comes to Mustangs." We agree with her, Mustang Week is one of a kind.
Bianca is a big fan of Shocker Racing. She tells us "After seeing the @ShockerRacing Instagram page... with all the beautiful cars and pretty SR girls, I ordered a tank top and bootyshorts right away. I had to give it a shot and I'm so glad I did!" We are happy she found her confidence and joined us.
Check out the rest of Bianca's interview here:
SR: You're so cheerful, whats your biggest pet peeve?
Bianca: My biggest pet peeve is when people smack their lips or drag their feet!
SR: What would you say is your best asset?
Bianca: I have been told my eyes are my best asset, people say they look like cat eyes!
SR: Cat eyes?
Bianca: Yes, friends and family call me cat eyes and blue eyed blonde bombshell!
SR: Which of the Fast and Furious Films is your favorite?
Bianca: I would have to say the very first one!
SR: So are you a Paul Walker or a Vin Diesel kind of girl?
Bianca: I am definitely a Paul walker kind of gal.
Follow Bianca Thomas on her IG - @Bianca_Thomas21
Car Owner & Photographer on IG: @svt_nick90
Follow our resident writer/model/partner Bex Russ on her social media - IG: @BJAM1934 FB: @Bex Russ Model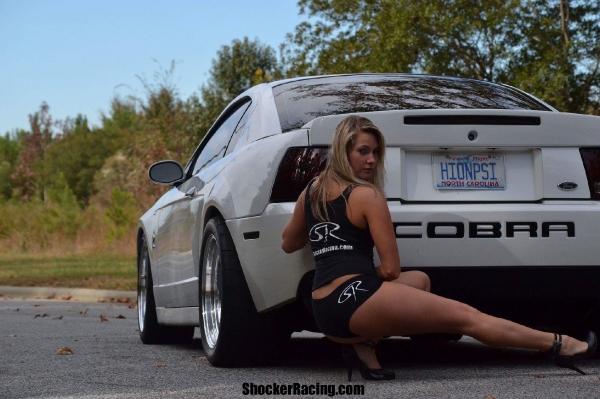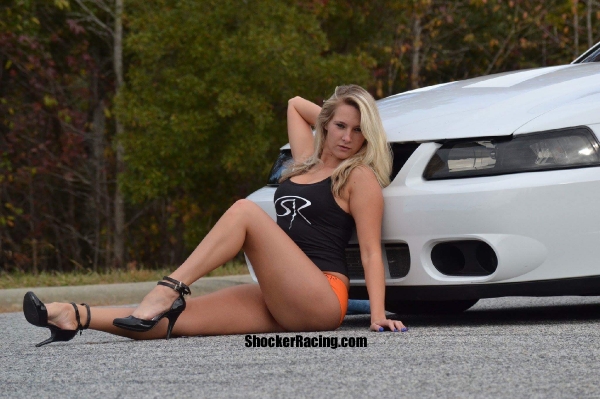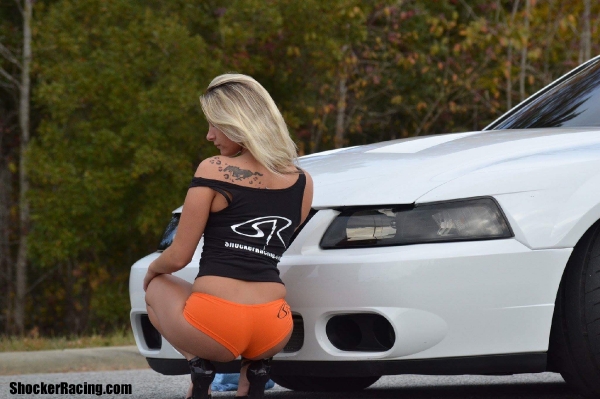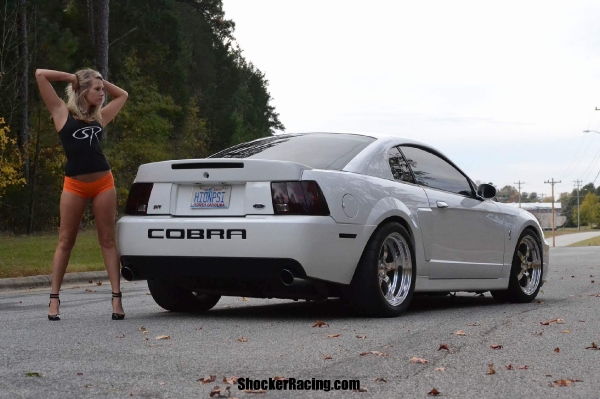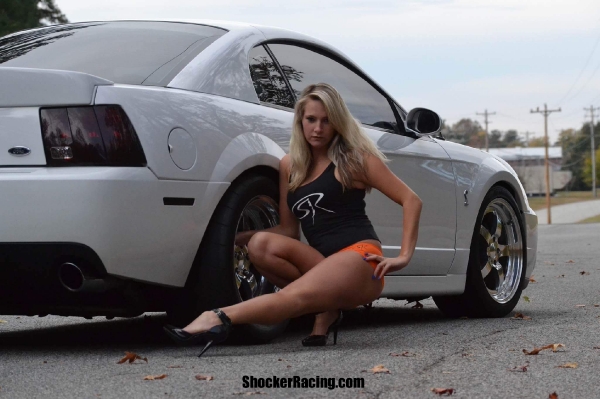 Check out Nikki Thibeault's Feature with a CTS-V by clicking the photo below: