Written by Tyler Sorget Saturday, 14 January 2017 10:42
The holidays are over now, and winter is upon us as we head into 2017.  Winter in Northern Michigan often looks like a scene from a Hallmark movie... filled with warm, inviting little towns and snow-covered rural landscapes.  Everyone silently counts down the days until summer returns.  The sports cars, muscle cars, and hot rods that cruise the streets on hot summer nights can be found in heated garages "sleeping" under car covers or receiving new upgrades.  The only noise that can be heard is from the stereo speakers out in workshops, and the occasional "brrraaap" from snowmobiles passing by.  That is, until Tyler Sorget decided to get his 1969 Mach 1 Mustang out of storage for a special Christmas/Winter themed photoshoot with Nicole!
"Dashing through the snow in a 435 horsepower sleigh, sliding sideways as we go, laughing all the way..." With Christmas only a few days away, Nicole home from college, and a warm 45 degree day... the close friends once again met at Tyler's.  Nicole paired her ShockerRacing Crop T-Shirt with jeans, boots, and a black leather jacket.  A fitting outfit to match Tyler's classic Mach 1 and the winter backdrop.  When asked what she enjoyed most about this photoshoot, Nicole explained, "It was a photo idea Tyler and I had never tried before.  Being able to tie in the winter season with the classic car was something not seen often and added an extra touch that made the pictures special."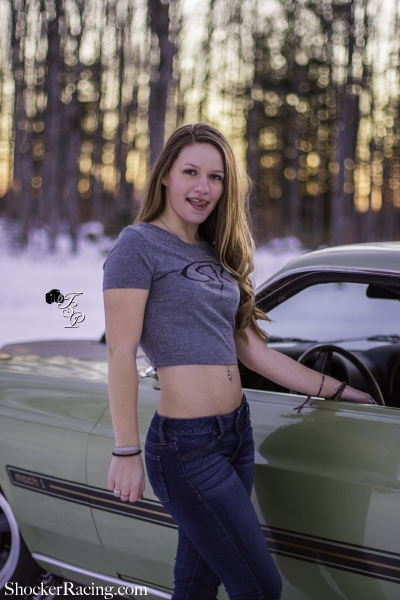 This was the second photoshoot for ShockerRacing that Nicole and Tyler have put together.  Their first photoshoot in June was plagued by rainy weather(see 'Merica - Models and Mustangs in Michigan).  This photoshoot offered them another chance to show their modeling and photography talents.  When asked how she would compare this photoshoot to the first one in June, Nicole stated, "I feel like this shoot was much more comfortable overall.  After closely working with James from SR and being a part of the ShockerRacing crew, we were able to see more behind the scenes project work.  With knowing more in-depth information, it really helped drive the passion of the whole shoot."  When asked for her thoughts on working with Tyler and ShockerRacing, Nicole shared, "I absolutely love being able to work with Tyler and James.  They are both so understanding.  From a photography point of view, Tyler always wants the models to look their best and always puts his best foot forward.  His passion shines when reviewing photos and giving models direction.  James is always looking out for the best of the models, photographers and ShockerRacing.  He ensures that everyone is happy with the final products.  He is always available when contacted and is extremely professional and friendly when reaching out to others.  It is evident he works hard for his successes."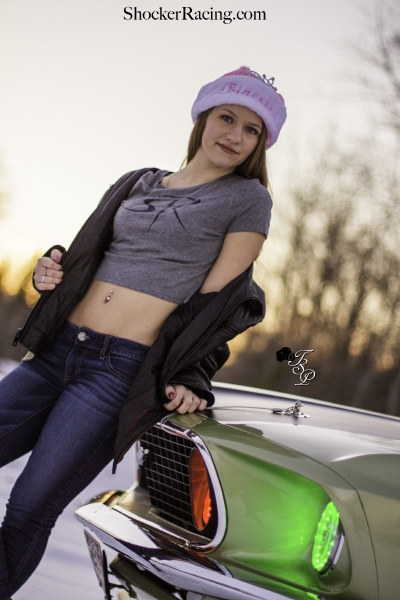 It's safe to say that Nicole and Tyler have both found comfort and confidence while working with ShockerRacing.  Expect to see more from them in 2017 and give them both a follow on social media and don't forget Nicole is Miss April in the 2017 ShockerRacingGirls Calendar:
Nicole: IG - @Nicole.Bannasch
Tyler: IG - @TySorget FB: Facebook.com/tylersorgetphotography
Order a 2017 ShockerRacingGirls Calendar here: 2017 ShockerRacingGirls Calendar Order
Follow SR on Social Media
Instagram: @ShockerRacing
Twitter: @ShockerRacing1
Facebook: Facebook.com/ShockerRacing
YouTube: YouTube.com/ShockerRacing
Snapchat: @ShockerRacing
View the full photo gallery here
View the full photo gallery here
View the full photo gallery here
View the full photo gallery here
View the full photo gallery here
View the full photo gallery here
Take a peak at Karisha with a C7Z06 by clicking the photo below: