Brittaney Kaufman with a Trio of Mustangs
Written by James Sunday, 05 February 2017 00:00
We have been a fan of our latest ShockerRacingGirl, Brittaney Kaufman, for a while now.  So of course we have been anxiously awaiting our chance to feature Brittaney here on ShockerRacing.com!  Thanks to some help from our friend Damion from Mach 10 Photography, he was able to coordinate the shoot in Jacksonville, FL and line up an amazing trio of Mustangs to shoot.  The trio includes; Brittaney's 2016 Ruby Red GT, Marcus Below's 2017 Mustang GT350, and Damion's 2008 Mustang GT.  Hit the link to see the full photoshoot:
The 5'9" tall Blonde was born and raised in Jacksonville Florida where she currently works as a SR Quality Assurance Analyst for a Mortgage Company.  Her career pays the bills to fuel her passion for Mustangs like her 2016 Ruby Red 5.0.  So far she has added Eibach Sportline Lowering Springs, an MBRP Race Series Catback Exhaust, and an SCT X4 Tuner with a tune by Tony Gonyon at Tuners Inc.  When we asked her what one mod she would choose if ShockerRacing was picking up the tab, she responded with, "a Procharger Stage 2 Supercharger Kit."
Brittaney's love for cars stemmed from her friends growing up around the racing scene.  She was also around lifted trucks and Rat Rods a lot with her dad when she was younger.  Mrs. Kaufman tells us she loves going out to South Georgia Motorsports Park for the Duck Races, "they're huge and some of the baddest drag racing I have ever seen!"
The 24 year old looks right at home posing with these Stangs, but she tells us she doesn't have much modeling experience.  "I have done a little, mainly just for fun.  And I was featured as Babe of the Month in Mustang Magazine once," Brittaney says.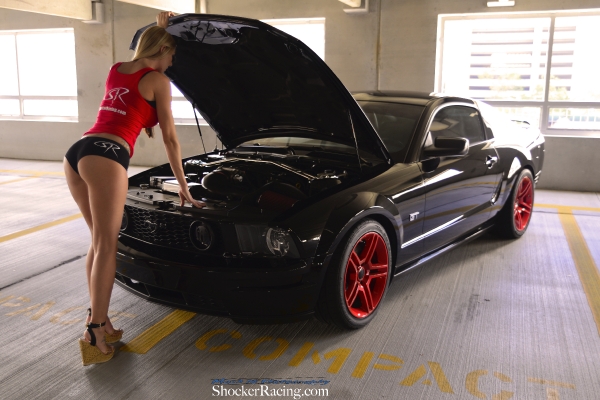 Check out the rest of our interview with Brittaney here:
SR: What was your first car?
Brittaney: It was an old Chevy Blazer.
SR: What is your dream car?
Brittaney: I want a Porsche Panamera Turbo S!
SR: If you could take your Panamera anywhere in the world, where would you go?
Britaney: Oh man, so many beautiful places to go but probably somewhere with a beautiful beach line in Europe.
SR: Who is your favorite Automotive Model?
Brittaney: Brooke Weisbender.  She's an overall beautiful person with a diverse background in modeling, plus she races a bike.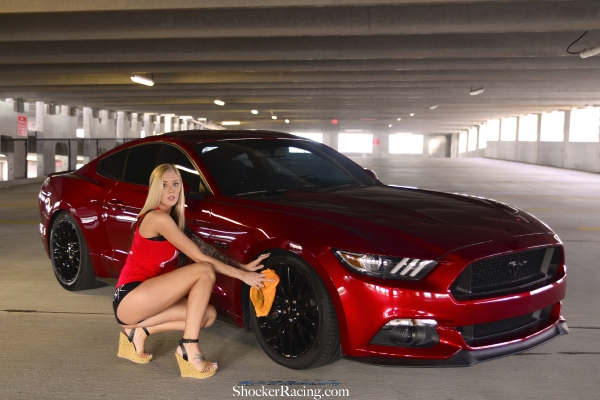 SR: Which of the Fast and Furious films is your favorite?
Brittaney: Tokyo Drift is my favorite.
SR: Are you a Paul Walker or Vin Diesel kind of girl?
Brittaney: Paul Walk like every other female!
SR: What is your biggest pet peeve?
Brittaney: I absolutely dislike when people chew with their mouth open... drives me insane!
SR: What is your favorite food?
Brittaney: Mexican food, duh!
SR: What's your favorite Pizza topping?
Brittaney: I'm a supreme pizza kind of gal.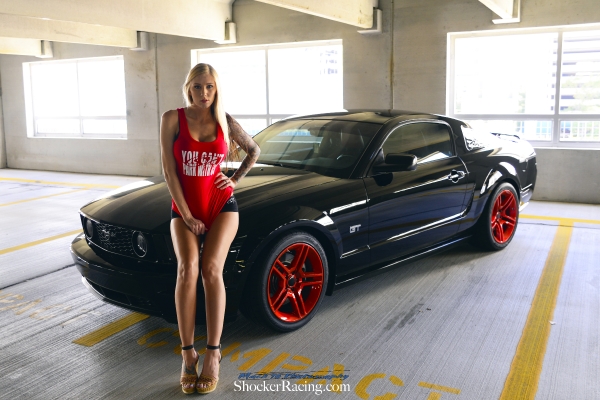 At the time of the shoot, Marcus' 2017 Mustang GT350 was still being broken in with less than 300 miles on it.  Damion's 2008 Mustang GT on the other hand has seen a plethora of performance mods added.  Damion has taken the Stang to the drag strip but prefers to spend as much time as possible road racing it.  Besides adding more power from a Livernois Heads and Cam package, the GT has been upgraded with a big brake kit, Roush Coil Overs, BMR K-Member with Control Arms, UPR Adjustable Upper Control Arms, and Stifflers Stiff System for the S197.  He drives around on a set of 20x9" front and 20x10" MMD Five Spoke wheels, and for track days he switches to 18x9" front and 18x10" GT500 wheels that have been powder coated in a Tequila Sunrise Color.
Be sure to follow Brittaney on her social media here:  IG - @brittaneyk__ FB - Facebook.com/MrsFiveOh
Follow Damion at Mach10 Photography here: IG - @Mach10Photography FB - Facebook.com/mach10photography
You can check out more of Marcus' GT350 Mustang here: IG - @belew_bear
Follow SR on Social Media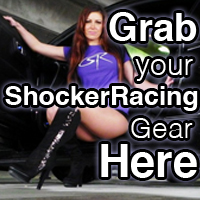 Instagram: @ShockerRacing
Twitter: @ShockerRacing1
Facebook: Facebook.com/ShockerRacing
YouTube: YouTube.com/ShockerRacing
Snapchat: @ShockerRacing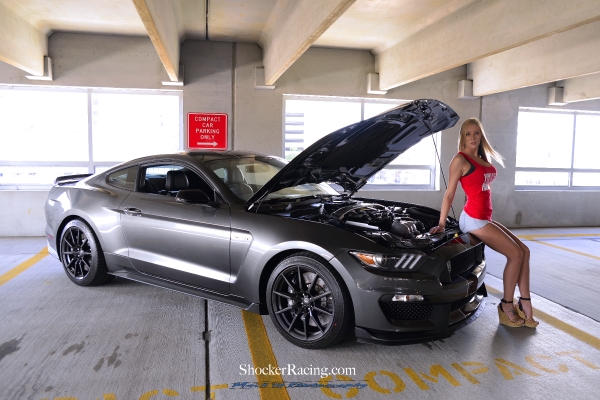 View the full photo gallery here
View the full photo gallery here
View the full photo gallery here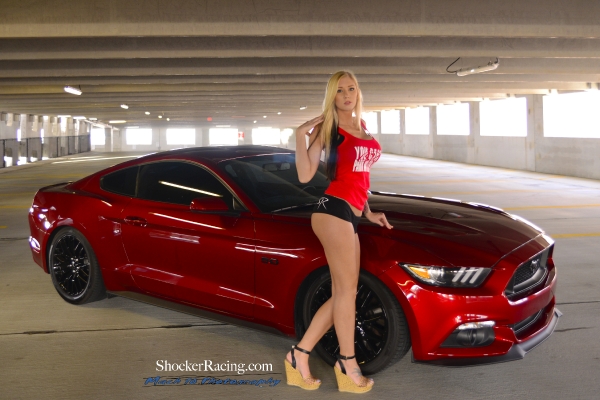 View the full photo gallery here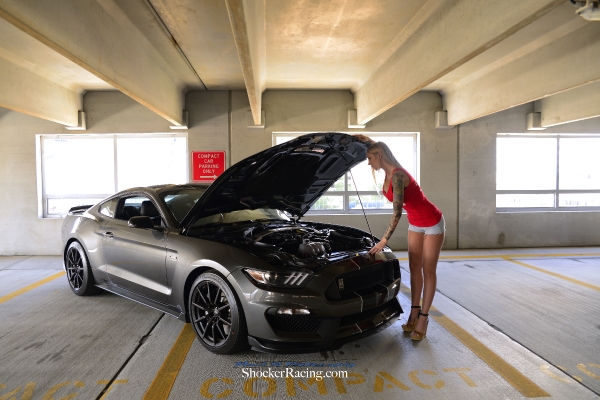 View the full photo gallery here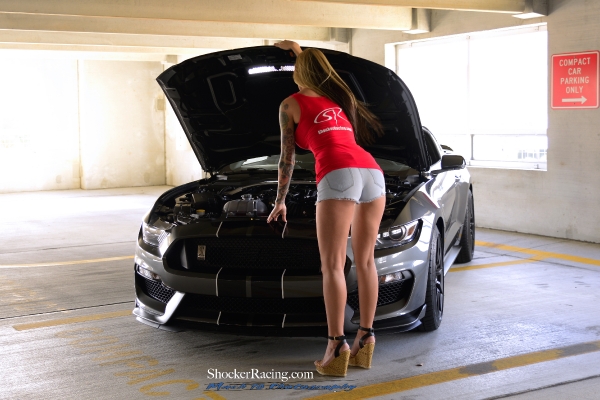 New pics added 2/7/17:
View the full photo gallery here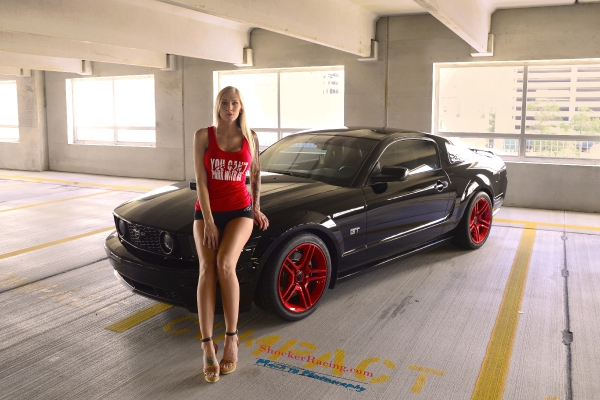 View the full photo gallery here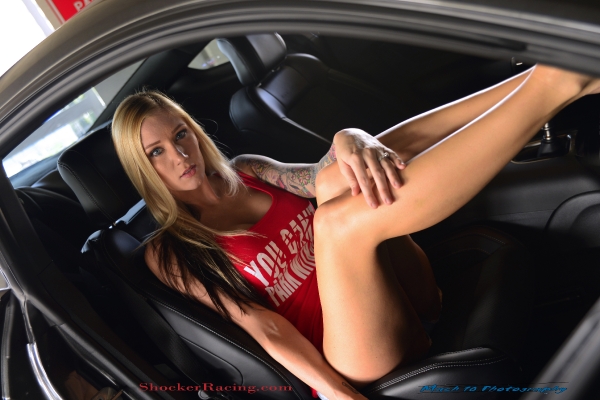 View the full photo gallery here
View the full photo gallery here
Be sure to check out Michaela's feature with the Mint Green GTO by clicking the pic below: