Jessica Crammer is Ford Tough
Written by Tyler Sorget Monday, 24 April 2017 17:24
"Built Ford Tough" has been the slogan for Ford's line of trucks since 1978, 39 years. Our newest ShockerRacing Girl may only be 26 years old and 5'3'' but is just as tough! Please welcome Jessica (@Mrs_Supercharged_) into the ShockerRacing family! Originally from Whitehall, Pennsylvania, she now lives on Race St. in Catasauqua, Pennsylvania. Sadly, her original home was destroyed by a fire, but she was able to purchase another home only two blocks away. "I couldn't leave Race Street!" Jessica explained. Anyone with a passion for anything automotive and racing is sure to understand.

Jessica has been involved with the automotive scene since she was in high school. "I was never into sports or much of anything else. Once I bought my lifted truck, I started hanging out at the local Sheetz, which used to be the hangout! That is how I have met many of the friends I have today!" The truck mentioned was her first car; a lifted F-250 V-10. Although this was her first vehicle, Jessica wasn't afraid to have fun with it. Jessica shares that she rolled this truck while mudding with friends. "The best part of the situation was dragging it out before the cops showed up since we weren't supposed to be there." As of today, Jessica owns a 2016 Subaru Impreza, which she uses for a daily driver. In addition, she also owns a 2002 Ford F-150 Harley Davidson Edition, she affectionately considers her baby. The F-150 is modified with a stock Eaton supercharger, JLT cold air intake, Accufab throttle body, EGR delete , JLT oil separator, Bassani mid pipe, Bassani cat-back exhaust, and a Punisher race valve body.
Before diving in and sharing the details of Jessica's photo shoot with Chromalusion Photography, featuring Mike Gondek's (@BlowerWhore) Ford Lightning. ShockerRacing would like to congratulate Jessica and Mike on becoming newlyweds! As for the photo shoot, Jessica and Mike met up with Stephani from Chromalusion Photography in Myrtle Beach, South Carolina, to get some great shots with Mike's 2003 Ford Lightning.  When asked about her favorite part of the photo shoot, Jessica stated, "The best part was finding the awesome graffiti wall! It made for a sweet backdrop. I really love art!" She also shared that Mike even got caught modeling for some photos with the truck, and we don't blame him one bit. The Lightning is an absolute work of art! We here at ShockerRacing wish Jessica and Mike many years of happiness together and look forward to seeing more of their awesome builds!
Keep reading to see the rest of Jessica's interview below:

SR: What got you interested in ShockerRacing?
Jessica: I became interested in ShockerRacing after seeing how much the community supports women. It was never about bashing or hurting women, only encouraging them.

SR:  If ShockerRacing was going to pay for any mod to your car no matter what the cost, what mod would you choose?
Jessica: I would love to upgrade my supercharger to a Whipple 2.3.

SR: What is your dream car?
Jessica: I would have to say I already own my dream car (truck). Now, it's just working on the way I want it to look and building a new motor one day!

SR: What is your favorite automotive event of the year?
Jessica: Every year we go to Cruise Week in Ocean City, Maryland, each spring and fall. It's always full of burnouts, shenanigans, awesome cars/trucks, and great friends!

SR: What modeling experience do you have?
Jessica: I have absolutely no modeling experience! I wouldn't even come close to considering myself a model.


SR: Who is your favorite previous ShockerRacing Girl, and why?
Jessica: Kait would have to be my favorite previous ShockerRacing girl! Not only is she stunning, but she is a great person inside and out! She believes in helping others in the community. She is a strong individual who inspires many.

SR: What nicknames do you have?
Jessica: Most people call me Jess or JC. Anymore though, people just yell out your Ig name.

SR: If you could travel and have your dream car anywhere in the world, where would you go?
Jessica: I would love to travel to Turtle Island in Fiji. My truck would look amazing on the beach!

SR: Which of the Fast and Furious movies is your Fave?
Jessica: My favorite Fast and Furious movie would have to be the first installment. Only because it's the only one that wasn't so farfetched.
Be sure to follow our friend Stephani at Chromalusion Photography on her social media - IG: @ChromalusionPhotography & FB: Facebook.com/ChromalusionPix
Follow Jessica on IG: @Mrs_Supercharged_
For more on the Ford Lightning follow Mike on IG: @BlowerWhore
Follow ShockerRacing on our Social Media: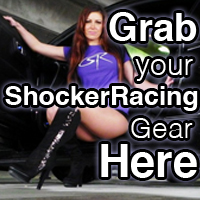 Instagram: @ShockerRacing
Twitter: @ShockerRacing1
Facebook: Facebook.com/ShockerRacing
YouTube: YouTube.com/ShockerRacing
Snapchat: @ShockerRacing
View the full photo gallery here
View the full photo gallery here
View the full photo gallery here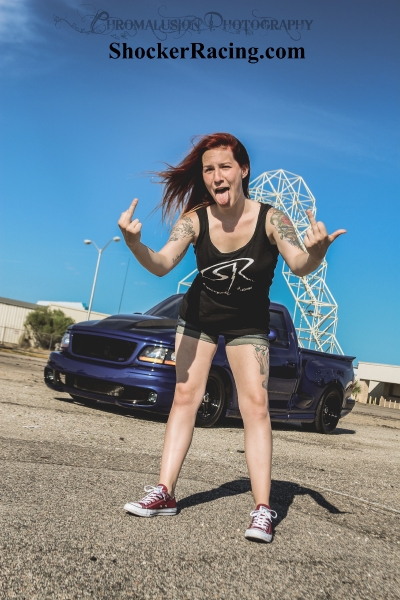 View the full photo gallery here
View the full photo gallery here
View our previous feature with Katelyn and a pair of BMW M3's: