Katie Blaze with a 560whp Subaru STI
Written by James Wednesday, 31 May 2017 00:00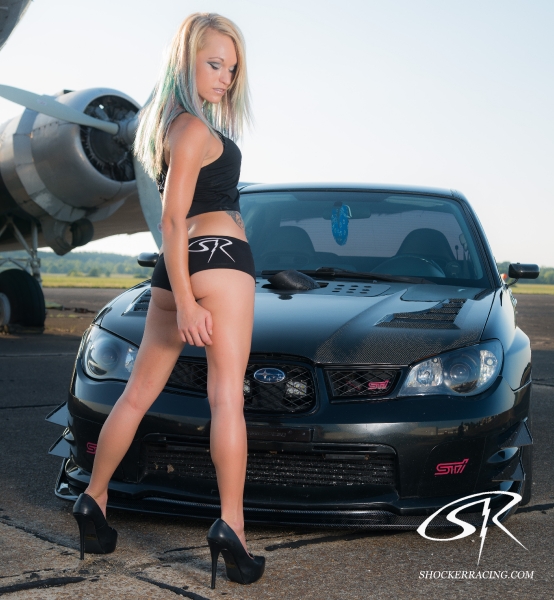 Our resident photographer, Chris Auditore Photography, dropped this photoshoot on us month's ago and somehow it slipped through the cracks!  The gorgeous blonde you see is Katie Blaze aka @Sparkling_Spirit_90 on Instagram.  The Subaru STI that you may or may not have noticed behind her belongs to Dillon Rath, and although Katie may have stolen the focus... you may want to pay attention to it!  Dillon's 2006 Subaru STI made 560 horsepower to the wheels, and is no joke.  "It may take a minute to get my mods list together because virtually everything is modified," was Dillon's response to our request for the details on his build.
Hit the link to see more pics with Katie and see the details of Dillon's build.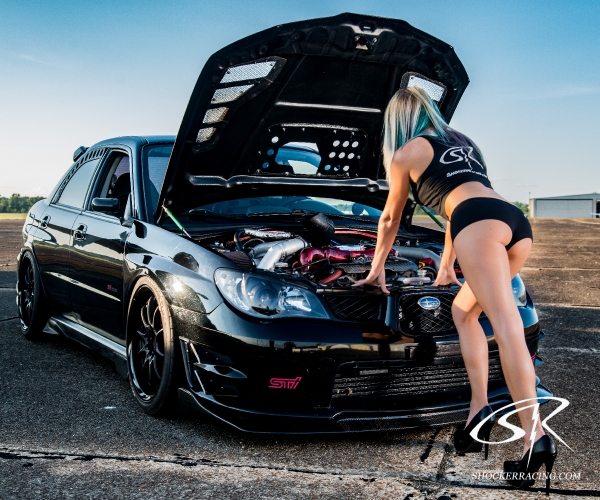 Katie, Dillon, and Chris headed out to the Tullahoma Regional Airport to provide the backdrop for this photo shoot.  It was also a suitable location considering this Subie takes off like a jet.  Dillon also tells us that her works on F-16 Fighter Jets for a living, so it's not surprising that he would want to drive one on the streets.  The use of carbon fiber canards, roof vane, and front and rear lips conjure up feelings that this STI could literally take off in flight.  The exhaust exiting out of the Seibon Carbon Fiber Hood just screams "get the F out of my way!"  Dillon also added a Velocity Carbon Fiber Trunk, Chargespeed Carbon Fiber Fog Light Ducts, custom tail lights, and Circuit Demon custom headlights.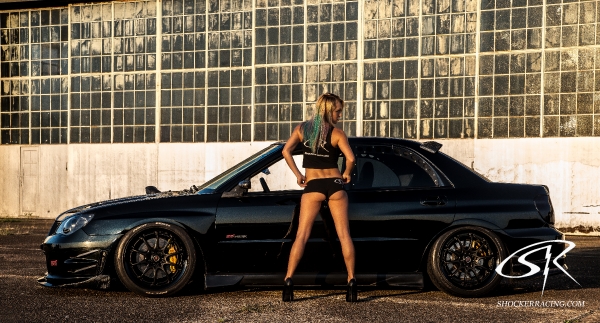 You will notice that Dillon's Subaru has the perfect stance.  An Air lift V2 Air Ride Kit handles the job of getting the Subie low.  The Federal tires get tucked up on the wheel wells wrapped around a set of Rays Engineering Wheels.  The suspension setup also includes; Tein Strut Bars, Tein Hood Damper, Hotchkis Sway Bars.
Inside you will find a set of Evo X Recaro Seats and a Carbon Fiber GT Spec D-Shaped Steering Wheel.  Dillon also added a custom iPad center console with a Pioneer Touchscreen.  The shifting is done with a WC Latheworks Titanium Shift Knob.  A Greddy multi d/a gauge and AEM Wideband handle the important gauge duties.
Now for the information you have all been wondering, how does this Subie make 560 horsepower to the wheels???  It all starts with a fully built motor by Andrewtech Automotive.  Creating the boost is a custom 1 of 2 rotated twin scroll turbo kits by Moore Performance that features a Borg Warner S364.5 Turbo custom made by AGP Turbo.  Here are the rest of the engine mods:
Optima Battery
Beatrush Radiator Plate and Pitch Stop
Cosworth Intake Manifold
Custom Intercooler Piping by Fathouse Fab
Fuel Lab Fuel Setup
Injector Dynamics Fuel System
Tial Wastegates
Tial Blowoff Valve
Aeromotive Fuel Pressure Regulator
Custom Hydro Graphics in the engine bay
Be sure to check out Chris Auditore on his social media -  IG: @CJAuditore
FB: Facebook.com/ChrisAuditorePhotography
Katie Blaze's IG: @Sparkling_Spirit_90
For more on Dillon's Subaru: @STIDR06
Follow ShockerRacing on our Social Media: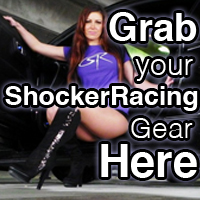 Instagram: @ShockerRacing
Twitter: @ShockerRacing1
Facebook: Facebook.com/ShockerRacing
YouTube: YouTube.com/ShockerRacing
Snapchat: @ShockerRacing
View the full photo gallery here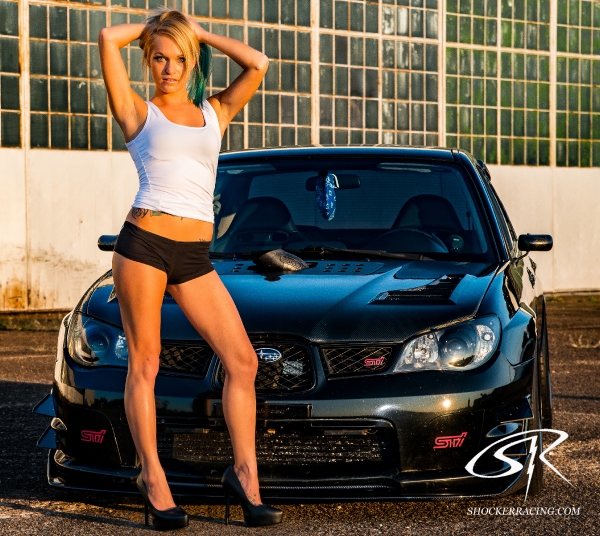 View the full photo gallery here
View the full photo gallery here
View the full photo gallery here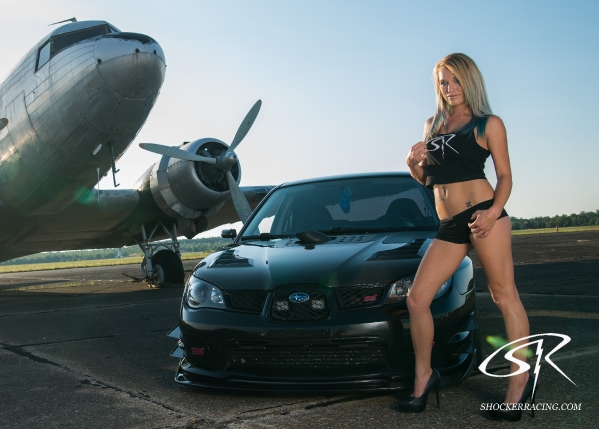 View the full photo gallery here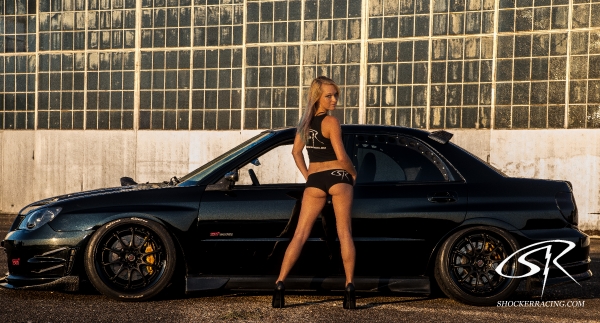 View the full photo gallery here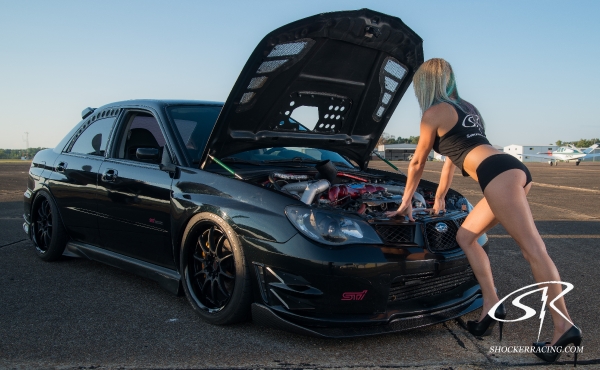 Check out our Memorial Day Tribute with Bex Russ by clicking the photo below: