Denea Studstill with her G8 GT
Written by James Thursday, 15 June 2017 09:18
Our friend Stephani, at Chromalusion Photography, put together a great calendar for 2017 featuring women and their own rides.  She called the calendar "Lady Driven" and gave some amazing women the opportunity to be featured in a calendar.  One of these women is Denea Studstill with her beautiful 2008 G8 GT.  Stephani was setting up photoshoots in the Franklin North Carolina area, so after being slated for a spot in the calendar, Denea drove her G8 from Henry County Georgia to complete the shoot.  Of course it was a perfect opportunity to don some ShockerRacing Apparel!  Hit the link to see the rest of the shoot!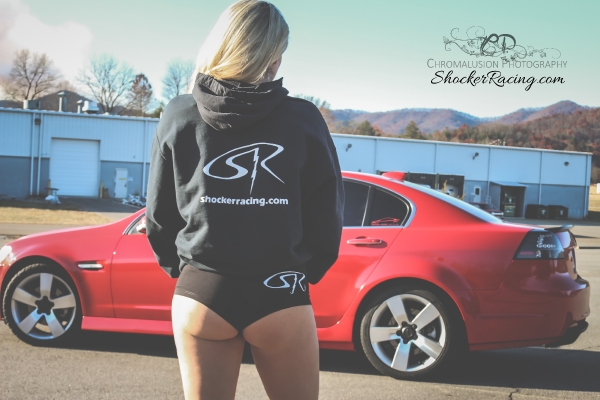 Denea's bright red 2008 G8 GT isn't just your everyday stock 4 door sedan.  The 6.0-liter V8 started out with 361 horsepower and 385 pound-feet, but that wasn't quite enough for Denea.  Handling the exhaust is a set of Kooks 1 3/4" Long Tube Headers into a Kooks Mid-Pipe and finally exiting through a Magnaflow Axel-back Muffler system.  It breathes through a Vararam Air Intake and has has a cam swap.  The new cam is a Rick Crawford Racing Cam(219/228 .615/.599 111), while they were at it the DOD was deleted and a Cloyes Timing Chain and LS7 Lifters were added.  The final piece to the puzzle is a 3200 Pro Series Torque Converter.  We asked Denea if she has had it on the dyno yet, "I wish. Unfortunately I still haven't had a chance to!" was her response. Hopefully we will see some dyno numbers soon!
More recently, Denea has been working on fixing up some cosmetic nuances with her G8.  She has been addressing a sagging headliner inside and working on repainting the grills.  We asked her to tell us a little more about the photoshoot with Chromalusion Photograpy, "the wildfires that made the news were going on in the background while we were shooting." said Denea, "So that was neat to see up close."
Denea is a huge animal lover!  She has three dogs and three cats, all 6 of which have been adopted.  When she is not out racing her car or going to car events with her friends in the Georgia G8 Group, you will find her out Mud Bogging, traveling, or enjoying time with her friends and pets.
You can find Denea on Instagram: @TheRealG8GTGrl and on FB: facebook.com/denea.studstill
Be sure to follow our friend Stephani at Chromalusion Photography on her social media - IG: @ChromalusionPhotography & FB: Facebook.com/ChromalusionPix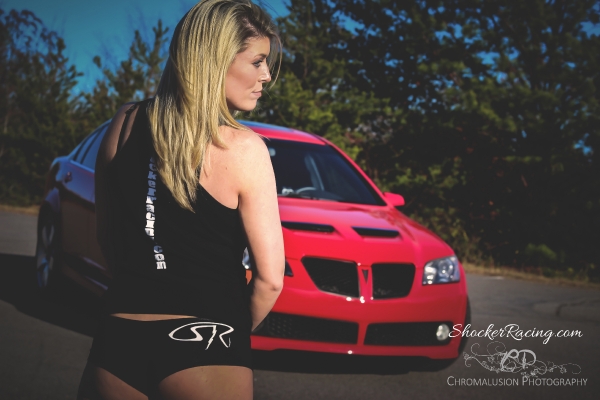 Follow ShockerRacing on our Social Media: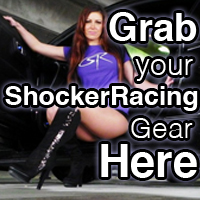 Instagram: @ShockerRacing
Twitter: @ShockerRacing1
Facebook: Facebook.com/ShockerRacing
YouTube: YouTube.com/ShockerRacing
Snapchat: @ShockerRacing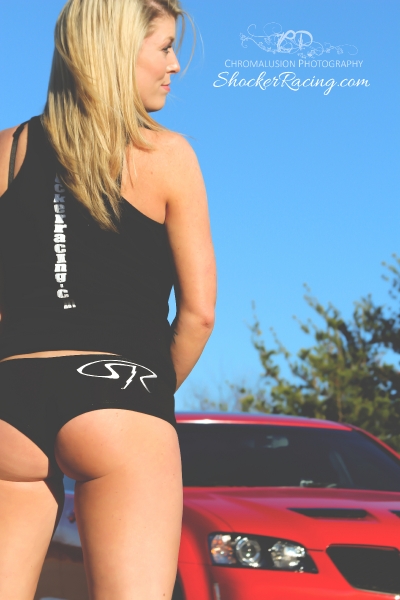 Don't Miss Bex Russ at the Ford Nationals by clicking the photo below: