Adriannka joins the ShockerRacingGirls with Nick Manchen's G8 GT
Written by James Saturday, 24 June 2017 14:26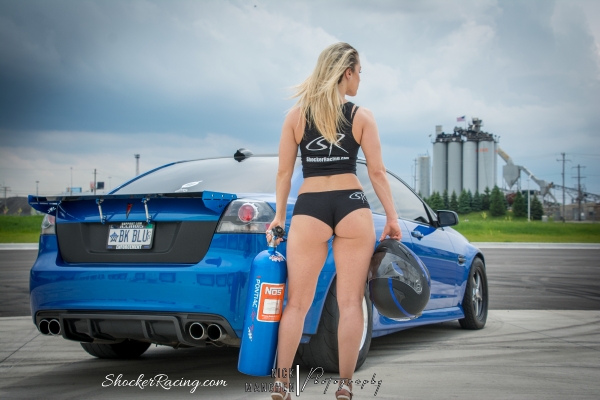 About a month ago, ShockerRacing was looking for some local cars to shoot in the Chicagoland area so we headed over to our friends at TheChicagoGarage.com.  A user going by the name nmskull66 popped in the thread and before we knew it Nick Manchen had a ShockerRacingGirls photoshoot in the works!  It turned out that Nick not only owned a couple of badass LSX cars but he does his own photography and had the perfect model in mind.  Nick contacted fitness competitor and long-time friend Adriannka to shoot with his "Back the Blue" Police themed 2009 Pontiac G8 GT and here we are!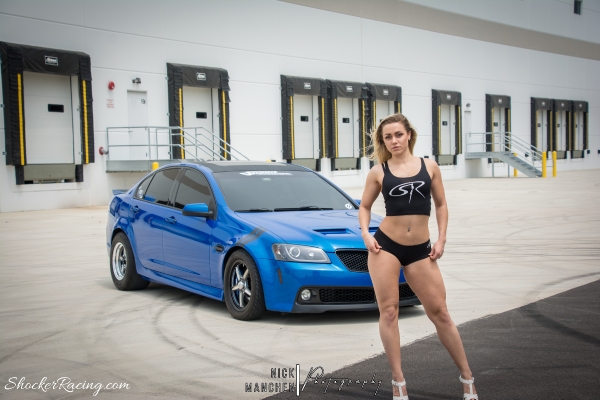 23 year old, Adriannka loves training and working out and has a passion for fitness competitions.  In fact, as we are writing this ShockerRacingGirls feature she is competing in a fitness competition.  We asked the 5'5" tall Leo how she got in to competing, "I was eating fairly clean and working out for a few years on my own before competing, just to stay healthy and in shape." Adriannka continued, "Competing was something new for me to try at first just to see how far I could take my body to the next level, then I fell in love with the process and three years later I am still doing it!"  Luckily all of the training and competing hasn't stopped her love for Oreo Cookies and Reese's Peanut Butter Cups! This was Adriannka's first time shooting with a car so it was a little different than the fitness and casual photoshoots she has done in the past but she tells us she definitely had a lot of fun doing it.
Nick has dedicated his 2009 G8 GT to "Backing The Blue" as you can tell by his "BK BLU" license plate and the black and blue color scheme to the car.  He tells us that Protecting and Serving runs in his family, and is currently going through the process to join the Chicago PD.  Nick daily drives this 6.0L LS powered G8 that he had tuned by the crew over at Speed Inc.  The Rotofab Intake, Doug Thorley long tube headers, Borla Catback Exhaust, and QTP Electric Cutouts helped the car make 373 rwhp when Speed Inc tuned it.
Getting the power to the ground is done through a 3.27 Differential from a Chevy SS.  Suspension upgrades include BMR Front and Rear Sway Bars, BMR Rear Tubular Trailing Arms and Tie Rods, and a set of Ryan Kerr 15" Wheel Conversion Control Arms.  The tires are on a set of Billet Specialties Wheels.  The rear wheels are 15"x10" wide and the fronts are 17"x4" and fit over a set of GXP Brembo front brakes.  One of the things that stands out the most is Nick's Drag Wing that he picked up from Kahl Kreations.   He also added some vinyl wrapping done by Xtreme Graphics and had some powder coating done by TRS Coatings of America.
Check out the rest of our interview with Adriannka below:
SR: Where are you from?
Adriannka: I was born and raised in Chicago, but I speak, read and write Polish.
SR: You mentioned that you are a Leo, when is your Birthday?
Adriannka: July 23rd, so I will be turning 24 next month.
SR: What do you do for a living?
Adriannka: I am a full time student with a major in Advertisement and a minor in Marketing.  I am a fitness competitor, and an Oreo Cookie and Reese's Peanut Butter Cup lover!
SR: What's your favorite food?
Adriannka: Oh, that's a hard one! I'll name a few; Reese's Peanut Butter Cups, Burritos, Pizza, Pierogi, Oreos, and Chocolate Chip Cookies.
SR: What was your first car?
Adriannka: It was a 2007 Toyota Camry, but I have my eyes set on a Genesis once I graduate with my Bachelors.
SR: What is your dream car?
Adriannka: My dream car is an Audi R8!
SR: If you could travel and take your dream Audi R8, where would you go?
Adriannka: That's another tough one, I am not sure if having an R8 would be great where I would want to go.  I definitely want to go to New Zealand to go to their beaches, water caves, and hiking.  I also would like to travel Thailand's beaches and sights to see, they look amazing!
SR: Do you have any other modeling experience?
Adriannka: I took a chance and ran for Miss Polonia Illinois 2017.  It was definitely something new and different to experience, especially being exposed on Polish radio, television, and going to events.
SR: Leave us with your favorite quote.
Adriannka: I am not sure who it is by but I heard this years ago and it has stuck with me "Be careless in what people think, and fearless in what you do"
Be sure to follow Adriannka on Instagram:
Follow Nick and his G8 GT on Social Media: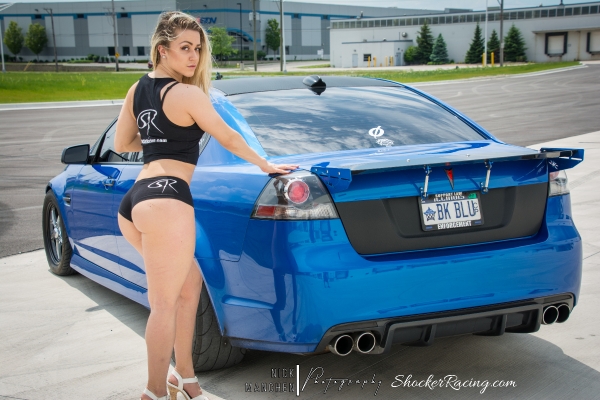 Follow ShockerRacing on our Social Media: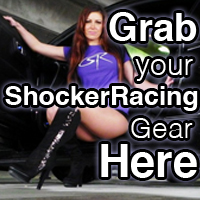 Instagram: @ShockerRacing
Twitter: @ShockerRacing1
Facebook: Facebook.com/ShockerRacing
YouTube: YouTube.com/ShockerRacing
Snapchat: @ShockerRacing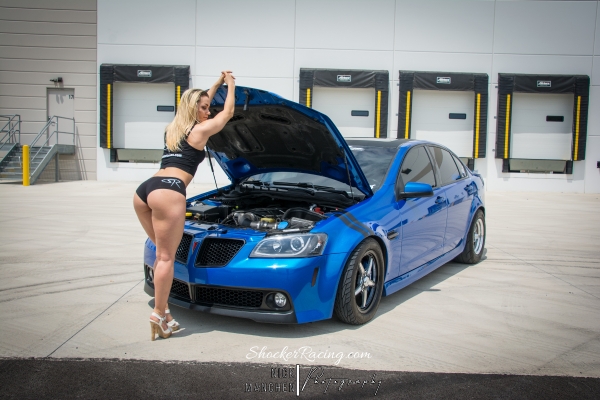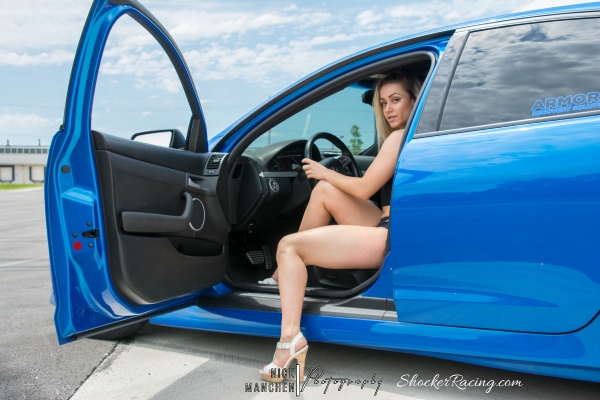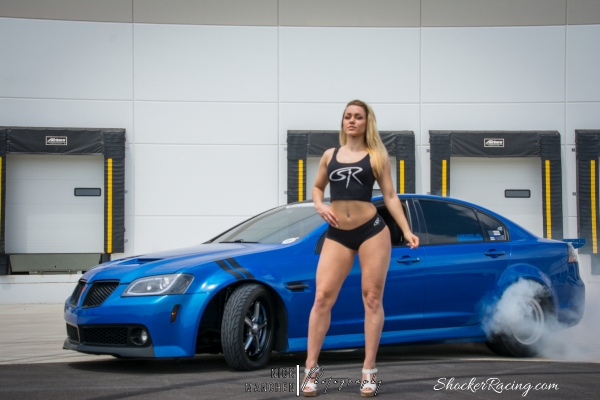 Denea Studstill with her G8 GT - Click the photo below to read her story: