Tricia Martinez Brings Some Texas Heat to ShockerRacing
Written by James Tuesday, 27 June 2017 10:14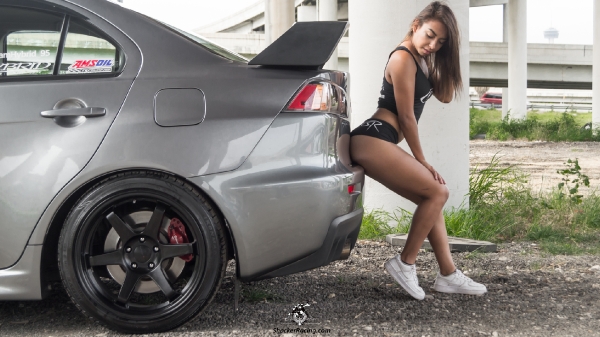 19 year old, Tricia Martinez hadn't heard of ShockerRacing until she was contacted by our friend and photographer David Barnhouse to do a shoot.  David had previously shot for ShockerRacing (see: Nin_Tien_Do) and was looking for a new model for us to feature.  He had met and worked with Tricia at various car events and knew she would be a perfect fit.  "After being contacted by David, I checked out the website and all of the beautiful models and amazing cars got me interested in shooting for ShockerRacing," Tricia tells us.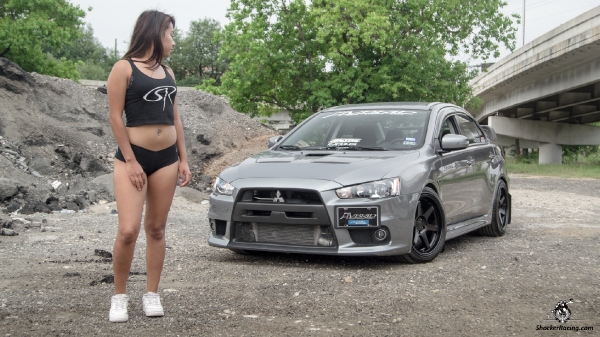 Tricia's brother has been part of a local car crew in the San Antonio area and happened to take her to an event about 4 years ago... "I will never forget my first car meet, by far one of the best things I have ever been involved in," said Tricia.  Ms. Martinez truly loves going to any car show she can possibly make it to, "I really don't have a favorite event, I enjoy every automotive event I have been too and truly appreciate every single build," said Tricia.
Tricia has been doing some modeling for about a year now, but she never really intended to start modeling.   "I had a company ask me to rep their shirt at one of the shows I was attending, and since then I have been growing my modeling," Tricia tells us.  Since then, she has modeled at several shows but mainly at Import Face-Off for Team Hybrid as a Hybrid Hunny.
For this shoot Tricia and David worked with Aj Escalante's 2015 Mitsubishi Evolution.  Tricia met Aj at a car show about 3 years ago and they have been together for the past two years and just recently got married!  "We both appreciate cars and love working on our own cars," Tricia says, "I couldn't imagine finding another relationship like ours!"  The three of them had so much fun doing this shoot and they had a ton of laughs.  We got an inside peak at their fun as they took over the ShockerRacing Snapchat for some behind the scenes action (add us on Snapchat: ShockerRacing).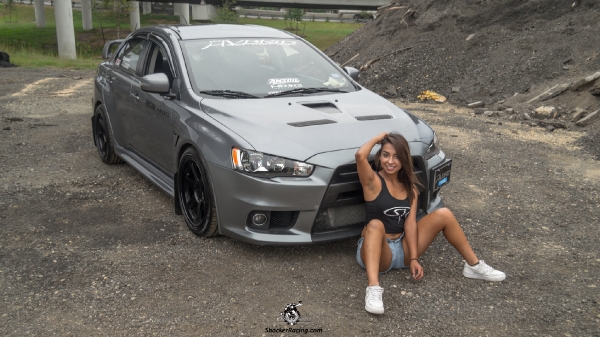 Check out the rest of Tricia's interview below:
SR: What was your first car?
Tricia:I had a truck before I had a car.  It was a Ford 7.3l Power Diesel, and it was a standard.  I didn't know how to drive standard at the time but my father handed the keys over and was like "Go drive it."  Of course, I got in the truck and realized there were three pedals and had no idea what to do!  Eventually, like 30 minutes later I figured out what to do.  So I am proud to say I learned standard for myself.
SR: What is your dream car?
Tricia: My dream car is an Evo 8, I went to look at one and when I sat in the seat it just felt perfect.  I fell in love with it instantly.
SR: What's your biggest pet peeve?
Tricia: When people say rims instead of wheels.  It irritates my soul.
SR: What is your favorite pizza topping?
Tricia: Italian Sausage and Pepperoni.
SR: What would an Ex say is your best asset?
Tricia: Probably my smile.
SR: Leave us with your favorite quote.
Tricia: "Work until your idols become your rivals, even then continue working."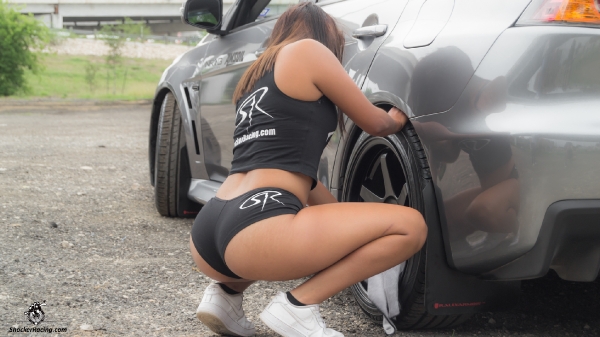 Follow Tricia on her social media:
Follow the photographer David Barnhouse with Shutter Studios:
Follow Aj the Evo Owner: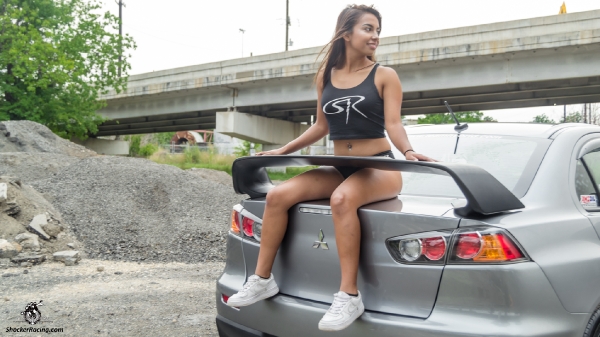 Follow ShockerRacing on our Social Media: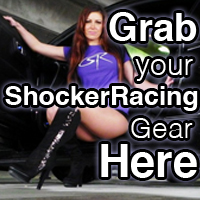 Instagram: @ShockerRacing
Twitter: @ShockerRacing1
Facebook: Facebook.com/ShockerRacing
YouTube: YouTube.com/ShockerRacing
Snapchat: @ShockerRacing
View the full photo shoot here
View the full photo shoot here
View the full photo shoot here
View the full photo shoot here
View the full photo shoot here
Don't Miss: Adriannka with a G8 GT - Click the pic below: