Independence Day 2017 with Bex Russ
Written by James Tuesday, 04 July 2017 18:00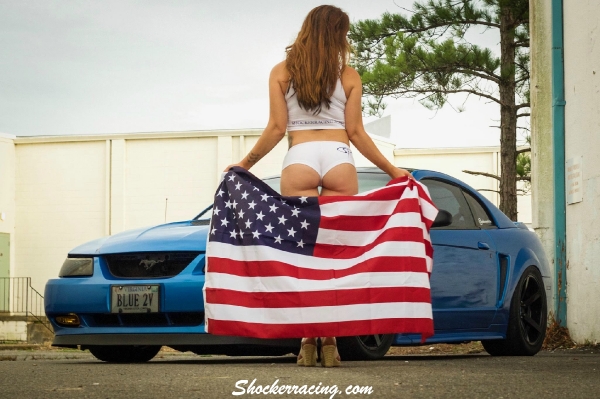 Our girl Bex Russ Model had a surprise for us from her shoot last week with Speed Trend Society. Bex, the patriot she is, and friends from STS threw together an all American shoot for this 4th of July. The guys from Speed Trend Society showed off their red, white, and blue Mustangs in Richmond, VA. While Bex showed off her cheeky uniform from American Muscle and our new red American Flag Tank.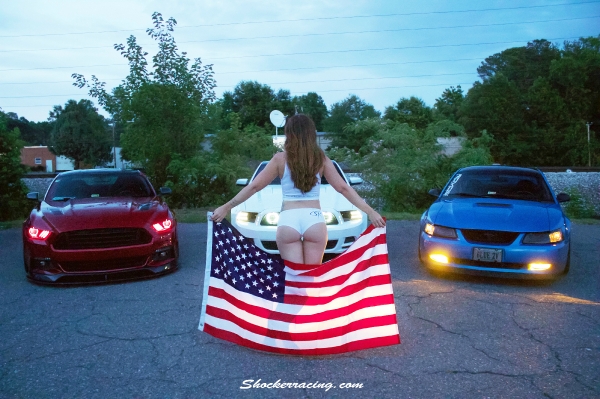 You can order the uniform parts here on shockerracing.com in our store or by emailing This e-mail address is being protected from spambots. You need JavaScript enabled to view it if you don't see what you are looking for. We carry a variety of sizes, gear is made in house so we are able to customize your order. "I love the booty shorts for obvious reasons, but they really are comfortable." Bex tells us. Obviously, we love the booty shorts too!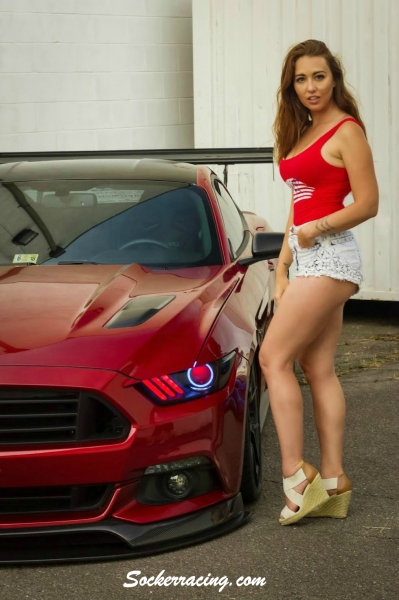 Photographer Ben Taliaferro helped shoot this session. The cars for this shoot are listed as follows….
Red: Chris Tinsley owns the 2015 Ford Mustang GT PP with:
-2.9L Whipple Supercharger
-Stainless Works Long Tube Headers 1-7/8Inch
-Stainless Works 3 Inch Retro Chambered Catback Exhaust
-V2 Air Lift Suspension
Exterior:
-Nitto NT 555 Extreme Performance Tires 275/30/20 (Front)
-Nitto NT555 G2 305/30/20 (Rear)
-Verde Wheels (Powder Coated Black,Ruby Red Center Caps)
-Monster Lug Nuts
-Carbon Fiber Hood Vents
-Black 5.0 Emblems
-Black GT Rear Emblem
-Carbon Fiber Roof Wrap
-Window Tint 30%
-Smoked Taillight Tint
-Ruby Red Bumper Plugs
-Carbon Fiber Mirror Triangle Covers
-Carbon Fiber Front Splitter
-Carbon Fiber Sideskirts
-Carbon Fiber Rear Bumper Trim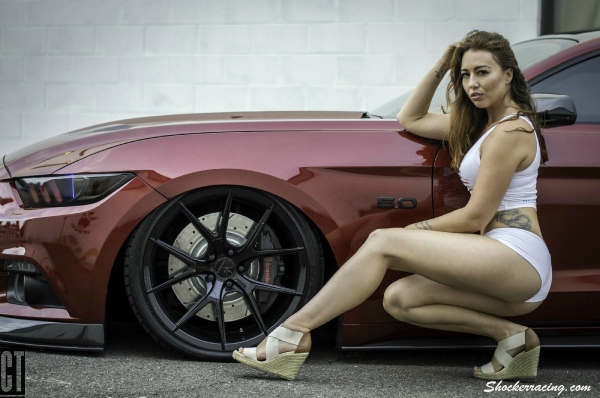 -RTR Rear Diffuser
-MMD V Series Grille
-MMD V Series Rear Spoiler
-Raxiom Halo LED Tail Lights
-APR Wing
-4inch Cervini Cowl Hood
-Drilled & Slotted Rotors
Interior:
-Black Shift Knob Pony Logo
-Recaro Seats
-LED Interior Lights , Conversion Kit
Engine Bay:
-Carbon Fiber Radiator Cover
-Carbon Fiber Coil Pack Cover
-Mishimoto Coolant Tank
-2.9L Whipple Supercharger
-72lb Injectors
-Billet 132mm Eliptical Throttle Body
-JMS FuelMAX Fuel Pump Booster V2
White: Owner Ray Anthony had the White Model Mustang GT with:
JLT intake
Jba O/R X
Roush axle backs
93 octane tune by Mid Atlantic Performance
Blue: Derek Baran owns the 1999 Bright Atlantic Blue Mustang GT (1/500) with:
56k Miles
Airlift 3P Suspension
18inch Rovos Durbans
Toyo Proxys R888
3.73 Rear End Gears
BBK Cold Air Intake
SR Short Shifter
BBK OffRoad X-Pipe
Flowmaster 40s
To leave our fans on an entertaining note here is a quote from one of Bex's favorite movies. Independence Day….
"Good morning. Good morning. In less than an hour, aircraft from here will join others from around the world, and you will be launching the largest aerial battle in the history of mankind. Mankind, that word should have new meaning for all of us today. We can't be consumed by our petty differences any more. We will be united in our common interest. Perhaps it's fate that today is the 4th of July, and you will once again be fighting for our freedom. Not from tyranny, oppression, or persecution, but from annihilation. We're fighting for our right to live, to exist and should we win the day, the 4th of July will no longer be known as an American holiday, but as the day when the world declared in one voice, 'We will not go quietly into the night! We will not vanish without a fight! We're going to live on, we're going to survive.' Today we celebrate our independence day!"
Thanks for reading! Be sure to follow everyone involved with the shoot.
Chris Tinsley- Instgram: @550_chris https://www.instagram.com/s550_chris/ Youtube: https://www.youtube.com/crunkfilms
Derek Baran- Instagram: @DerekBaranProductions https://www.instagram.com/derekbaranproductions/?hl=en Facebook: https://www.facebook.com/DerekBaranProductions/
Snapchat: DB_GT YouTube: https://www.youtube.com/channel/UCMsfVU4DobbtQtmxYuX4cdA
Ray Anthony- Instagram: @s197_ray_  https://www.instagram.com/s197_ray_/?hl=en
Ben Taliaferro- Instagram: @theautoempire https://www.instagram.com/theautoempire/?hl=en YouTube: https://www.youtube.com/channel/UCM7_cFiqSiD0Lb2ih4yuwtg
Bex Russ- Instagram: @BJam1934 https://www.instagram.com/bjam1934/?hl=en Facebook: www.facebook.com/BexRussModel Website: http://bexrussmodel.wixsite.com/portfolioblog
Speed Trend Society- Facebook https://www.facebook.com/SpeedTrendSociety/ , Instagram https://www.instagram.com/speedtrendsociety/?hl=en, or Website http://184.154.188.35/~logotest/mad/speedtrend/
Follow ShockerRacing on our Social Media: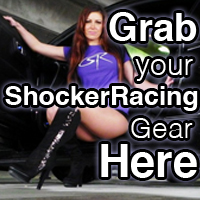 Instagram: @ShockerRacing
Twitter: @ShockerRacing1
Facebook: Facebook.com/ShockerRacing
YouTube: YouTube.com/ShockerRacing
Snapchat: @ShockerRacing
Click here to view the full photo gallery
Click here to view the full photo gallery
Click here to view the full photo gallery
Click here to view the full photo gallery
Join Bex at Speed Trend Society Meet: