Sarah Senecal - @CorvetteChicks
Written by James Friday, 28 July 2017 10:04
Sarah Senecal is no stranger to our Shocker Racing family, you may remember her first shoot; Sarah Senecal - Disturbing The Peace. As a huge supporter, she is often representing Shocker Racing with our popular gear at events. She is also featured on our social media pages. Sarah had an awesome opportunity to shoot with a C7 Corvette Z06, which comically landed in her lap the afternoon of her second shoot with photographer James Stevens of James Steven Photography (www.jamesstevensphotography.com)...
Hit the link to hear the story!

After last minute plans and scheduling conflicts, Sarah and James ended up searching for a car to collaborate with the day of their shoot. They reached out to many car owners and their social media fans to help them fill in their time. Feeling defeated, the two grabbed lunch and decided to part ways afterward. Just as they were about to give up for the day a Black Hellcat drove past them in the parking lot. The driver slowed to examine the tire stickers on James's car. After a brief 'car talk' discussion the owner agreed to shoot with them that afternoon. "He then asked 'Do you want to shoot with this or the z06?' You know what we picked" Sarah told us.
We are glad Sarah and James picked the Corvette(See our IG Page @CorvetteChicks). They met car owner Nazmul downtown in Raleigh, NC on a parking garage roof top. Sarah sported our "You Can't Park With Us" crop top. As well as a black bodycon dress and heels. We asked Sarah what her favorite part of the shoot was, she responded "Nazmul actually let me drive his car during the shoot! In the parking deck, of course. That was awesome!". We asked her if she had any interesting facts about the shoot, she laughingly told us "I opened the gas cap with my butt when leaning against it for one of the black dress pictures."
Nazmul has added some basic mods to his C7 Corvette Z06 including; AFE Cold Air Intake, a Z07 Carbon Splitter, and had the windows tinted.  He tells us, "I was going to get more power, but I daily drive mine, and it already doesn't hook!"
Follow the team from this shoot:
Model Sarah Senecal: Instagram- @sen.cityy
Photographer/James Stevens: Instagram- @jsp_auto Website- www.jamesstevensphotography.com
Car Owner/Nazmul: Instagram- @adventuresoftven YouTube- https://www.youtube.com/channel/UCtCjNIxHWCputtVaQcmVo9A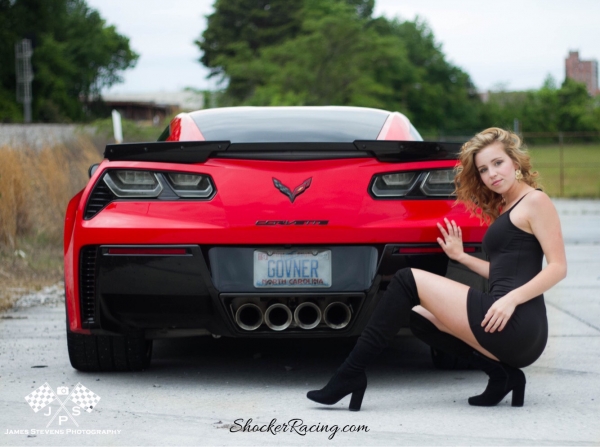 Follow ShockerRacing on our Social Media: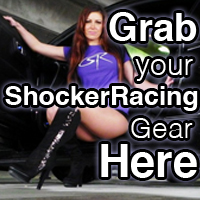 Instagram: @ShockerRacing
Twitter: @ShockerRacing1
Facebook: Facebook.com/ShockerRacing
YouTube: YouTube.com/ShockerRacing
Snapchat: @ShockerRacing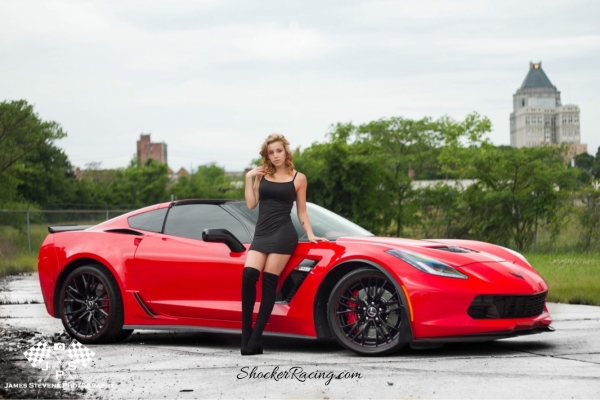 View the full photo gallery here
View the full photo gallery here
View the full photo gallery here
View the full photo gallery here
View the full photo gallery here
Don't Miss - Bianca Owens in a JD Joyride TV Video/Photoshoot for ShockerRacing: