Monday Mini Featuring Samantha Potter
Written by Bex Russ Monday, 28 August 2017 19:42
Shocker Racing is starting a new feature series for fans to enjoy - 'Monday Minis'. These features will share some quick sessions Official Shocker Racing Models shared with us. We have recently begun encouraging our models to promote the brand in order to maintain their "Official" status. These mini series are perfect to start the week off right! Our first mini series is with Official ShockerRacingGirl, Samantha Potter and her 2014 Shelby GT500. She worked with photographer Kyle Demato as well as his 2014 GT 5.0 Mustang.

Sam and good friend/photographer, Kyle Demato, met up a few weeks ago in Olney, MD to do a shoot with their cars. Sam told us they started in a parking garage. Then moved to a private gated area for some unique shots. However, the secret spot was unavailable. So the pair set the second half of their shoot in a field nearby. They were able to get a few more great shots of Sam and her SR crop top and self portraits of the two and their cars. "Kyle is a fantastic photographer. I was really happy with the results from our shoot." We agree with Sam... These pictures are great!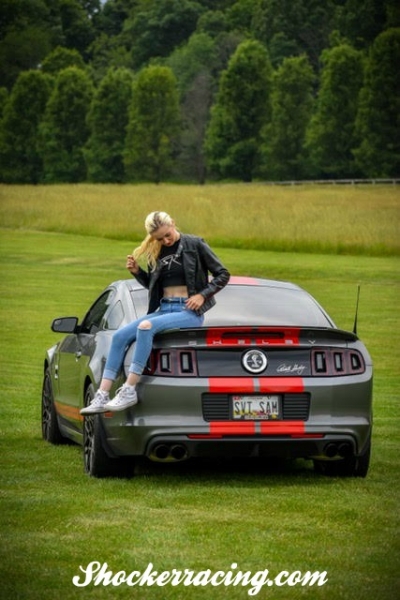 Learn more about the cars…
Sam Potter's 2014 Shelby GT500. Sam tells us her car is stock at the moment. However she has big plans for some modifications in the fall and winter. We are looking forward to Sam's up grades!
Kyle Demato tells us his 2014 GT 5.0 Mustang is modified with Pipes Pipe-bombs axle back and 19.8.5/10 chrome deep dish wheels and tint.
Follow The Team…
Sam Potter:
IG: @sam_svt
Kyle Demato:
IG: @kyledamato
Follow ShockerRacing on our Social Media: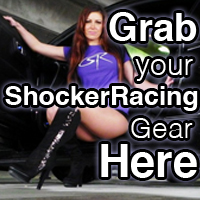 Instagram: @ShockerRacing
Twitter: @ShockerRacing1
Facebook: Facebook.com/ShockerRacing
YouTube: YouTube.com/ShockerRacing
Snapchat: @ShockerRacing
View Samantha's full photo gallery here
View Samantha's full photo gallery here
View Samantha's full photo gallery here
DON'T MISS - Samantha Lewis with her Scion FR-S - Click Below: