Ray Of Sunshine
Written by Bex Russ Tuesday, 05 September 2017 09:31
Since I have started writing features for Shocker Racing, I've pretty much stuck to the third person side of the story. Sometimes speaking for all of Shocker Racing when introducing new models. Even for my own events and shoots, I was sure to take the outside perspective and speak humbly to fans. Well this feature I have to brag from a personal perspective about our newest model, Ray Ann Kilgore. I met Ray at a Richmond Speed Trend Society meet. Her personality was absolutely energetic and vibrant. I was so excited to work with another model who cared about her career and this industry. She clearly wasn't into it for the 'followers'. After the show, I immediately messaged the President of Shocker Racing, James, about Ray Ann and how she needs to join our team. Not too long after that Ray and I began planning her shoot for her introduction in to Shocker Racing. I am so excited to announce to SR Fans our newest Model…. Ray Ann Kilgore.

While preparing for her favorite automotive event of the year, Mustang Week, Ray shot with well known local Richmond portrait photographer Keith Locks, of I Know Photo Studio. They chose a discreet location in downtown Richmond, VA because Ray wanted a unique spot to show off her talent as well as her boyfriend, Derek Baran's, 1999 Bright Atlantic Blue Mustang GT (1/500). Derek's New Edge Mustang features modification like Airlift 3P Suspension, 18inch Rovos Durban Wheels, Toyo Proxys R888, 3.73 Rear End Gears, BBK Cold Air Intake, SR Short Shifter, BBK Off-Road X-Pipe, and Flowmaster 40 series Mufflers. Ray shot in our classic Shocker Racing uniform. She chose the Black Crop Tank Top, Black Boy Shorts, and she added a unique black skirt. With almost three years of experience in modeling, Ray creatively posed with Derek's Mustang and her work is fantastic!
Getting to know Ray Ann might have been my favorite part about this collaboration! Ray nailed her interview and is so likable. Ray Ann gave Shocker Racing some insight on her life, like how she is originally from Lawrence, Kansas and only recently moved to Virginia. "My father lives in VA. I missed him terribly. So I decided to start a new life and move near him. The benefits of living closer to the beach could also help expand my portfolio. How could I not win?" Ray has always been into the car scene with her older brother, a big Mustang and motorcycle fan. "My brother showed me the ropes. I love impressing people who assume I know nothing about the industry by nailing car lingo and such." Ray Ann was such a ball of sunshine to interview which so happens to be her nickname. "Get it? Ray.. of sunshine?".
Ray became interested in Shocker Racing when I told her about the opportunities the exposure could help her gain. I knew she had aspirations of becoming an import model, so getting her in the Shocker Racing family was only a matter of time. I see her potential and Ray's future is bright. Ray also has amazing support from her friends and boyfriend who has introduced her to amazing car owners in the industry. "Car modeling has changed the game with my modeling career. I'm really looking forward to the future with it!" When interviewing new models we ask 'What would an Ex say is your best asset'. Ray left the comment blank out of modesty (#byefelicia) . So I asked her boyfriend to answer... Derek's response, "Ray Ann is my sunshine! I could get lost in her eyes for days. I believe that and her outgoing personality is her best asset and makes me fall in love with her every time."
As you can see Ray is a great perfect fit to our Shocker Racing family. Be on the look out for her at future events like Speed Trend Society and MUSTANG WEEK. Check out the rest of her interview here….
SR: What do you drive?
Ray Ann: I drive a manual 2003 Mazda 6.
SR: If ShockerRacing was going to pay for any mod to your car no matter what the cost, what mod would you choose?
Ray Ann: Airlift bags and maybe some new wheels!
SR: What was your first car?
Ray Ann: A lifted Nissan Xtera
SR: What is your dream car?
Ray Ann: Duh! A P1!!!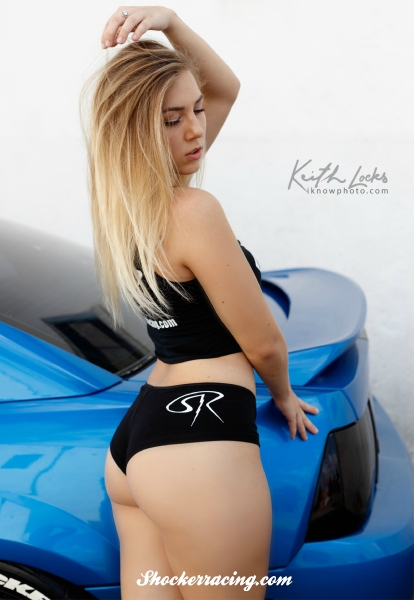 SR: If you could travel and have your dream car anywhere in the world, where would you go?
Ray Ann: I would have to go to Tokyo and actually drive a foreign car.
SR: Which of the Fast and Furious movies is your Fave?
Ray Ann: Tokyo Drift.
SR: Are you a Paul Walker or a Vin Diesel kind of girl?
Ray Ann: Vin Diesel! Because I am Letty!
SR: What is your biggest pet peeve?
Ray Ann: My biggest pet peeve is when people lie about something so simple. I'm a forgiving and easy going person so I will understand the truth rather then a lie.
SR: What's your favorite food?
Ray Ann: Sushiiiiiiiii!!!!
SR: What's your favorite Pizza topping?
Ray Ann: Definitely Pineapple.
SR: Include two fun facts about you that people don't already know.
Ray Ann: I'm a huge thrift shopper and I love to paint and draw.
SR: Leave us with your favorite quote.
Ray Ann: "Life is a wave, catch it."
Model:
IG: @officialrayann
FB: SmileWithRay
Photographer:
IG: @iknowphoto
FB: iknowphoto
Website: iknowphoto.com
Car Owner:
YouTube: Derek Baran Productions
Follow ShockerRacing on our Social Media: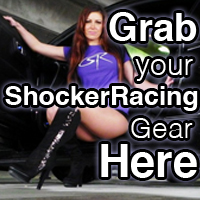 Instagram: @ShockerRacing
Twitter: @ShockerRacing1
Facebook: Facebook.com/ShockerRacing
YouTube: YouTube.com/ShockerRacing
Snapchat: @ShockerRacing
View the full photo gallery here
View the full photo gallery here
DON'T MISS - Bex Russ with the Trakit Motorsports Challenger - Click Below: