Alex Stone with an Audi R8
Written by Bex Russ Tuesday, 12 September 2017 15:24
Shocker Racing is happy to announce our newest model is Alex Stone from Jupiter, FL. This dedicated mother gave us some great content to share to our fans. Alex met photographers Mike Miranda and Kyle Taber in New Jersey at a local car meet. The team shot with a unique Audi R8 that really caught our eye. You will instantly notice that Kenny's R8 has a wild Blue and Black color scheme that doesn't just stop at the body but also carries over on to the custom Rennen Forged wheels that are wrapped in Toyo Proxes. Besides this shoot with the R8, Alex has already dropped a couple more photoshoot on us and she is clearly dedicated to Shocker Racing and we appreciate that about her. We will add the new shoots to this feature soon, so be sure to keep checking back!

Alex herself owns a 2010 Ford Mustang GT 4.6 with modifications like; Comp Cams Muther Thumpr, Comp Cam phaser limiters, JLT Cold Air Intake, Ford Racing Intake Manifold, BBK long tube headers and OR X-Pipe, Flowmaster American Classic exhaust, Steeda Underdrive Pulleys, SR Performance Steel braided clutch line, GT500 Clutch Pedal assembly, RAM HD powergrip 8 puck clutch, RAM lightened steel flywheel, Ford racing 3.73 gears with GT500 pinion upgrade, Hurst short throw shifter, Billet tech oil catch can, H&R Super Sport lowering springs with a 2 1/2" drop, Eibach camber bolts, & J&M race lower control arms. For appearance, Alex has added Smoked headlights and tail lights, Black painted GT premium wheels staggered 18x8 & 18x10 for daily use and she rotates with Rohana RC22 and TSW Panorama Wheels with Mickey Thompson street comps 275/35/18 rear. Her Mustang features a full stereo setup with Pioneer touchscreen head unit with 2 Kicker 12s and custom box in the trunk made and installed by Nitro sound in Jupiter, FL, Custom dyno by Ken Bjonnes who is now Palm Beach Dyno (formerly with Lund Racing at Power by the Hour Performance) and the car made 385/330.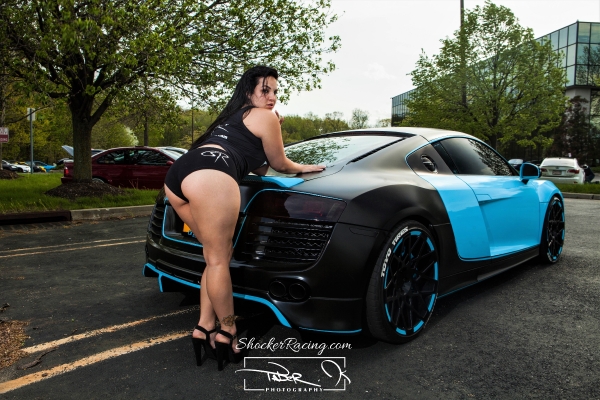 Alex also has a 2013 Ford Mustang GT 5.0 that has modifications like; MGW race spec short throw shifter, Boss 302 intake, BBK 85mm throttle body, JLT cold air intake, BBK long tube headers, BBK X-pipe, Roush exhaust, JLT oil catch can, H&R lowering springs.  She added a Modern billet black retro grill, Rohanna RC22 matte black Wheels.  The fronts are 20x9.5 and Rears are 20x10 which she swaps for Rohanna RC22 staggered set with Mickey Thomson street comp tires.  The fronts are 275/35/20 and rears are 305/35/20.  Tuning is done with an SCT X4 tuner and uses a Palm beach dyno performance tune and made 440/400. We asked her If Shocker Racing were to pay for any modifications what would you choose she answered "Whipple or Procharger of course and maybe a set of slicks from Mickey."
Alex is just starting in the modeling industry. For a year now she has worked with photographers in her area. She has also visited the New York/New Jersey area to start building a portfolio. You can find Alex at events like 'The Face off' where she loves to race her car. Weekly, she attends 'Test and Tune' at Palm Beach international Raceway. Alex has clearly stepped up since her first car, a 1999 Mustang GT Coupe. Alex told us her dream car would be a 2013-2014 Shelby GT500 or a Lotus. We love that she sticks to the Mustang family.
The Audi is a 2009 R8 V10 that is a supercharged Aero GT.  The Rennen Forged Wheels are a custom 3 piece design, and it features an AWE Open Exhaust with an API Tune.  The interior is black leather with white suede inserts and diamond stitching that is all custom!
Check out the rest of her interview questions and stay tuned as we will be adding more pics of Alex with different cars soon!
SR: Which of the Fast and Furious movies is your Fave?
Alex: The first one which started it all. I actually had my first kiss watching this movie.
SR: Are you a Paul Walker or a Vin Diesel kind of girl?
Alex: Vin all the way. Perfect love story of Dom and Letty.
SR: Who is your favorite automotive model?
Alex: Hannah Rae, her IG is @hannahrae3.7
SR: What would an ex say is your best asset?
Alex: Emotionally, my overwhelming sense of humor and caring personality. Physically, pretty eyes, thick thighs and a nice set of lips.
SR: What is your biggest pet peeve?
Alex: Poor drivers and wet grass on my feet.
SR: What's your favorite food?
Alex: Steak Tacos!
SR: What's your favorite Pizza topping?
Alex: Extra Cheese.
SR: Include two fun facts about you that people don't already know.
Alex: I was professionally trained to sing opera music for 8 years and I was a gymnast for 9 years.
SR: Do you have a favorite quote?
Alex: "Love is sacrifice" - I have it tattooed on my ribs.
If you loved Alex's shoot be sure to follow her and those who made it happen…
Alex Stone
IG: @doyouevencam
Faceboook: FB.com/alyxfantastic
Photographers:
Mike Miranda - IG: @tristatephotos
Kyle Taber - IG: @taberkphotos
Kenny the Audi R8 Owner - IG: @sickR8forplay
Follow ShockerRacing on our Social Media: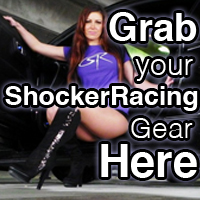 Instagram: @ShockerRacing
Twitter: @ShockerRacing1
Facebook: Facebook.com/ShockerRacing
YouTube: YouTube.com/ShockerRacing
Snapchat: @ShockerRacing
View Alex's full photo gallery here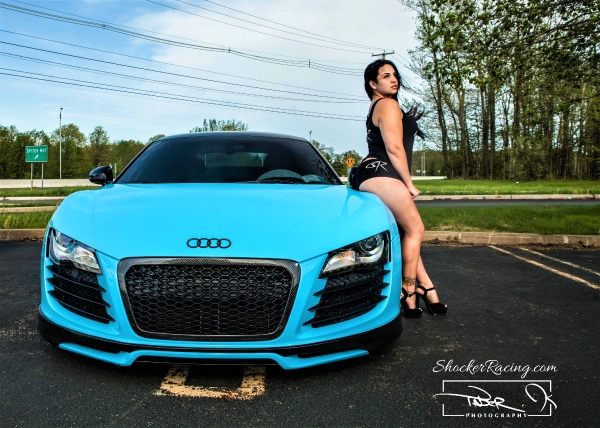 View Alex's full photo gallery here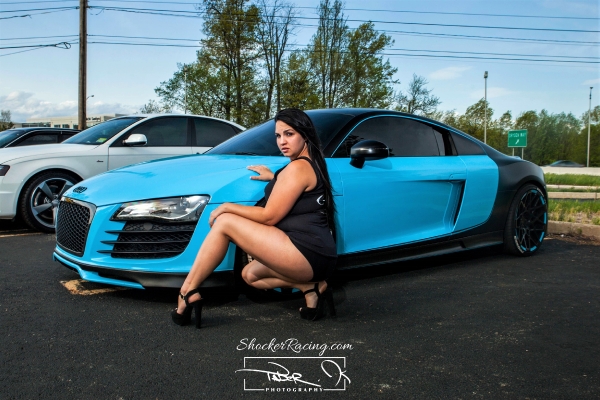 View Alex's full photo gallery here
DON'T MISS - Ray Ann with Derek Baran's "Blue" Mustang GT - Click Below: