Ruth Harris Aka DangerProneDorothy619 Lives Up To Her Name
Written by James Thursday, 14 September 2017 20:49
27 year old, Ruth Harris goes by the Instagram handle @DangerProneDorothy619...  Just weeks ago Ruth was racing her 2007 GSXR 1000 drag bike at a quarter mile drag strip.  "I went through the 1/4 mile and hit a bump right past the finish lights.  The main frame broke on both sides right above the front of the engine.  The bike went into a violent death wobble, I had no brakes, I fought against the handle bars and couldn't get the front end to stop snapping back and forth.  I couldn't get the bike to slow down and was headed straight for a concrete barrier wall...."

The Columbia, South Carolina speed junkie has been around cars and racing her whole life.  Ruth tells us her parents built show and race cars as she was growing up.  Fast forward to present day, Ruth spends much of her free time with her husband at the track racing her 2002 Hayabusa and 2007 GSXR 1000.  In fact, they actually got married at Carolina Dragway!!! Both of these bikes have been set up for drag racing with nitrous and plenty of go fast goodies!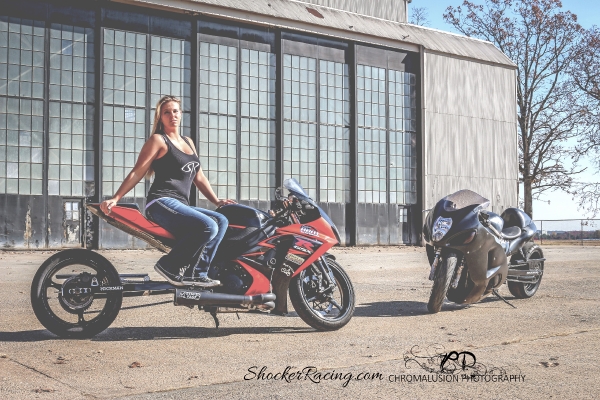 What you were reading is Ruth's account of the moments before her GSXR 1000 malfunctioned at Carolina Dragway in South Carolina.  Ruth tells us she had to think quickly in order to avoid hitting the wall at such a high rate of speed.  Ruth continued, "I thought quickly, decided there was no way to save the bike and I leaned to my right and leaned the bike over as far as I could and let go to get the bike away from me. I went limp and just let my body tumble and slide. I slid on my face for quite some time, it ripped my face shield off, I felt the gravel on my face and tried to shove my hands in the opening of my helmet to protect my face, then I felt my ankle get snatched really hard." Apparently, the shifter lever stuck through the side of her boot and snapped her ankle!  Her brand new Icon helmet protected her head from any hard impacts and her head was supported very well and protected the whole time.  Ruth was also wearing her brand new custom Vanson Leather Suit for the first time.  Her suit is completely destroyed but it saved her, "I have no rash on my body where my suit covered!" Ruth exclaimed.  The crew at the track was very attentive and quickly made sure she was ok.  Once Ruth arrived at the hospital she found out that her ankle was broken and that she would have to have plates put in where her tibia and fibula broke away.  "I'm in a lot of pain but I will heal in time and I'll be back racing again hopefully next season." Ruth tells us.
Besides the two bikes, Ruth and her husband have a nice little collection of vehicles.  They have a 2006 Jeep Grand Cherokee SRT8, a 2011 Mini Cooper S, and a 2017 Ford F-350.  Her first vehicle she owned was a 1986 K5 Chevy Blazer, but when we asked what her dream car was she had quite a list!!!  Her list included a C7 Z06, Mystichrome Cobra, CTS-V, a Cummins Dodge Ram, a 1969 Camaro and a Saleen S7!  When she is not at the track, Ruth is a full time care giver for her husband who is a disabled veteran.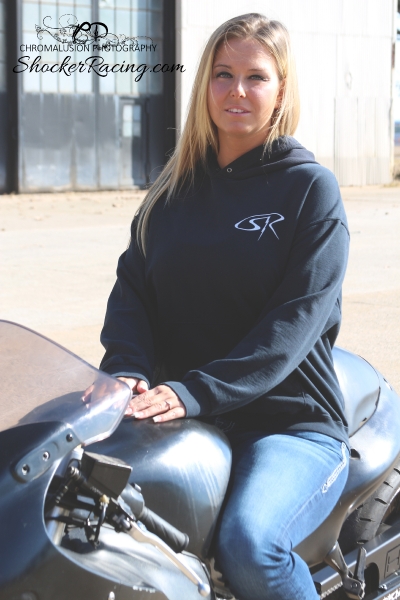 Ruth's 2002 Hayabusa is quite a build that is sponsored by Rob Bush Motorsports, Hickman Customs, Extreme Motorsports, and B3 Performance.  Check out the mods list:
2008 Engine Swap

Tuned

Upgraded Internals

Nitrous Cut Transmission

Billet Clutch Basket

Clutch Mod

Extended Swingarm

Lightweight Wheels

Performance Wheel Bearings

Nitrous
The 2007 GSXR 1000 also has quite a build that is also sponsored by the same sponsors as the Busa.  Check out the mods list:
KWS Racing Custom Head and Cams
2016 Forks and Triple Trees
2016 Front and Rear Wheels
Extended Swingarm
Nitrous
Nitrous Cut Transmission
Billet Clutch Basket
Clutch Mod
Brocks Sidewinder
Check out the rest of Ruth's ShockerRacingGirls Interview:
SR: What got you interested in ShockerRacing?
Ruth: Beautiful ladies and beautiful rides!  Plus it is an opportunity to meet new people and get my name out there to be know about my passion for racing.
SR: Who is your favorite ShockerRacingGirl?
Ruth: All of them! They are all beautiful and talented ladies with a common interest that I have.
SR: What is your favorite automotive event of the year?
Ruth: Kings of grudge season jump off.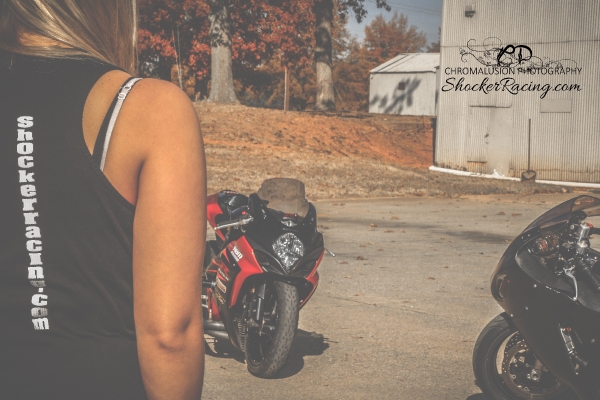 SR: What would an ex say is your best asset?
Ruth: I am not one to give up, I fight for what matters to me, and my loyalty.
SR: What is your biggest pet peeve?
Ruth: I hate liars!
SR: What nicknames do you have?
Ruth: Track Queen, Trouble, and Punkin by my hubby!

SR: What's your favorite food?
Ruth: Steak, baked potato, and salad
SR: What's your favorite Pizza topping?
Ruth: Cheese
SR: Which of the Fast and Furious movies is your fave?
Ruth: The original where it all began.
SR: Leave us with your favorite quote.
Ruth: Carpe diem, live for today, tomorrow is never promised.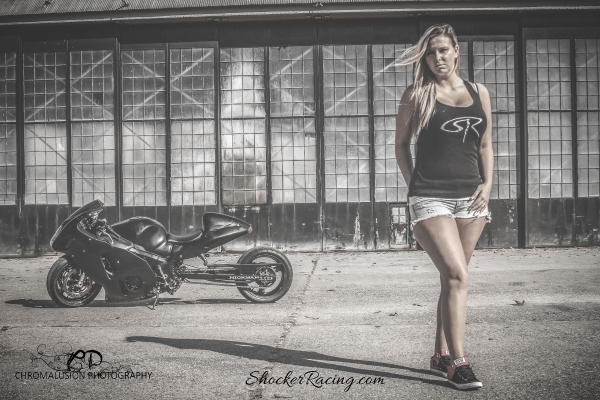 Be sure to follow the crew:
Ruth Harris - IG: @DangerProneDorothy619
Click here to vote for Ruth to be in the Car Chix Calendar for 2018
Chromalusion Photography
Follow ShockerRacing on our Social Media: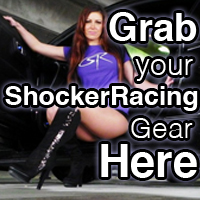 Instagram: @ShockerRacing
Twitter: @ShockerRacing1
Facebook: Facebook.com/ShockerRacing
YouTube: YouTube.com/ShockerRacing
Snapchat: @ShockerRacing
View the full photo gallery here
View the full photo gallery here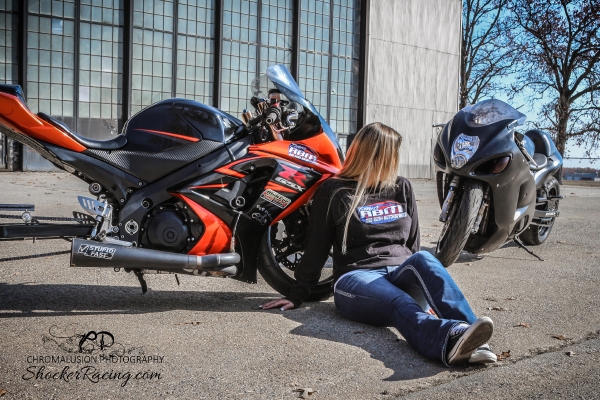 View the full photo gallery here
DON'T MISS - Alex Stone with an Audi R8 - Click Below: