Mustang Week 2017
Written by Bex Russ Monday, 25 September 2017 07:27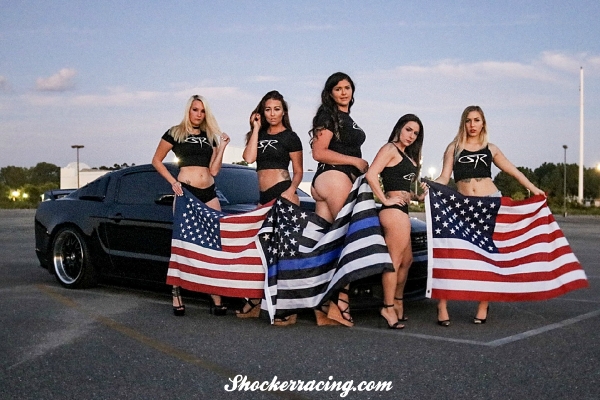 As most of our fans know, Mustang Week is one of the year's most anticipated events for Mustang owners.  Located in Myrtle Beach, South Carolina the event has become popular among Mustang owners, fans, and car enthusiasts in general. Even with the date changes for this years event, it was as popular as ever!  We wondered how moving to the end of the summer versus the middle would affect the event, but once again Mustang Week proved to be the highlight of many Mustang owners year, as well as some of Shocker Racing's favorite models!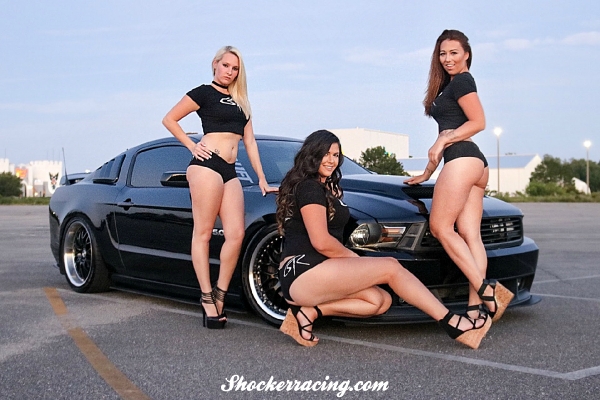 Mustang Week is not merely a car show. If you attend all the scheduled events, you will see that Mustang Week is an "experience" that can be rivaled by no other weekend show. The week was created to be a celebration, where you can combine a beach vacation with all kinds of driving events and shows. This year Shocker Racing model Bex Russ attended the whole week with friends, as well as, fellow Shocker Racing models, Alex Owen, Bianca Owens, Bianca Thomas, Merihazel Walters, and Ray Ann Kilgore.
This year, with the help and coordinating skills of Bex, Shocker Racing is sharing exclusive photos from a shoot with our models who attended the weeks event. Thanks to the amateur photography skills of Joey Dunzelman and Alan T, they were able to capture some great images of our girls. The girls posed with Alan's 2011 Police Interceptor Mustang, as well as Joey's 2013 Performance White Mustang GT.  Car Owner Bret Ryan joined them with his 2014 GT Mustang as well!  These pictures are amazing and we hope our fans agree!
Bex attended every event available at Mustang Week this year. Including after-hour Mustang meet and greets at various locations. We asked Bex what her favorite scheduled event of the week was. She told us "The Drag Strip! I attended the event with Trakit Motorsports, working the event as a camera man and I got to go where Mustang Week fans couldn't. It was thrilling being so close to the cars in such a dangerous setting. The experience was epic!". The Drag Strip event was where Mustang owners got the chance to bang gears on North Myrtle Beach Drag Strip's 1/8-mile track! The test-n-tune format allowed participants to take as many runs as they wanted and as time would allow. It gave many drivers the opportunity to try out their car and their skill on the 1/8-mile for fun.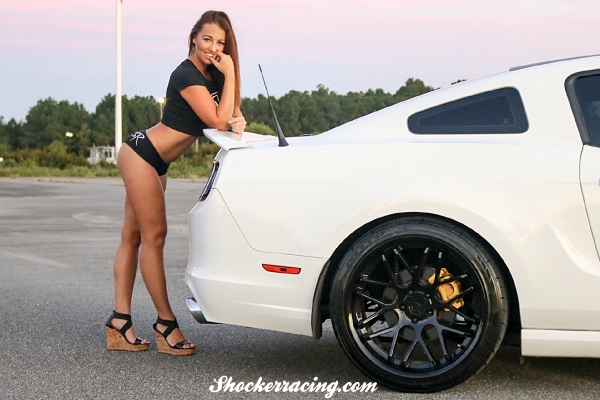 If you attended Mustang Week you may have ran into Bex at the car show Friday. Bex had teamed up with Verde Wheels again this year to model for their booth. Based out of Montclair, California, Verde is a popular wheel company for car owners. They offer many options of designs for many styles and makes of cars. Bex posed with a familiar car to Shocker Racing, Chris Tinsley's 2015 Ford Mustang GT PP that is Whipple Charged and Bagged, as well as, car owner Alex Spangler and his 2014 Bagged 5.0. "I had a blast working with my sponsors again this year. It was so great seeing fans and followers of myself and Shocker Racing! A very humbling experience, as always." Bex told us.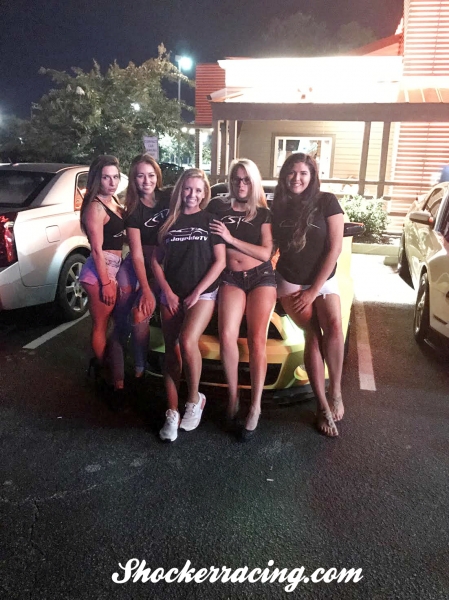 To top off the whole week, Bex and fellow Shocker Racing models attended the best after-hour meet and greet the week had to offer, the Youtuber Meetup at Hooters. Before the weeks events even started, Bex and YouTuber JD Joyride TV collaborated with YouTubers Jeff Ashton and Derek Baran Productions to plan for this epic meet and greet. "Hands down the best event all week! We met so many fans and amazing followers! My heart was full," Bianca Owens tells us. "I was so excited to finally meet fellow Shocker Racing Girls. We work so hard to promote the brand as a team. It was great to get to hang out with the girls." Bianca Thomas told Shocker Racing. If you missed this event, we feel for you. No worries, the girls tell us there is already talk of planning for a similar meet up next year.
Mustang Week was a huge success this year. We couldn't have been more excited about the results from the week. Alex tells us "I have been attending this event for years. This was the most fun I have ever had at Mustang Week. Definitely because of hanging out with my fellow Shocker Racing models. I love the family we have become. I'm beyond honored to call myself apart of this team!" Be sure to follow all of those mentioned in the article and thanks for being a fan!
Models:
Bex Russ:
Merihazel Walters:
Car Owners:
Joey Dunzelman:
Alan:
Bret Ryan:
Chris Tinsley:
Alex Spangler:
YouTubers:
JD Joyride TV:
Sponsors:
Trakit Motorsports:
Verde Wheels: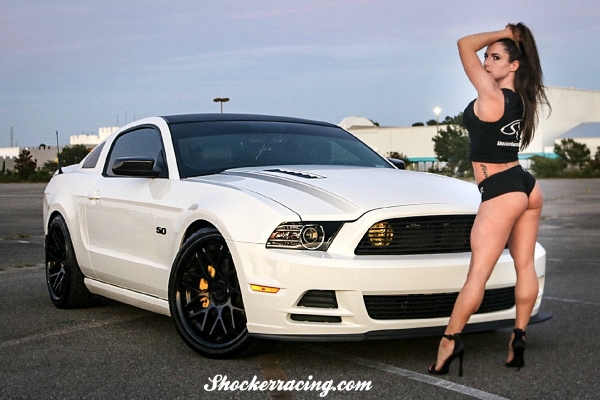 Follow ShockerRacing on our Social Media: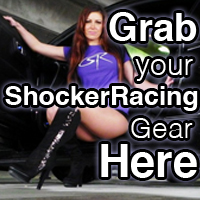 Instagram: @ShockerRacing
Twitter: @ShockerRacing1
Facebook: Facebook.com/ShockerRacing
YouTube: YouTube.com/ShockerRacing
Snapchat: @ShockerRacing
Don't Miss - Alex Stone with an Audi R8 - Click the photo below: