Bex Russ with a KTM 690Duke
Written by James Monday, 09 October 2017 10:27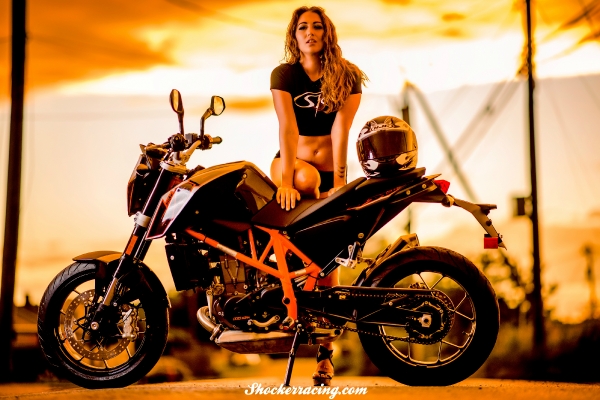 This isn't the first time we've seen Bex with a bike, and we know for a fact she is more than comfortable with these beasts. If you need a quick refresher check out Bex's last bike feature with her personal CBR(Watch For Motorcyclists). You'll recognize one of her previous bike shots from our 2017 calendar. Bex told us she wanted to step up the game a little this year for our 2018 calendar.  With the amazing weather we had recently, Bex shot with one of her good friends and amazing photographer Kai Eason from Richmond, VA.

They met at Extreme Powersports in Fredericksburg, VA where Bex is the full-time marketing director and part-time 'amateur mechanic'. She told us "I love this shop. It's family owned and run. They have pretty much accepted me as a little sister. The shop owners are probably my biggest fans and love my work." Bex mentioned the owners let her show off a few of the KTMs they have in stock as well as, a few grunge portrait shots around the garage.
Kai and Bex have worked together many times in the past. According to Bex, they are both musicians and 'super band nerds' at heart. They naturally work so well together in collaborating and bringing out the creativity in one another. "We constantly step each other's game up with unique ideas and collaborations. Kai told me he had purchased a new light setup so I had to bring him into the shop and make some magic." said Bex. This shoot was definitely magic, that sunset is almost unreal!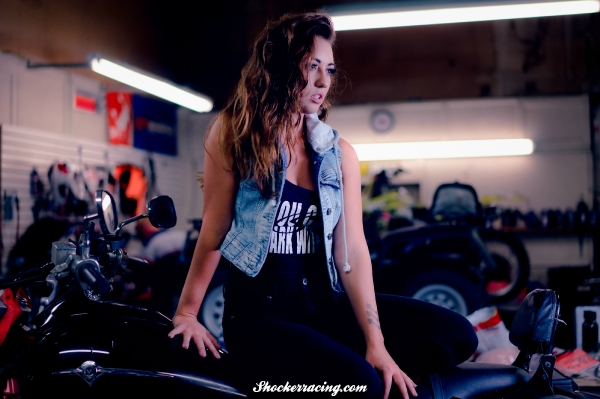 Bex told us the bike she used is one of her favorites displayed in the shop. The KTM 690Duke is the latest generation in KTM's line of midrange single-cylinder engine Supermoto or Naked Motorcycles that began with the 1994 609cc. The 690Duke is the most powerful production single-cylinder motorcycle. The Duke was KTM's first street bike, and first Supermoto, having previously made only off-road and racing motorcycles. Initially, the Duke was KTM's entry-level street bike, but later KTM partnered with Bajaj Auto to produce a bike like the 125Duke, 200Duke, and 390Duke. Basically, Bex  modeled with a beast!
Keep up with Bex on her social media pages. There you will see where her next shows will be, like Team Shelby events and Speed Trend Society meets. Check out the whole team here:
Bex Russ Model:
Kai Eason Photographer:
Location/Bike Owner - Extreme Power Sports:
Follow ShockerRacing on our Social Media: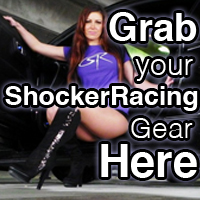 Instagram: @ShockerRacing
Twitter: @ShockerRacing1
Facebook: Facebook.com/ShockerRacing
YouTube: YouTube.com/ShockerRacing
Snapchat: @ShockerRacing
View the full photo gallery here
View the full photo gallery here
View the full photo gallery here
View the full photo gallery here
View the full photo gallery here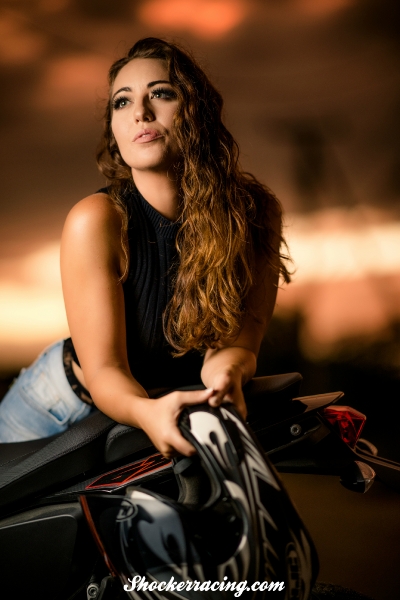 DON'T MISS - Leydis with a 2005 5.0 Mustang - Click Below: