Tuner Evo Chicago - 2017
Written by Donald Xavier Monday, 09 October 2017 17:01
September 2017 marked the first time that Tuner Evolution made their way to Chicago and they did not disappoint.  Tuner Evo puts on Automotive Lifestyle Events throughout the country that bring together all aspects of the Import Scene.  The events feature over 40 judging classes, bikini contests, dance competitions, RC drift demo's and even BMX demo's!  Along with all of these features, they bring out some of our favorite car models like Brooke Curtis, Bear Dellinger, and Faith Marone as Official Tuner Evo Girls.

Mid afternoon on September 23rd, we grabbed one of our favorite local photographers along with Kim (@MrsShockerRacing) and Jenny Walters(@TCFitGirl) and headed to Rosemont.  It's been a while since we have had Kim in front of the cameras for ShockerRacing so it's great to see her again.  Tuner Evo was held in the same venue as World of Wheels, so it had some big shoes to fill.  As we entered the event we were quickly impressed at the amount of cars that were on display throughout the convention center.  Along with some very unique Imports, there were a handful of Domestics and even some trucks on display.  We found our friend Bill and his Mazda RX7 representing Stay Ill and parked right next to a break dance demonstration.  Of course, we had to have the girls grab some pics with his beautiful custom blue Mazda!
Pictured above you see Jenny climbing on @FatKid4130's Custom Nissan Hardbody Minitruck!  Kim told us, "The minitruck was one of my favorite cars of the show! I love that the owner, James, let us climb all over it for pictures!" Completely custom cars like this one are why we love shows like Tuner Evo.  Wild builds that you never see cruising down the street are what make these shows so special, and bring out so many spectators.

We spent a few hours walking the show and grabbing pics with Kim and Jenny and our favorites of the event.  We also got lucky enough to finally meet Brooke Curtis who has donned a pair of our famous bootyshorts but has never been featured as an Official ShockerRacingGirl.... YET!  We do hope to make this happen in the near future.  We were also lucky enough to catch Faith Marone at her booth and grab a picture of her with the girls.  If you don't know Faith, or her booty, you may remember her from a feature we did three years ago with the Hi-Liter Yellow Wrapped Infiniti. Hopefully we will be able to bring you a new feature with Faith soon so we can all be #BlessedByTheBooty once again!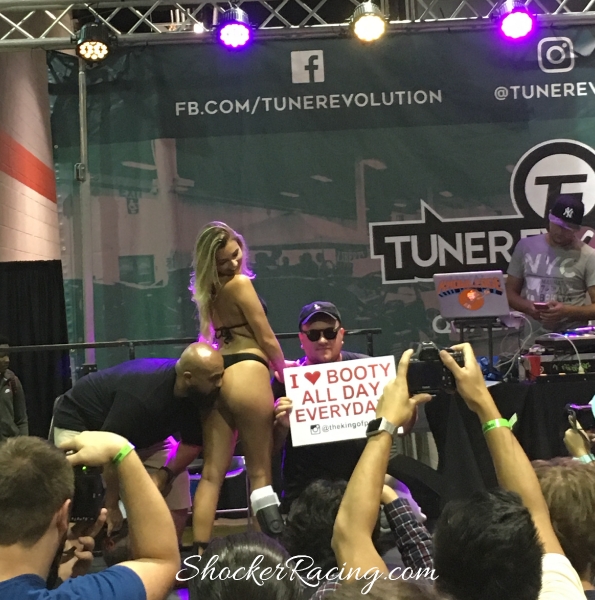 We had some time after enjoying all of the cars in the show so we quickly ran across the street to MB Financial Park and grabbed some food and beers at Adobe Gilas before heading back to catch the Bikini Contest.  Tuner Evo saved the Bikini Contest for the end right before they would give out all of the awards from the show.  Many of the Tuner Evo girls competed in the Bikini Contest which was hosted by Bear Dellinger (ShockerRacingGirls feature coming very soon). Big congrats to Faith for taking first place!

To see our live video we took during the contest click here: Facebook Live Bikini Contest
We really enjoyed the show overall and are already looking forward to Tuner Evo returning to Chicago next year.  Who knows, you may even see the ShockerRacing Porsche Cayman on display!
Be sure to follow everyone involved in this feature: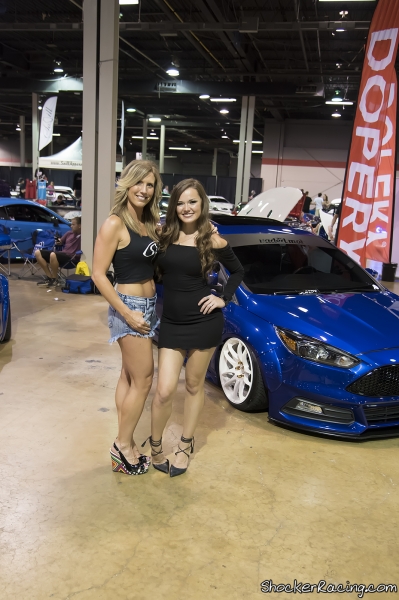 Follow ShockerRacing on our Social Media: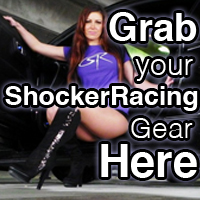 Instagram: @ShockerRacing
Twitter: @ShockerRacing1
Facebook: Facebook.com/ShockerRacing
YouTube: YouTube.com/ShockerRacing
Snapchat: @ShockerRacing