Destiny Wright - Small Town Kentucky Girl
Written by James Saturday, 14 October 2017 08:37
20 year old, Destiny Wright was born and raised in the small town of Somerset, Kentucky.  Ms. Wright tells ShockerRacing that there really isn't much of a car scene where she grew up.  She always liked being around cars but the town she is from doesn't understand or notice the car scene.  "I could not tell you when I became more interested in modifying cars than ballet class, but one day I just decided that I wanted to spend my money on modifications to my Jetta!" exclaimed Destiny.

"ShockerRacing was the first ever accound to feature my modeling photos on Instagram.  Coming out of a small town, the modeling world looked to big for me to ever join, especially in the car community.  After seeing all of the love the feature on IG received, it sparked a fire in me and made me believe in myself and my modeling." Destiny tells us.  Her modeling resumé includes mostly automotive photoshoots, but she has also done some modeling for clothing stores and some boudoir photoshoots.
For her first ShockerRacingGirls photoshoot, Destiny met up with photographer Robert Jarboe of Untarnished Photography.  Robert drove his 2006 Mitsubishi Evo 9 MR from Owensboro, Kentucky to Somerset to meet Destiny.  It was a 3 hour drive each way for Robert, but I would say it was worth it! Destiny mentioned that they had to try multiple locations for the shoot because they kept getting in trouble by local people.  For the shots they took in the road, they kept having to move the car due to traffic.  "It was almost impossible to get the shot." Destiny stated.
Robert picked up his Evo 9 about 2 years ago and it already had the body kit on it when he purchased it.  Since his purchase he has worked with Street Tuned Motorsports from New York, and Shepard Racing Transmissions out of Ohio.  With their help, the Evo is full bolt on and is now making 500 horsepower after being tuned by Fat House Fab in Indiana.
Check out the rest of Destiny's interview below:
SR: What do you currently drive?
Destiny: I currently own a 2003 VW Jetta.  My mods include: lowered on coil overs, Borla Exhaust, GLI Lip Kit, Gold 17" DR19 Wheels, a fresh Plasti-Dip Paint Job in GC-47.  This was the first car I have ever owned and was poorly treated by its previous owners, and I have successfully made it look brand new.
SR: If ShockerRacing was going to pay for any one modification to your car no matter the cost, what would you choose?
Destiny: If I could choose any mod for the Jetta, it would be an Accuair suspension.  The worry of scraping my front lip on anything and everything would finally be over.
SR: What is your dream car?
Destiny: I don't think I have a dream car.  Most people's dream cars would be highly sought after sports cars, that are more money than I ever see myself having.  However, I believe that any car can become a dream car.  I believe that cars that have been modified are more impressive than any expensive stock vehicle.  At this moment in my life, my dream car would be a Toyota FRS.  Then I could spend the next few years modifying it to become my dream car.
SR: What was your favorite part about this photoshoot?
Destiny: My favorite part was how professional Robert was as a photographer.  He provided a lot of direction throughout the entire shoot.
Social Media:
Model Destiny Wright
Photographer Robert Jarboe W/ Untarnished Photography
IG: @untarnishedphotography
Follow ShockerRacing on our Social Media: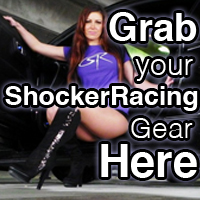 Instagram: @ShockerRacing
Twitter: @ShockerRacing1
Facebook: Facebook.com/ShockerRacing
YouTube: YouTube.com/ShockerRacing
Snapchat: @ShockerRacing
View the full photo gallery here
View the full photo gallery here
View the full photo gallery here
DON'T MISS - LYNN LOWE IN THE SHOP - Click Below: