Josslin for ShockerRacingGirls
Written by James Sunday, 29 October 2017 19:54
Josslin is a 27 year old brunette from Delaware.  For Josslin's first ShockeRacing photoshoot she teamed up with her boyfriend and photographer, Justin Tuppeny.  Josslin and Justin both brought their own cars to the shoot which was located behind the warehouse for Mishimoto Automotive in Delaware.  Josslin drives a 2013 Mitsubishi Lancer Ralliart that features a Borla Exhaust system and a Mishimoto Intercooler with a piping kit and Justin's ride is a two seat convertible 2007 Mazda Miata MX5.

The 5'2" Dental Hygienist tells us, "I love ShockerRacing for empowering models whether they are car people or not.  SR features a diverse group of models and I love that."  Josslin went on to say, "It's nice to see average size models and real people just doing what they love."  Modeling is still new to Josslin, as she has only been doing it for about a year.   We built ShockerRacing and the ShockerRacingGirls from the beginning by working with models like Josslin that are new to the scene and real girls that just want to have an opportunity to try something they have dreamed about doing.  This will always be a part of who ShockerRacing is, and we are excited to have Josslin as part of our team!
Josslin tells us that she has two favorite automotive events each year.  Her first favorite is Mitsubishi Owners Day(MOD) because she rarely gets to see other Ralliart's around and she loves seeing all of the different mods people do to them.  She also loves going to Miatapalooza and seeing so many of the badass, tiny, quick little cars in one place.  "Miata owners are some of the friendliest people I have met in the car scene," Josslin tells SR.  Her and Justin both love attending these different events together and it's great that they take one of the cars to each her favorite events!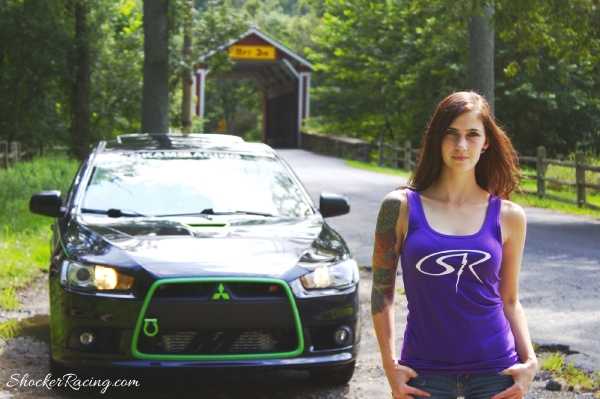 We asked Josslin what her dream car would be and she says it would be a Skyline R33!  If she could travel and take her dream Skyline anywhere in the world, Josslin would head straight to New Zealand.  "To be able to drive my dream car in in such a beautiful place would be mind blowing!"
Josslin's first car was a Saturn SC2, then she met Justin and really got in to the car scene.  She knew she needed an upgrade so she found herself this Mitsubishi Lancer Ralliart as a replacement and she never looked back!
Justin's Miata is nicely modded with some tasteful aero components, including a Blackbird Fabworx rear wing, a customer rear diffuser, a Garagevary front lip and custom canards.  For performance Justin added a DC Sports intake, a Mishimoto catch can and a Flyin Miata Suspension setup along with a set of wheels and tires.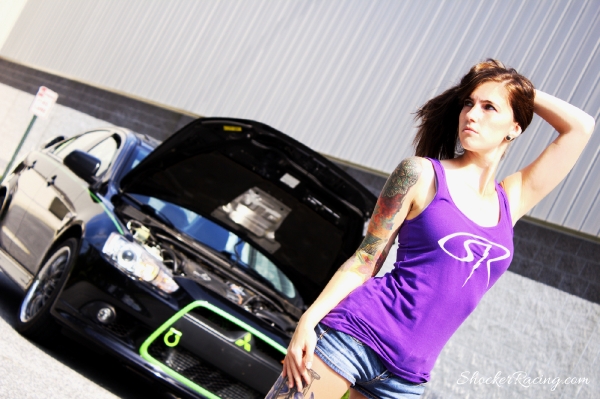 Be sure to check out Josslin on her social media:
Follow Justin on his social media: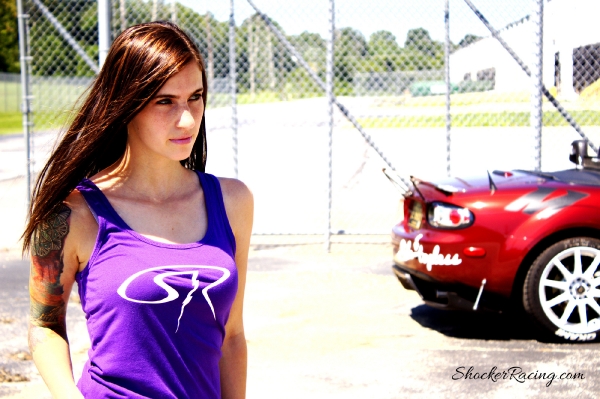 Follow ShockerRacing on our Social Media: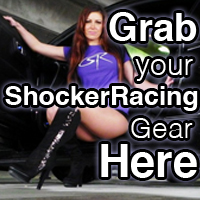 Instagram: @ShockerRacing
Twitter: @ShockerRacing1
Facebook: Facebook.com/ShockerRacing
YouTube: YouTube.com/ShockerRacing
Snapchat: @ShockerRacing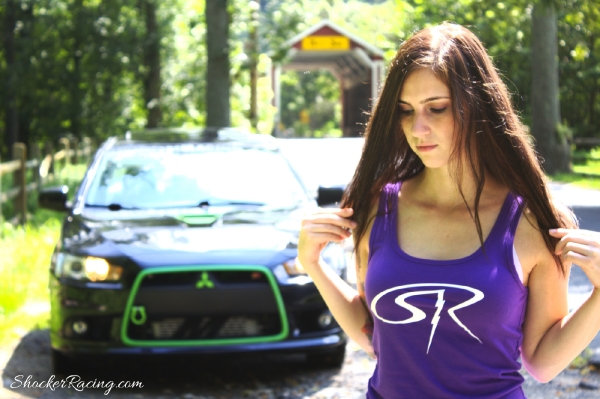 View the full photo gallery here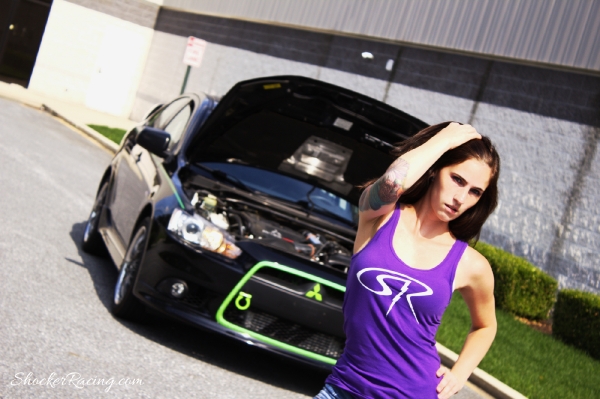 DON'T MISS - Destiny Wright with an Evo - Click Below: