Mickey, A Hometown Country Girl
Written by James Monday, 06 November 2017 19:01
Mickey is a small town girl who grew up Northern Illinois.  In 2001, she joined the Army and left to see the world.  She spent the majority her time in the Army living in Fort Hood in Killeen,Texas before settling down in San Antonio, Texas.  "I moved to San Antonio to try something new, and to be able to see the Spurs play live more often," Mickey tells ShockerRacing.  Besides being a country girl, Mickey is clearly a huge Ford fan.  When she turned 16, her first car was a full sized 1980 Ford Bronco which happened to be the family vehicle.  Now she owns a 2013 Ford Mustang Boss 302, a 2017 Ford F-150, and she has a project 1966 Ford Mustang Coupe!

34 year old, Mickey, has modeled off an on over the last 10 years, and has been out of the scene for a little while now.  "I modeled for some small clothing lines in Houston, and a few modeling shoots for different companies as well as portfolio build up over the years," Mickey shared with us, "I am working to get back into it and prepare for other competitions for physique and bikini in the fitness realm." She is a bit of a gym junkie, fitness enthusiast!  Mickey first found out about ShockerRacing when a friend introduced her to our social media and showed her a few of our previous ShockerRacingGirls features.  Then she began to check out our apparel, and she began talking with photographer, Dennis Scales, whom she has worked with numerous times before.  The two of them put together this amazing shoot with Mickey's Boss 302 and headed to Little River Dragway.
Mickey's 2013 Boss 302 is a limited production Mustang.  The original Boss 302 Mustangs were produced in 1969 and 1970, but were revived for two years in 2012 and 2013 with limited numbers of the performance model being built.  A 5.0 liter V8 that was termed the Road Runner and featured a forged rotating assembly.  The Road Runner engine makes 444 horsepower and 380 lb-ft through a 6 speed manual transmission.  Mickey tells us she is keeping hers stock because she knows the limited production makes it a collectors item.  The only thing she has added are the louvers on the back window for the look.  She tells us she plans to save all of the modding for her 1966 Mustang project.  "She's going to be a restomod, I have a 5.0 crate motor from Ford going in.  She will be an automatic.  I'm slowly ordering parts for her but like anything it takes time and money," Mickey exclaimed.  Mickey is also a full-time student and a mom, so finding time to work on her is a challenge but she hopes to have more time after she graduates next spring.
Check out the rest of our interview with Mickey:
SR: What is your dream car?
Mickey: Eleanor! I think that any Mustang fan always wanted this car.  But as hard as they are to find a 1969 Ford Mustang Fastback would be a close second.
SR: If you could travel and take your dream car anywhere in the world, where would you go?
Mickey: I would probably travel to Italy, France, and Germany.  I would want to cruise all over Europe!
SR: Which of the Fast and Furious Movies is your fave?
Mickey: I like them all but the first one to come out is the best because it pulled you in and caught your attention.
SR: Are you a Paul Walker or a Vin Diesel kind of girl?
Mickey: Both but Vin's protective nature and strength in his character is more fitting with my personality.
SR: What would an ex say is your best asset?
Mickey: My eyes, I have always been told my eyes are one of my biggest assets and focal points.
SR: What is your favorite food?
Mickey: Turkey bacon wrapped Jalapeno's with fat free cream cheese!
SR: What was your favorite part about this shoot?
Mickey: The fun, the joking, and the entertaining remarks.  I always love working with Dennis and Jackie, they find a way to make everything fun... even if it is a million degrees outside!  Our shoots our always interesting and eventful.  There is never a dull moment or a clean comment to come out of any of our mouths!
SR: Leave us with your favorite quote.
Mickey: "Live like there is no tomorrow, live in the moment, live in the now, and let everything just fall into place."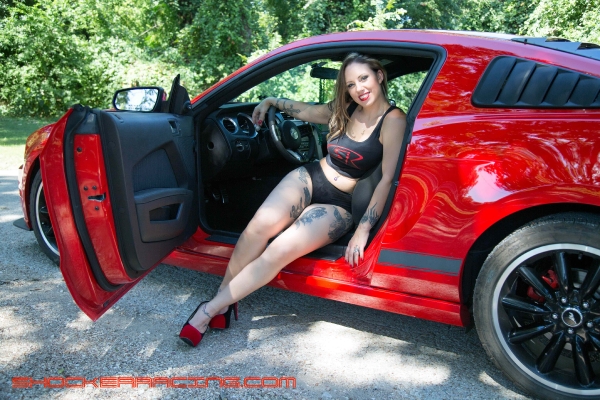 Be sure to check out the crew on social media:
Mickey:
Photographer - Dennis Scales:
Shoutout to Little River Dragway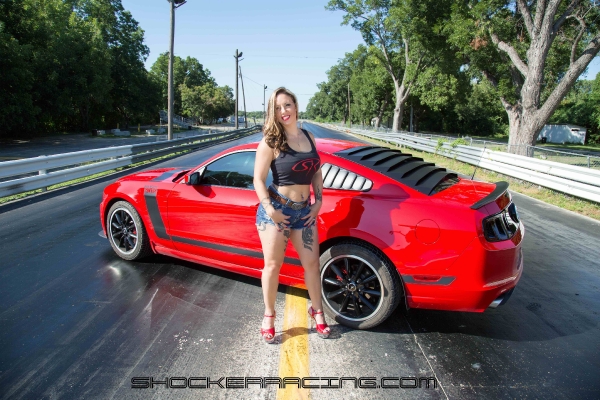 Follow ShockerRacing on our Social Media: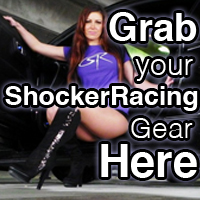 Instagram: @ShockerRacing
Twitter: @ShockerRacing1
Facebook: Facebook.com/ShockerRacing
YouTube: YouTube.com/ShockerRacing
Snapchat: @ShockerRacing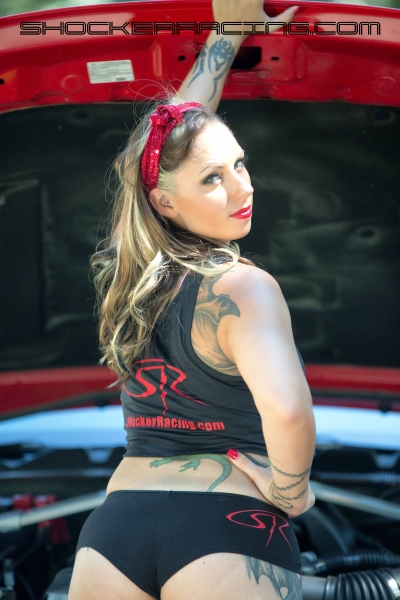 DON'T MISS - 4 Models and 4 Vipers in Texas - Click Below