2018 ShockerRacing Girls Calendar Cover Shoot
Written by Bex Russ Thursday, 09 November 2017 12:02
Page 1 of 4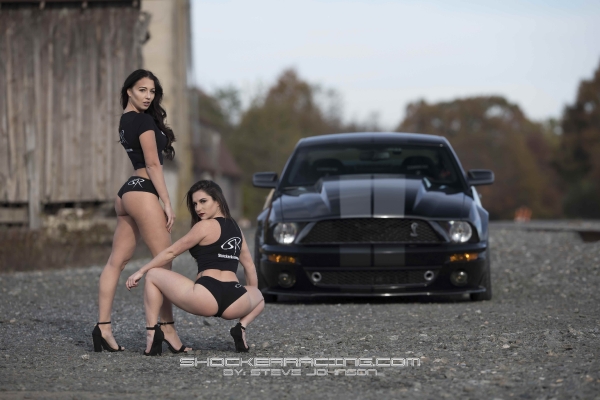 Shocker Racing has had the opportunity to work with some amazing women in the past year who have grown to become some of our fans  favorite car models. This year we wanted to show our gratitude to two of our most loyal spokesmodels. Both of these ladies have received amazing feedback on every feature and post shared about them. Both have gone above and beyond the expected as a model for ShockerRacing. These ladies have helped shaped the new expectations of ShockerRacing models for the future. We are very excited to announce official ShockerRacing models Bianca Owens and Bex Russ are our '2018 Shocker Racing Girls Calendar' cover models.

Recently, we had the girls meet up with our friend JD from JD Joyride TV.  JD was more than happy to collaborate for the cover shoot with his 900hp 2008 Shelby GT500.  When the idea to feature both models together with his car was brought up, JD exclaimed, "I love working with Bex and Bianca. Both deliver fire content every time we work together. They are also really professional and fun to work with."  You can catch some of the behind the scenes content from the shoot on JD's popular youtube channel. https://www.youtube.com/JDizzleGT500 ShockerRacing is proud to partner with JD Joyride TV and don't miss his calendar giveaway! We appreciate collaborators that understand the value of promoting each other to build the brands.
Now, to make this fiery content come to life we reached out to the very talented portrait and lifestyle photographer, Steve Johnson. Steve had worked with Bianca in the past and he was excited to collaborate with Bex. He brought along his Nikon D850 and Nikon D4. He used his favorite lenses (Prime Nikon 85mm f1.4G and Nikon 200mm f2.0G VR2) to get the perfect shots. Steve also had the brilliant idea to capture the models in a "photo shoot" for a little creativeness. He had the girls pose in their most popular poses and had Bianca hold a Nikkormat 35mm film camera as a prop. Steve told us, "The idea is popular in the photography industry. A picture of someone taking a picture. I just thought it would be a perfect way to pay homage to all the photographers in the calendar and those who were featured throughout the year on the website. A creative touch to the already popular Shocker Racing uniform."
PRE-ORDER A 2018 ShockerRacing Girls Calendar Here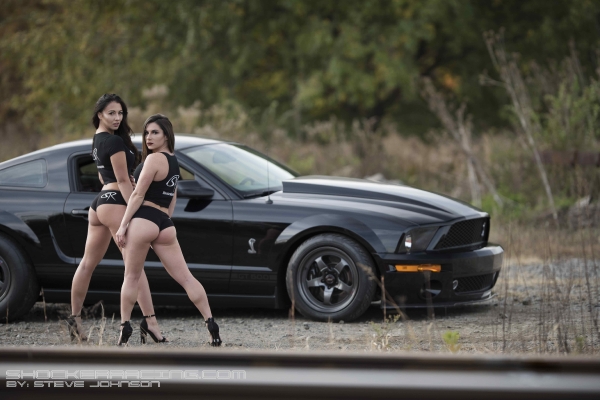 The ladies and JD took over the ShockerRacing Instagram account for some behind the scenes action, and it was clear to see that the whole team was very comfortable with each other and had a ton of fun while making the cover and vlogging. Bex and Bianca told Shocker Racing they had a chilly yet productive Saturday morning. "Bex and I had a perfect flow. From pose to pose to waving at fans who enjoyed our posing. Our whole team worked in unison and still had so much fun. It was a great day!" Bianca told us. "I love working with fellow models like Bianca. We know how each other move in the frame and it's easy to accomplish the perfect images," says Bex. We know this is true because picking the final picture was close to impossible. Our girls looked phenomenal in every picture with our famous  ShockerRacing Bootyshorts and ShockerRacing Crop tops.
PRE-ORDER A 2018 ShockerRacing Girls Calendar Here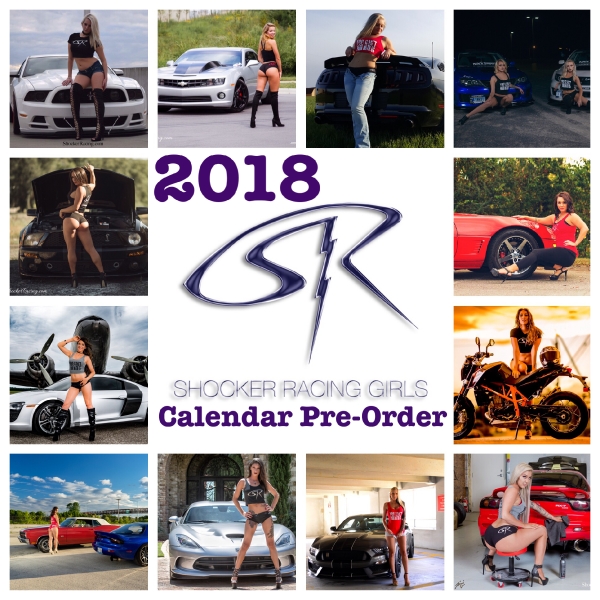 The 2018 ShockerRacing Girls Calendar might be the best collaboration offered by Shockerracing.com yet! This year we feature 12 out of 40 plus of your favorite models who were voted by our fans to be in this publishing. You can pre-order your calendar today for a discounted price of $18.95 here: 2018 ShockerRacing Calendar Pre-Order. Prices will go up December 1st!! If you would like to work with Shocker Racing in the future to help build your brand, advertise on our website, or become a model for Shocker Racing please email James at This e-mail address is being protected from spambots. You need JavaScript enabled to view it
PRE-ORDER A 2018 ShockerRacing Girls Calendar Here
View the full photo gallery here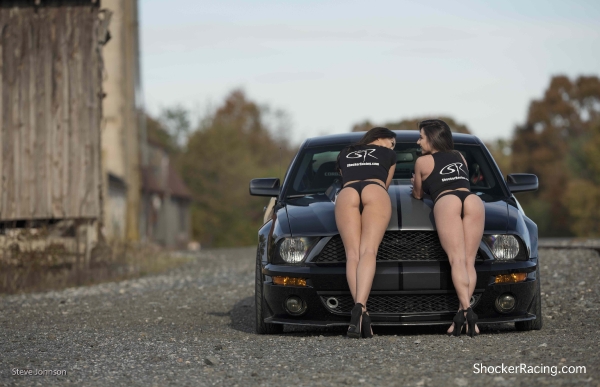 View the full photo gallery here
WITHOUT FURTHER ADO...
HIT THE NEXT PAGE TO SEE THE 2018 CALENDAR COVER PHOTO &
JD JoyRide TV's Behind The Scenes VLOG!!!