Erica Vanessa with her Toyota 86
Written by Bex Russ Saturday, 18 November 2017 09:55
Lets all welcome our newest Shocker Racing Model - Erica Vanessa. This gorgeous babe is from good old Tulsa, Oklahoma. She currently works as a part-time clerk for QuikTrip and part time makeup artist to pay her way through college where she is majoring in Business. Erica drives a pearl white 2017 Toyota 86 (aka Scion FR-S) that is completely stock and showed it off for this shoot. She plans to boost it up in the near future. When we asked Erica what mod she would choose if Shocker Racing was footing the bill, she responded, "I would put an aftermarket supercharger on my 86 and tune the bitch up." We love Erica's sense of humor. Keep reading to get to know her more…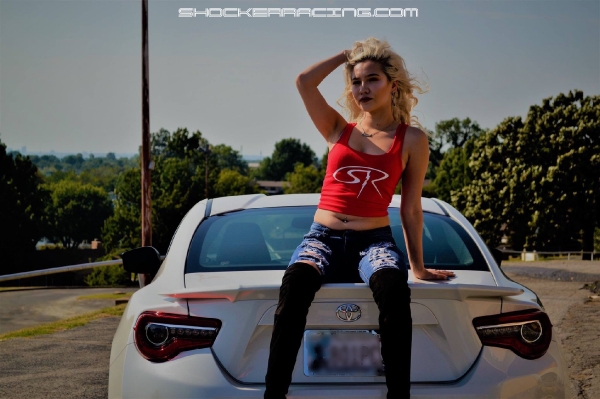 Like most of our models; Erica became a fan of Shocker Racing while scrolling through Instagram and finding our @ShockerRacing page with our 51k followers and growing. Erica exclaimed, "I'm a huge fan of cars & girls. I had to be a part of the team!" We asked which of our SR girls caught her eye and Erica told us, "It would have to be @sen.cityy(Sarah S.) simply because she is bomb.com and looks banging in all her pictures." We're not surprised, Sarah is awesome and is a huge supporter of ShockerRacing! Erica tells us she got involved in car car scene from her family, as well as her boyfriend. Her boyfriend is currently building a 335i, and we would love to see her shoot with that next!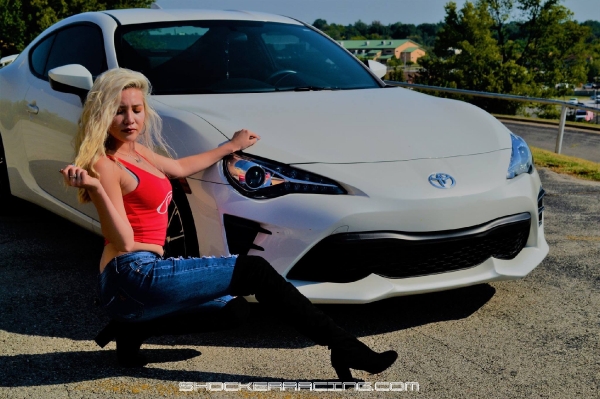 Erica met up with @LP_Photography39 for this shoot featuring our Red ShockerRacing tank top! They found a great location to show off Erica's 2017 Pearl White Toyota 86(Scion FR-S). We asked Erica what her favorite part of the shoot was and she told us "I was just so excited to model with my car! The whole day was great!" We think Erica did great modeling for one of the first times. If you like the gear Erica is wearing you can order it here: Mkt.com/shockerracing/item/black-tank-top-sr-girls-original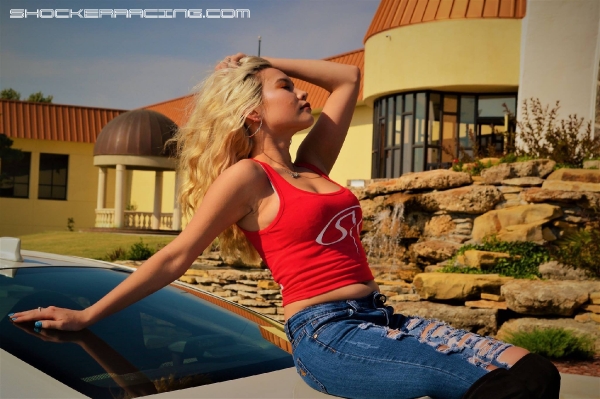 Here is the rest of Erica's interview:
SR: What was your first car?
Erica: I was very blessed with a brand new 2015 Ford Focus.
SR: What is your dream car?
Erica: A McLaren P1 LM. Damn, that car is sexy. I'm also a huge fan of wings.
SR: If you could travel anywhere in the world with your dream car where would it be?
Erica: Greece. Something about the beauty in the buildings I would love to see this lifetime.
SR: Do you have a favorite Fast and Furious movie?
Erica: Tokyo Drift
SR: So are you a Paul Walker or Vin Diesel kind of girl?
Erica: I'm a Paul walker girl, RIP.
SR: What is your favorite automotive event of the year?
Erica: It would have to be TX2K. I have never been but would LOVE to go.
SR: What would an Ex say is your best asset?
Erica: I believe an ex would say my determination to succeed in this life is my best asset.
SR: What is your biggest pet peeve?
Erica: When someone takes my drink without asking.
SR: Do you have any nicknames?
Erica: Guera! Which means white girl in Spanish.
SR: What is your Favorite food?
Erica: I love Mexican and Italian.
SR: How about your favorite Pizza Topping?
Erica: Bacon!
SR: Leave us with two fun facts about yourself and your favorite quote!
Erica: No one can ever guess my ethnicity. I always get called Asian or White but I am full Mexican. Also, I would like to get a bike too, haven't looked into which kind yet."
Favorite Quote: '"Live everyday like it's your last" because it is true no one knows what tomorrow will bring.
Be sure to follow the team here:
Erica Vanessa - @EricaKane
Photographer - @LP_Photography39
Follow ShockerRacing on our Social Media: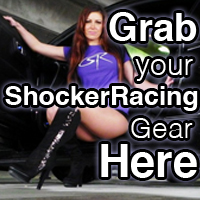 Instagram: @ShockerRacing
Twitter: @ShockerRacing1
Facebook: Facebook.com/ShockerRacing
YouTube: YouTube.com/ShockerRacing
Snapchat: @ShockerRacing
View the full photo gallery here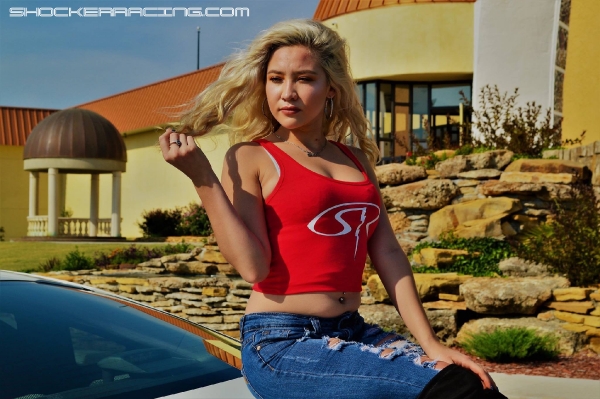 View the full photo gallery here
View the full photo gallery here
CLICK THE PHOTO BELOW TO PRE-ORDER THE 2018 SHOCKERRACING CALENDAR: