Saturday Shortie Featuring Sarah Senecal
Written by James Saturday, 16 December 2017 10:23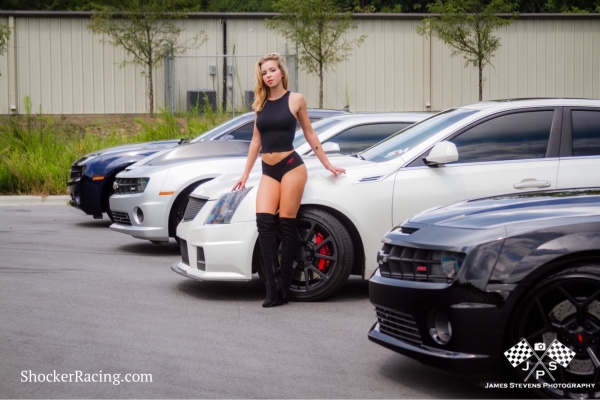 ShockerRacing Fans know our girl Sarah really well. She is constantly shared on our social media pages and is always posting new work with sick rides! It shouldn't surprise you we have THREE shoots of Sarah in the Shocker Racing gear to show our fans. Sarah met up with some car enthusiasts from South Carolina for three different shoots. We have some epic images from those meet ups. Hit the link to see all of the fantastic results including Sarah's photo that made it into the 2018 ShockerRacing Girls Calendar!

The shoot took place in Harrisburg NC. Sarah and her boyfriend, photographer James Stevens, found some great spots near the famous Pepsi Factory. Sarah told us "It was really hot. I was grateful to have the booty shorts. They kept me cool. The cars were pretty insane, as well. I stood in the middle of this cul-de-sac and let some of the cars do a burn out behind me to create a pretty insane picture. So much rubber left on the street." Between the summer heat, the burning rubber, and Sarah's fire we aren't sure what was hottest!!!
Sarah will be representing ShockerRacing at the Twisted Mafia event December 9th, 2017 and April 7th, 2018 to take pictures with cars. Don't forget to check out Sarah's previous features and look for her in the 2018 ShockerRacing Girls Calendar:
If you are interested in becoming a Shocker Racing model, please email James at shockerracinggirls@gmail.com for information on how to become apart of them team.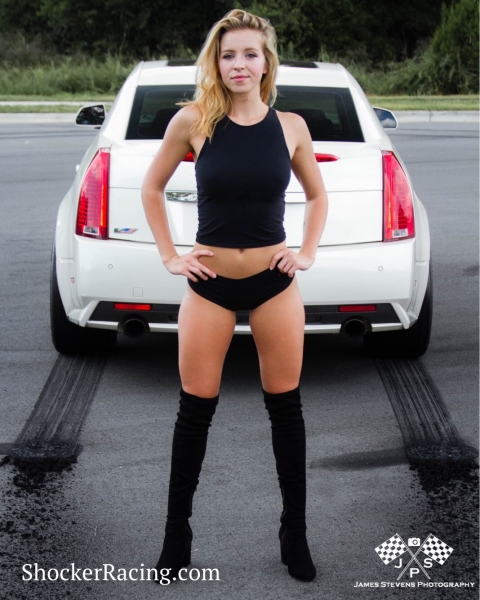 Follow the crew from this mini feature…
Model:
Photographer:
Car Owners:
Follow ShockerRacing on our Social Media: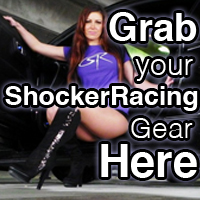 Instagram: @ShockerRacing
Twitter: @ShockerRacing1
Facebook: Facebook.com/ShockerRacing
YouTube: YouTube.com/ShockerRacing
Snapchat: @ShockerRacing
Sarah's shot that made it into the 2018 ShockerRacing Girls Calendar:
View Sarah's Full Photo Gallery Here
View Sarah's Full Photo Gallery Here
View Sarah's Full Photo Gallery Here
View Sarah's Full Photo Gallery Here
View Sarah's Full Photo Gallery Here
View Sarah's Full Photo Gallery Here
View Sarah's Full Photo Gallery Here
View Sarah's Full Photo Gallery Here
DON'T MISS - Angie Reed with a Stang - Click Below: