Angela Sasso Vs Godzilla
Written by James Friday, 22 December 2017 17:45
We love to expand our team/family here at Shocker Racing with wonderful women who having amazing qualities like, Angela Sasso. Angela has been a long time supporter of SR and featuring Angela has been in talks for quite some time! This Long Island sweetheart finally joins the ShockerRacing Girls with this killer shoot featuring Godzilla aka an R35 GTR. Keep reading to learn about Angela's shoot and get to know our newest model.

After a year of planning and lining up schedules, Angela met photographer Andrew Cuningham on a garage roof top in Long Island.  Danny from Incurve Wheels brought out his highly modded White 2015 Nissan GTR to let Ms. Sasso play with.   We asked Angela what her favorite part of the shoot was and she mentioned that getting to model with her dog Coconut was definitely a highlight. She told us they spent a lot of time trying to get the pup to cooperate. See some of Angela and Coconut in action in the video from the shoot here:
Check out Danny's 2015 Nissan GTR modification list here:

-Built 3.8 long block by Procom Racing
-Procom Racing S2 Turbos
-Custom candy red intake manifold
-Shep Built Transmission 2.5
-Full Kline innovations inconel exhaust including mid pipe and downpipes
-Custom satin black tips
-Upgraded AP Racing Jhook Rotors
-Custom yellow powder coated brembo calipers
-Incurve Wheels
-Custom red seats  

-Custom steering wheel
-Nismo cluster
-Cobb custom tuned
-Cobb 3 inch intakes
-GotBoost Flex Fuel Kit
-Stillen Lip color matched to car
-Stillen side skirts color matched to car
-ID Injectors
-HKS fuel pumps
-ETS upgraded intercooler anodized red
-Autotecknic extended red paddle shifters
-Black edition shift knob
-Gloss carbon roof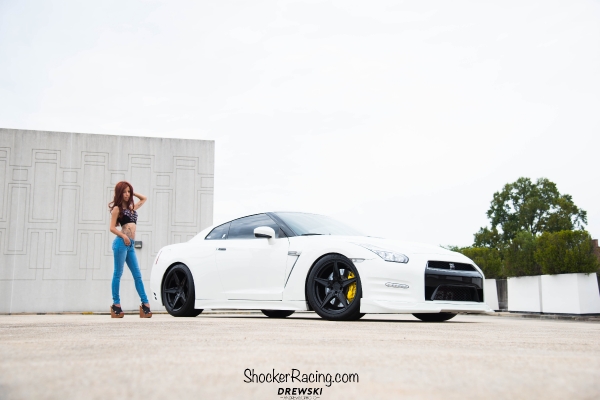 Getting to know Angela a little more we asked her what got her interested into joining Shocker Racing. She told us "Other than my love for cars. I really loved how open and supportive everyone at Shocker Racing is. I'm excited to be a part of such an uplifting group of people who share the same passions as I do with no judgement. Even with my health restrictions, I know this team will support me and my career." Angela also told us she is inspired by one of our favorite ShockerRacing models, Natasha. She said "I can't thank her enough for all the support and uplifting words she has given me. I love how down to earth she is. She is her true self. She doesn't care if people want her to be something else. I admire that."  Angela tells us she got involved in the car scene from her long time, best friend, Nadine. Nadine has been in the car scene for a long time and owns a sick TC. The two have been going to local meets with her brother and his friends since High School. She also admits to having an ex who taught her how to do a lot of automotive work.
Get to know Angela and read the rest of her interview here:

SR: What do you drive?
Angela: I drive a 2012 custom Honda Civic EX. I love her! Even though she's not worked on as much as I wish she were. There's no question about it. I love looking back at my white car with the hot pink accents. I'm excited for the potential plans I have for her.

SR: If ShockerRacing was going to pay for any mod to your car no matter what the cost, what mod would you choose?
Angela: I would like a CAI or some killer wheels.

SR: What was your first car?
Angela: My first car was actually a 86 BMW. However, I'm not that skilled with manual. So went to the dark side and got my first 99 Honda civic.

SR: What is your dream car?
Angela: My dream car is a Skyline or an STI. I know most people don't always dream of that, but I can already think of the endless modifications I could do.
SR: If you could travel and have your dream car anywhere in the world, where would you go?
Angela: You bet I'd be taking it easy cruising around the country areas of the south. Something about the fresh air and no clutter around just sounds like an ideal day.

SR: Which of the Fast and Furious movies is your Fave?
Angela: Tokyo Drift

SR: Are you a Paul Walker or a Vin Diesel kind of girl?
Angela: Paul Walker. He is a huge inspiration. Many times i wanted to give up modeling or working on my car. His quotes always lifted my spirits! I never give up and always keep fighting for my dreams."

SR: What would an ex say is your best asset?
Angela: I'm pretty sure an Ex would say my best asset is how caring I am.

SR: What is your biggest pet peeve?
Angela: I can't express enough how much i dislike judgmental people. As a model, I deal with the judgment from people often. I was raised to never judge a book by it's cover. The world needs more kindness.

SR: What nicknames do you have?
Angela: Angie or Sassy. Because of my last name. Some people call me kiddo since I look young, but hey I'll take it! Turning 30 wasn't easy!"

SR: What's your favorite food?
Angela: Chocolate, cotton candy, and watermelon. Yes, its a weird combination. Yes, chances are i have one of the three at every shoot.

SR: What's your favorite Pizza topping?
Angela: Extra cheese! Have you ever had s'mores pizza? YUM!"

SR: Share two fun facts about you that people don't already know.
Angela: I can remember more of the lyrics for the musician I promote than he does. Sometimes, at shows, he looks off stage to me to help him with his lines. Second thing would be that I have 17 tattoos and three more planned for the future. I get stopped often because people want to see them. I'm very proud.

SR: Include your favorite quote.
Angela: It's hard to pick just one. I have two quotes I hold dear to my heart.  "Never give up" and lyrics to one of my favorite songs by Kris Allen, "So raise your fears- and dont forget- we were born- to be fighters- we are strong- we're survivors."
You can catch Angie at the Mopar Misfits Show and Long Islands' biggest summer car show 'Monday Night Takeover'
Follow her social media and the rest of the team:
Model: Angela Sasso
Model: Coconut
Photographer: Andrew Cuningham
Assistant:
Car Owner: Danny
MUA: Olivia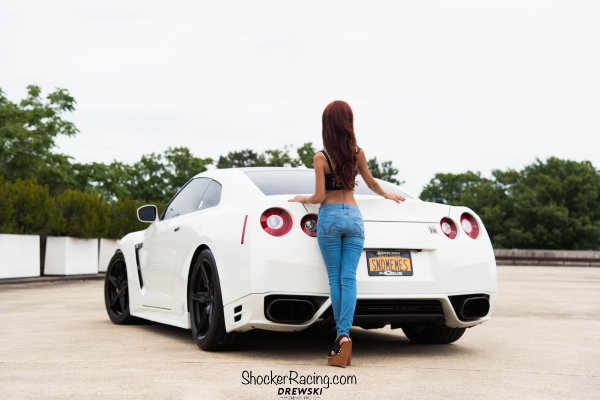 Follow ShockerRacing on our Social Media: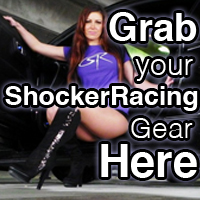 Instagram: @ShockerRacing
Twitter: @ShockerRacing1
Facebook: Facebook.com/ShockerRacing
YouTube: YouTube.com/ShockerRacing
Snapchat: @ShockerRacing
View Angela's full photo gallery here
View Angela's full photo gallery here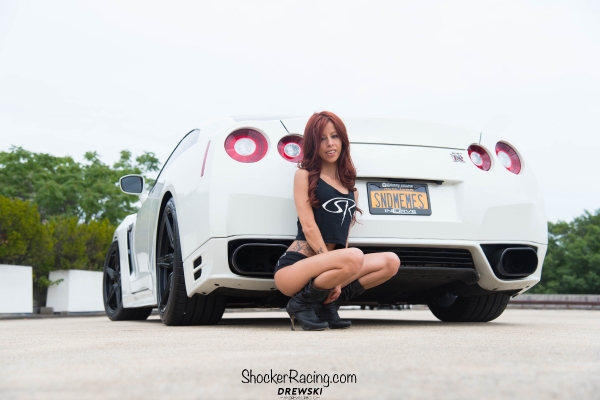 DON'T MISS - Angie Reed With A Mustang - Click Below: