Kaleigh Callahan With Her 2013 Mustang
Written by James Wednesday, 24 January 2018 10:21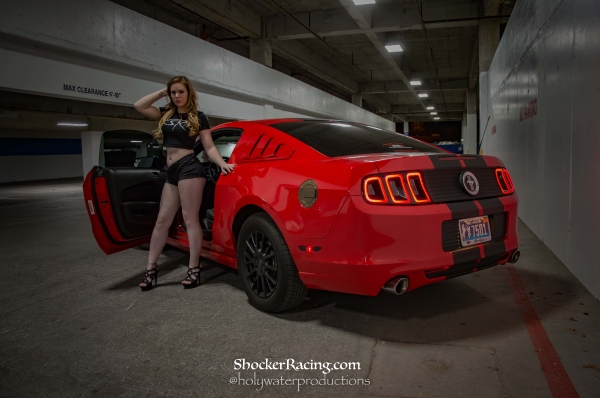 Kaleigh Callahan first jumped into our feeds when she submitted photos with her 2013 Ford Mustang for the 2017 #ShockerRacingBadSanta contest. Since then, her level of excitement and enthusiasm towards joining the ShockerRacing Girls team has been off the charts! This Las Vegas native chose a secluded area of a parking garage, labeled as a "No Parking Zone" for her shoot with @HolyWaterProductions. "We were approached by a security guard who informed us that it was a No Parking Zone," said Kaleigh... guess it wasn't quite secluded enough! Hit the link to get to know more about Kaleigh and her Stang:

When the 21 year old, Kaleigh, isn't pouring Latte's and Macchiato's at Starbuck's you can probably find her at car shows or cruise nights with SilverStateMustangs. "It's a local Mustang group that I got involved in after I got my Mustang and that's how my involvement in the car scene really took off," Kaleigh tells us, "My favorite event of the year is Mustang Strip Take Over, where people from all over came and we took over the Las Vegas Strip. We had over 100 Mustangs join, and we are hoping for more this year."
Kaleigh's 3.7L V6 Mustang features a Axle-Back Race Series Exhaust from Magnaflow, as well as a handful of external upgrades. For appearance Kaleigh started with a set of American Racing Wheels. To go along with the the wheels, she added an MMD Decklid, Bullit Fuel Door, Roush Front Splitter, Roush Upper and Lower Grill, MMD Side Louvers, and Blackout Side Markers. We asked her what mod she would choose if we offered to pay for any modification for her and she responded, "Well if cost wasn't an issue, I'd go with a Procharger Supercharger Kit because no one expects that in a V6!"
Check out the rest of our interview with Kaleigh here:
SR: What was your first car?
Kaleigh: I had a 2000 Atlantic Blue Mustang.
SR: What is your dream car?
Kaleigh: Classic wise I would say a Big Block '69 Pontiac GTO, and for current years a 2014 Super Snake GT500 pushing 1000hp!
SR: If you could travel and take one of your dream cars anywhere in the world, where would you go?
Kaleigh: I would go to Ireland, Germany, or Italy. Especially Italy because of the races that take place there.
SR: What got you interested in ShockerRacing?
Kaleigh: I just loved seeing all of the confident models and I wanted to be like them.
SR: Who is your favorite previous ShockerRacing Girl, and why?
Kaleigh: I would say my favorite is Bex, because she is so confident and beautiful.
SR: What modeling experience do you have?
Kaleigh: I just started modeling this year. It began as just something to do for fun, then it became something I really enjoyed. No professional experience but maybe soon I'll get some professional experience. You can see me on my sponsors, Autobadges.com, page.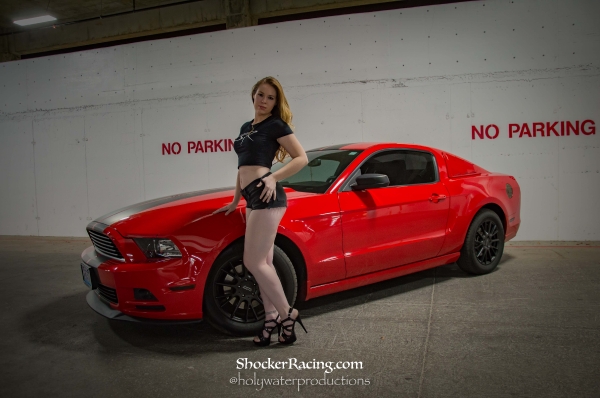 SR: Are you single?
Kaleigh: No, I have a boyfriend of almost 3 years... sorry guys!
SR: What would an ex say is your best assett?
Kaleigh: My legs!
SR: What is your biggest pet peeve?
Kaleigh: Rude or negative people are the worst!
SR: What is your favorite food?
Kaleigh: Almost all food, I will almost eat and try anything. But my favorite has to be Italian food, from desserts to dinners I love it all!
SR: Which of the Fast and Furious Films is your fave?
Kaleigh: The original... #TunaNoCrust
SR: Are you a Vin Diesel or Paul Walker kind of girl?
Kaleigh: Vin Diesel, because he was an American Muscle guy and I'm an American Muscle kind of girl!
SR: Leave us with two fun facts about you that people might not know.
Kaleigh: I am trained in multiple fighting styles, and have spent a majority of my life as an athlete. I also am a Chemistry Major with a Spanish Minor.
Follow the crew:
Model - Kaleigh - IG: @KCC_S197
Photographer - Jesus Castro - IG: @HolyWaterProductions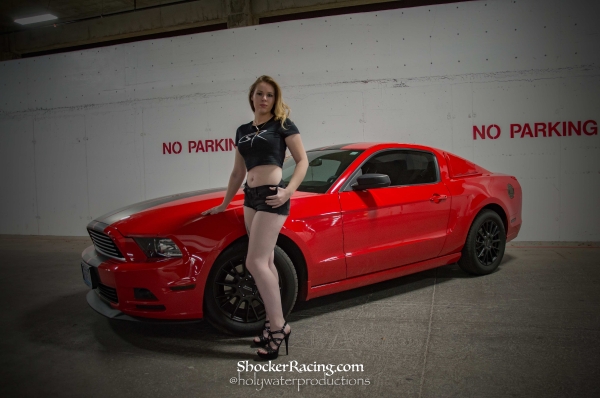 If you are interested in becoming a Shocker Racing model, please email James at shockerracinggirls@gmail.com for information on how to become apart of them team.
Follow ShockerRacing on our Social Media: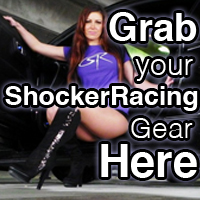 Instagram: @ShockerRacing
Twitter: @ShockerRacing1
Facebook: Facebook.com/ShockerRacing
YouTube: YouTube.com/ShockerRacing
Snapchat: @ShockerRacing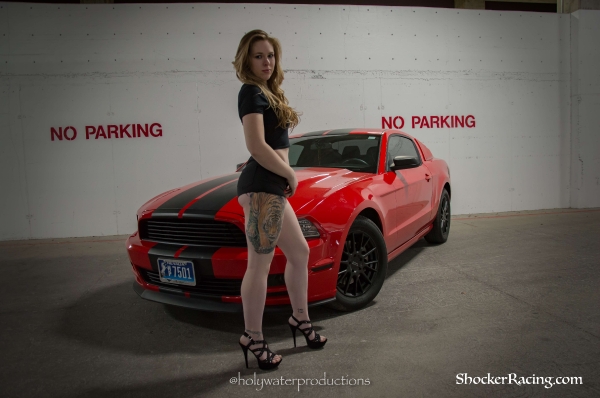 View the full photo gallery here
View the full photo gallery here
View the full photo gallery here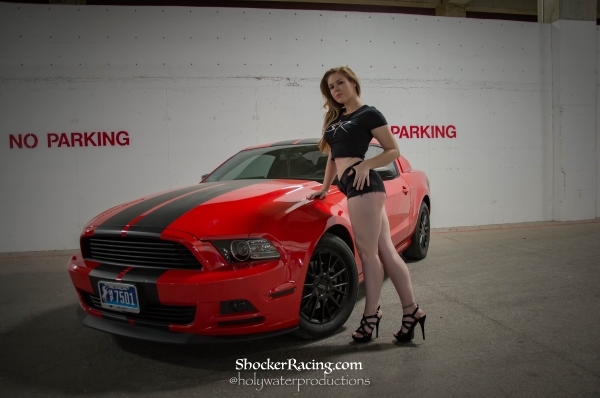 NEW PICS ADDED 4/4/18 - ON KALEIGH'S 22ND BIRTHDAY!
Notice the new spoiler and updated stripes on Quinn!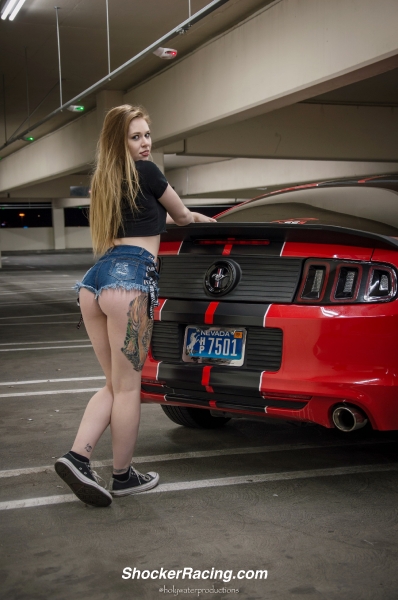 View the full photo gallery here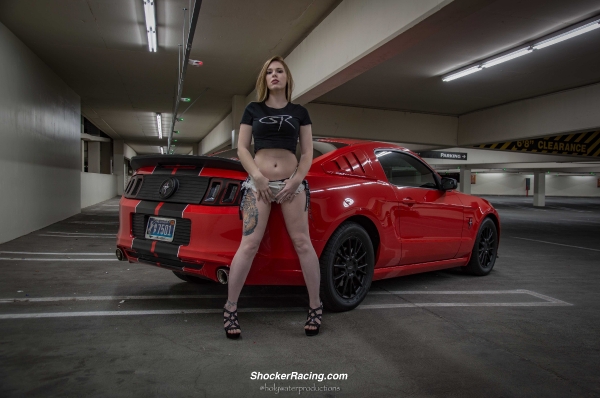 View the full photo gallery here
DON'T MISS - Skylar Baggett with a C6 Corvette - Click Below: